With sunny skies overhead and over 170 cars in the pit area, spring finally came at Outlaw Speedway as the Nut Up and Out Ball Em 3rd Annual Spring Nationals took place.
Jason Barney captured the win in the caution-free Lucas Oil Empire Super Sprint feature event. The race took just a little over 9 minutes to complete on a slick track in daytime conditions.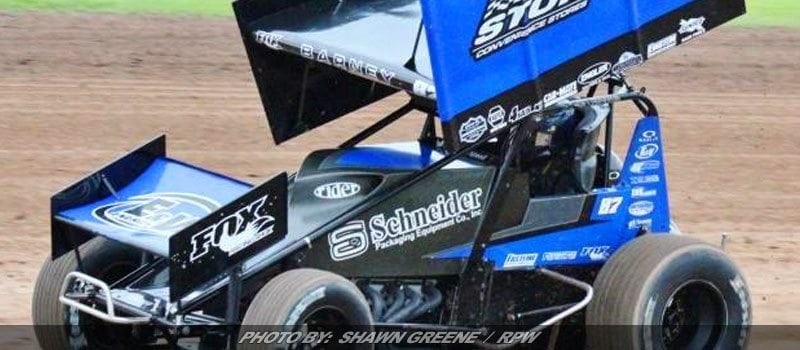 In the Friendly Chrysler/Dodge/Jeep/Ram Outlaw Modified feature, Matt Sheppard began his defense of his 2017 track championship by taking the lead early in the feature from the 3rd starting position and running away from the field. His Sweetners Plus machine was hooked up, and Sheppard nearly lapped into the top ten by race's end.
The third starting spot was also where Stacey Jackson started in the Crate Sportsman feature. While Jackson had a fast car, lapped traffic proved to be his undoing late in the race, when David Marcuccilli was able to catch him and make the pass for the win in the first of the new Outlaw Speedway Crate Sportsman Series.
Dylan Cecce picked up where he left off from winning last year's Empire 100 for the Street Stocks by using the low groove to catch and pass Butch Green just before the halfway point to take the top spot in the Street Stock feature.
The IMCA Modified event looked like it was all going Will Ward's way after he grabbed the lead, but a late race restart allowed Michigan campaigner A.J. Ward to make the pass and snag victory in their feature.
A spirited battle for the lead was the highlight of the 4 Cylinder feature event, as Brad Shepard and Ray Hyer had quite the duel through the event. Shepard, a regular at Genesee Speedway on Saturday nights, was able to hold off Hyer to take the opening day win.
This Friday night, April 27th, is American Legion night at Outlaw Speedway. Legion members who show their ID cards at the grandstand gates will be admitted free. The regular Super 7 Show will be on tap, which includes the first races of the year for the Doug Gross Construction Crate Late Models, the Decker Insurance Hobby Stocks, and the Winners Circle Deli Bandits. Racing begins at 7:00 p.m. For more information, visit outlawspeedwayllc.com
RESULTS: OUTLAW SPEEDWAY
SATURDAY, APRIL 21, 2018
Nut Up and Out Ball Em' Sponsored 3rd Annual Spring Nationals
STREET STOCKS (31 cars)
Heats. Dylan Cecce, Butch Green, Jake Karlnoski, Quinn Sutherland
Consi. Kurt Stebbins
Feature. 20 laps. Dylan Cecce, Butch Green, Jake Karlnoski, Teddy Morseman, Quinn Sutherland, Kurt Stebbins, Glenn Whritenour, C.J. Guererri, Carl Cleveland, Dennis Cummings, Jason Smart, Jered Dennis, Jim Buck, LaVern Knickerbocker, Chuck Winslow, James Kreidler III, Kevin Garland, Willy Grant, Jared Hill, Trevor Dudley, David Hilton, Mick Seeley, Jeremy Trank, Gene Balmer.
CRATE SPORTSMAN (37 cars) Outlaw Series Race #1 presented by American Racer Tire
Heats. Brett Buono, Tommy Collins, Kevin Root, Dave Schilling
Consi's. Karl Comfort, Kenny Hammond
Feature. 25 laps. Dave Marcuccilli, Dustin Jordan, Dale Welty, David Schilling, Will Shields, Brett Buono, Tommy Collins Jr., Jimmy Zacharias, Kenny Hammond, Chris Fisher, Karl Comfort, Tim Guild, Jeff Taylor, Nick Guererri, Tyler Thompson, A.J. Lloyd, Mike Buchanan, Brian Fish, Tim Schram, Pat Jordan, Casey Pavlick, Kevin Root, Billy Bowers. DQ. Stacy Jackson.
FRIENDLY CDJR MODIFIEDS. (29 cars)
Heats. Matt Sheppard, Alan Johnson, Greg Birosh, Derek Podsiadlo
Consi. Brent Ayers
Feature. 30 laps. Matt Sheppard, Nick Nye, Alan Johnson, Cory Costa, Derrick Podsaidlo, Erick Rudolph, Colton Wilson, Jim LaRock, Justin Wright, Greg Birosh, Eric Fisher, Ryan Jordan, Justin Haers, Donnie Lawson, Steve Paine, Kyle Coffey, Tyler Siri, Joe Dgien, Brent Ayers, Ron Cartwright Jr., Ray Bliss Sr., Billy VanPelt, Kevin Jordan, Marcus Dinkins.
4 CYLINDERS (37 cars)
Heats. Scott Lehman, Brad Shepard, Ray Hyer, Cody Baker
Consi's. Mike Stone, Mike Ferris
Feature. 20 laps. Brad Shepard, Ray Hyer, Codie Baker, Shawn Gleason, Ricky Weaver, Scott Lehman, Bill Weller, Arthur Kellogg, Nate Freeland, Quinn Wallis, Casey Burch, Derrick Pruyer, Andy Proper, Nick Brown, Mike Ferris, Adam DelGrosso, Dan Smart, Craig Mahrt, Jack Ormsby, Mike Stone, Timmy Borden, Jared Brown, Desi Force, Erica Bell.
360 SPRINTS (22 cars) ESS Season Opener
Heats. Coleman Gulick, Shawn Donath, Jared Zimbardi
Dash. Chad Miller
Feature. 25 laps. Jason Barney, Matt Turner, Dylan Westbrook, Jonathan Preston, Billy VanInwegen, Matt Billings, Coleman Gulick, Paulie Colagiovanni, Brett Wright, Chad Miller, Tim Schneider, Parker Evans, Paul Kinney, Dalton Harrick, Dave Axton, Denny Peebles, Steve Glover, Jared Zimbardi, Joe Trenca, Jordan Thomas. DNS. Shawn Donath
DECKER FARMERS INSURANCE IMCA Fastshaft (16 cars)
Heats. A.J. Ward, Brandon Smith
Feature. 20 laps. A.J. Ward, Will Ward, Brandon Smith, Tyler Stoddard, Kody Johnson, Mark Griffin, Gary Lamphere, Keith Jack Lamphere, Keith Lamphere, Rodney Morgan, Billy Ward, Jake Maynard, Phil Yaw, Sparky Hills, Todd Stone, Gary Roberts.