Joe Siccardi, a recent mid-Maine transplant from Seneca Falls, has announced the public book launch of his first book, Heaven Shining Through. It will be held April 29, noon-2 p.m. at The Mill Inn & Café, Dover-Foxcroft, Maine. In addition, Siccardi will be presenting a copy of the book to the Thompson Free Library in Dover-Foxcroft on May 2 at 2 p.m.
Siccardi, former Reveille/Between the Lakes publisher and editor, will also offer a series of book presentations in his former home of Seneca County in New York. Arrangements have been made for Ford Memorial Library, Ovid, May 3, 7 p.m.; Garnsey Delavan Library, Lodi, May 5, 1 p.m.; Waterloo Library, May 7, 6 p.m.; and Interlaken Library, May 8, 7 p.m. Arrangements are being planned at Seneca Falls Library.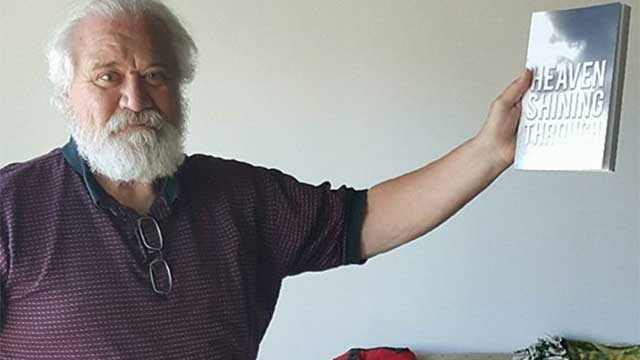 The Dover-Foxcroft resident is a 52-year publishing veteran, most recently publisher/editor of the Reveille/Between the Lakes, a community weekly newspaper in Seneca County of the Finger Lakes in New York. Siccardi credits the quiet of Maine as the impetus for completing the project. He moved to Dover-Foxcroft two and a half years ago, commuting to and from upstate New York. He sold his publication and retired permanently to Piscataquis County in July.
The book was conceived as a social media experiment. Five and a half years ago, Siccardi floated the idea of a community novel by inviting readers on his blog (wisdomfromafather.com) and in his newspaper to contribute to an ongoing story. As long as there was interest, he promised to continue to advance the storyline. "The plan was to get them started and have them submit continuing paragraph(s) each week," said Siccardi. "Together, I thought, we would create the storyline, develop characters, possibly throw in some curves or red herrings; in the end I hoped we would be able to come up with a readable piece we could be proud to share with family and friends." He added, "Well. That was the plan; I did have interest — somewhere around 100 likes – but I didn't get much input." He started with the first open ended paragraph…
"I was driving alone on the dark black asphalt, seemingly darker because of ominous clouds on the horizon ranging from steel gray to puffs of white. Out of the corner of my eye, I caught a glimpse of white as the sun tried to peek out from behind the clouds. It didn't succeed, but first a ray rained into the picture, followed by a halo of rays.
My name is…"
He did receive a suggestion the lead character should be named Samantha — "my first challenge since I suddenly had to think as a woman and, as any man knows, that could be problematic. But I was sure I would get some help from my female readers. Guess what? It never came." Though another follower added a paragraph, that was the extent of any help Joe received. "With steely resolve, however, I revisited the story weekly, adding a few paragraphs at a time to advance the tale," said Siccardi. "It became a Wednesday fixture for the next 24 weeks on my blog."
The end result was a story within a story. The underlining theme was the restoration of a relationship between Sam and her mother. It was told through the prism of a flashback to Sam's life, her early home experiences, her wilder side, meeting the love of her life, Chad, her growth as a wife and mother through sorrow and blessings, and the presence of God in an ordinary life. "I tried to keep it real with appropriate language and activities," said Siccardi. "I purposely stayed away from being 'preachy' but rather told a story that showed the presence of God in everyday, sometimes messy lives. My hope is readers will be able to see that."
A lot of the activity inside the pages takes place in the greater Paterson, NJ, area, where Siccardi called home as a youth. Some of the backdrops will be familiar to fellow Patersonians who grew up in the mid-60s. Heaven Shining Through will be available at book signings and presentations throughout Maine, New York and New Jersey and online through Xulon.com, Amazon.com and barnesandnoble.com. The online availability is expected by late April. Those interested can also order a copy of Heaven Shining Through by contacting Siccardi by e-mail at [email protected].
"I am so excited to have Joe here, in Piscataquis County," says Denise Buzzelli, Executive Director of the Piscataquis Chamber of Commerce, "as a fellow New-Jersian, I look forward to reading his story and witnessing the success he finds here as a Maine author. I do hope he receives an outpouring of community support, both locally and state-wide."
Short Bio:
Siccardi has been an editorial writer, editor and publisher for 52 years and posts a blog at www.wisdomfromafather.com. As he states, "I'm the ordinary Joe walking along this journey called life and sharing it with you!" He is the proud father of five children, 18 grandchildren, two great-granddaughters and another great-grandchild expected in August. He currently lives in Dover-Foxcroft, after life experiences in Paterson, Totowa, Ogdensburg and Newton, NJ; Belvidere, IL; Toledo, OH; Washington, DC; Laurel, MD; and Seneca Falls and Willard (Romulus), NY.