The Yates County Sheriff's Office has provided additional details regarding the deputy who was sent to the hospital after a man struck a patrol vehicle Friday morning.
The patrol vehicle was parked roadside at the intersection of State Route 14A and Rasmussen Road with its emergency lights on when a car being driven by 37-year-old Brian Petersen of Penn Yan lost control and struck the rear of the patrol vehicle.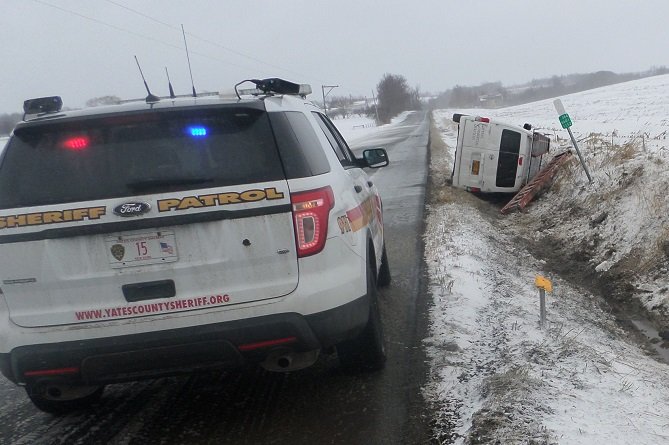 The deputy was responding to a vehicle stuck in a ditch. Both individuals were ultimately transported to an area hospital for treatment.
Significant damage was done to both vehicles involved.
Peterson was issued citations for speeding, failure to yield for an emergency vehicle and an unsafe tire. Road conditions were poor due to blowing snow.
---
Original Report – Friday, 3:30 p.m.
Yates County Sheriff Ron Spike says first responders have been at a number of accidents and incidents on area roadways with snowy conditions.
Among those incidents — a patrol car was struck, which included a plow truck operator and deputy being injured.
Multiple vehicle collisions or cars sliding off roads today in Yates County due to weather blowing snow including Co hwy plow struck and deputy injurned at a scene when patrol car struck from rear also injury to driver. Both vehs towed pic.twitter.com/HGBQDaUKpa

— @SheriffSpike (@sheriffspike) March 16, 2018
Spike says multiple vehicles have been slid off the road during the afternoon due to snow-covered roads.
FingerLakes1.com reached out to Sheriff Spike for more information on the deputy-involved incident — but he could not elaborate beyond noting that the deputy remained at an area emergency room.
This story will be updated as more information becomes available.