Midlakes junior Alaina Forbes scored a team-high 29 points to lead her undefeated Screaming Eagles girls varsity basketball team to a 70-60 victory over Section VI Class B champion Fredonia in the NYSPHSAA Far West Regional game at Rush-Henrietta on Saturday night.
Midlakes led most of the game but after Fredonia battled back to tie the score with 5 minutes to play, Midlakes would end the game on a 10-0 run to improve their season mark to an unblemished 25-0  and propel the Screaming Eagles to the program's first ever State Final Four next weekend.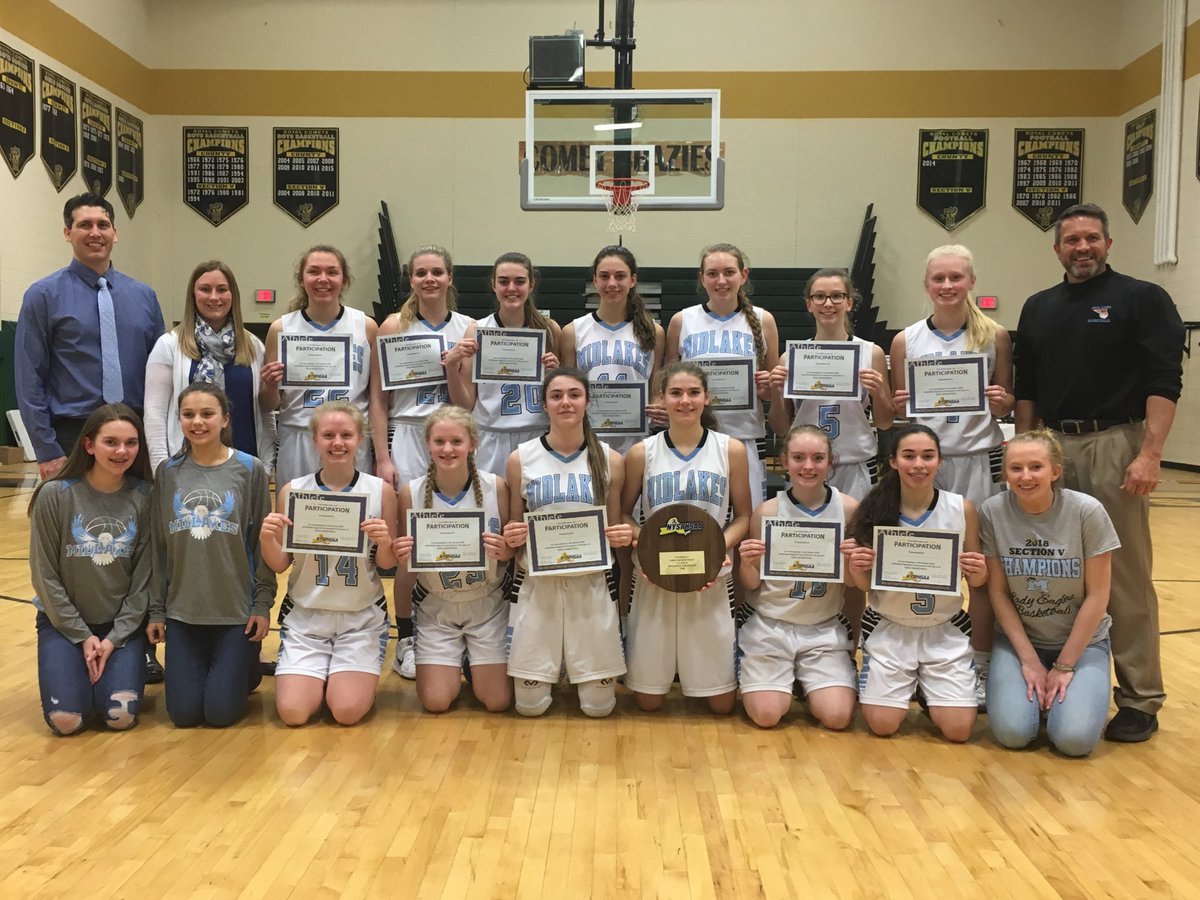 FL1 Sports' Dave Barnick and Jerry Anderson talked with Alaina Forbes after the game, who said "We needed everyone to come out strong and we did." When asked about heading to the Final Four next week she added, "We're excited. It's something nobody has ever done at Midlakes and we're excited."
Head Coach Nate Rich praised Forbes' supporting cast following the win. "Sydney Passalaqua really did a good job offensive rebounding the ball. Jordan Naeye did a good job controlling the pace. She knew when we wanted to push it and when we wanted to take our pedal off the gas a little bit late and use some clock. Macy Kisner did a nice job on the boards and late in the game it was Cara Walker attacking the rim hard to close out the game for us."
The state quarterfinal win comes after the undefeated Screaming Eagles won their first sectional title since 1975. The Midlakes ladies' dream season rolls on as they will play the winner of Sunday's game between Bishop Ludden (Section III) and Susquehanna Valley (Section IV) in the NYSPHSAA semifinals at 3:15 pm on Friday at Hudson Valley Community College in Troy in a game you can hear live on FingerLakes1.com. Here are the brackets for the Class B state tournament.
Coach Rich said, "the community support has been awesome. All throughout the season they've been coming out and supporting us. The last two week's they've packed Rush-Henrietta which I know the kids appreciate playing in front of the packed house. The past two weeks it's felt like playing a home game.
Congratulations Midlakes! Class B Western Regionals Champions @MidlakesAthletx @SectVGBB @NYSPHSAA @bufnewspreptalk @WNYAthletics @sportsunionwny @SectionVI @SectVGBB @NYSPHSAA @Section6GirlsBB pic.twitter.com/k6hPXfrQEP

— Jerome Davis (@jdavis2731) March 11, 2018
You can listen to the entire game that streamed live on FL1 Radio here and check back Sunday night for a live video replay of the Class C & B Far West Regional games starting at 7 pm.
Update on Midlakes' opponent (4:22 pm)
Susquehanna Valley kept Bishop Ludden's Danielle Rauch from taking over, and the Section IV Sabers got enough offense – both inside and out – to defeat the Gaelic Knights, 47-35, in a girls Class B state regional final today at Binghamton's Floyd L. Maines Arena. The Sabers, now 24-0, advance to next weekend's state final four at Hudson Valley Community College in Troy where they will meet Midlakes.
We are accepting donations to support the costs associated with our live coverage of Midlakes at the NYSPHSAA Final Four on Friday afternoon. All those who donate will be mentioned during our live broadcast. You can learn more and contribute here.
After one quarter of the Class B Western Regionals Midlakes leads Fredonia 16-15. @MidlakesAthletx @SectVGBB @NYSPHSAA pic.twitter.com/eLWdZMMlf4

— Jack Haley (@jackhaley42) March 11, 2018
At the half Midlakes leads Fredonia 34-30 in the Class B Western Regionals @MidlakesAthletx @SectVGBB @NYSPHSAA pic.twitter.com/gIxs2WBWjn

— Jack Haley (@jackhaley42) March 11, 2018
Midlakes is heading to the final four after their 70-60 win over Fredonia in the Class B finals. @NYSPHSAA @MidlakesAthletx @SectVGBB @SectionVsports pic.twitter.com/sCg8AgjCT7

— Jack Haley (@jackhaley42) March 11, 2018