Big snowfall is not expected for the Finger Lakes this week — even as another nor'easter makes its way up the coast — dumping heavy snow along the New England coastline.
Forecasters say after a cool-and-unsettled weekend — the same forecast will persist throughout the week. While some minor accumulation is possible Monday Night into Tuesday — more scattered snow showers will persist through the end of the week.
FLX Weather Meteorologist Drew Montreuil says the latest shot of cold air, which will be ushered in behind that coastal system — will keep temperatures down, and the lake effect snow disorganized.
Temperatures are expected to hover in the 20s and 30s throughout the week. Montreuil notes that a warm-up is possible at the end of the week, but will be short-lived — as the long-term forecast calls for temperatures to fall back below normal for the following week.
As always, the forecast can, and frequently does change, so stay tuned to the FingerLakes1.com Weather Center for the latest from the National Weather Service, and other great weather resources.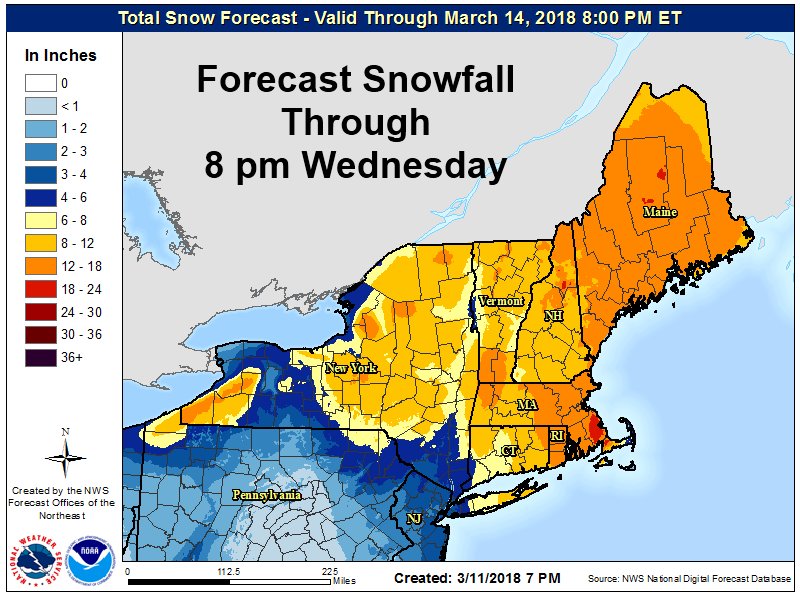 ---
Extended Forecast
---
---
Local Radar
---
---
Weather on Social
---
After quiet weather today and early Monday, snow enters the picture once again for CNY/NEPA. Details below. pic.twitter.com/ZIxjYJlNoO

— NWS Binghamton (@NWSBinghamton) March 11, 2018
Midweek snow threat around here even though the major storm misses well to the east. Similar set-up to end of last week. pic.twitter.com/Q2kxTGacQ2

— Rich Caniglia (@whec_rcaniglia) March 12, 2018
Was a great day of ⛷ @BristolMountain. pic.twitter.com/89KJvzxxVu

— Jeff Najder (@jnajder) March 11, 2018
Become a backyard weather observer and help improve New York and Pennsylvania's water resources! Sign up for #CoCoRaHS Today! https://t.co/26r2IGnrIB #NYWX #PAWX @NWSBinghamton pic.twitter.com/3jQ3CQlZHu

— NWS Binghamton (@NWSBinghamton) March 10, 2018
Then & Now: Amazing difference from exactly one year ago here at Lake Ontario in West Webster, NY. No "Ice House" this year due to lack of wind whipped waves, unlike a year ago–when this property was pummeled @spann @JimCantore @StormHour @TomNiziol @wxbywilliams @NatalieKucko pic.twitter.com/XX3u0ll4C3

— John Kucko (@john_kucko) March 11, 2018
BGM issues Public Information Statement (PNS) https://t.co/oNlmG902H5

— NWS Binghamton (@NWSBinghamton) March 11, 2018
March 11-17th NWS Buffalo will be recognizing Flood Safety Awareness! Each day we will be posting a tip for helping keep you and your loved ones safe. To learn more about safety visit: https://t.co/mYguIgPLLB #FloodSafety #NYwx pic.twitter.com/YsX4XUmTEX

— NWS Buffalo (@NWSBUFFALO) March 11, 2018
Below normal temperatures today, but at least it will be dry and there will even be some breaks of sunshine. pic.twitter.com/V0wf2RWu2W

— NWS Buffalo (@NWSBUFFALO) March 11, 2018
More snow to get through this week but it is looking a little better in time for the weekend and the all important St.Patrick's Day and parade on Saturday. pic.twitter.com/wQD2J2uix6

— Rich Caniglia (@whec_rcaniglia) March 12, 2018