Last year's run to the Section V Class A2 Championship by the Wayne was an improbable one, led by 3 sophomores and a junior, the Eagles captured the first sectional title in school history. This year, the Eagles would take nobody by surprise in the postseason but still proved unstoppable on their way to back-to-back Class A2 championships with a  57-54 win over the NE Douglass Panthers in early game at the Blue Cross Arena in Rochester on Saturday.
.
The victory was Wayne's 20th win of the season and propels them into the Section V Class A play-in game where they will face the winner of Irondequoit and Greece-Athena in the Class A1 title game.
Wayne opened up a 20-10 lead after the first quarter before NE Douglass won the second period making it 26-21 at halftime. In the second half, the Panthers had evened the score at 46-46 with less than three minutes less to play before back-to-back buckets by Nick Carmichael gave Wayne the lead for good, sealing the victory by going 7-8 from the free throw line in the final quarter.
It was a trying season for Wayne who returned their entire squad from the 2017 championship season but played most of the season without injured Braeden Zenelovic. When Zenelovic finally returned in early February, Logan Blankenberg would miss multiple games with an injury. Finally, with their roster fully healthy for the postseason run, they proved unbeatable.
Logan Blankenberg led all scorers with 23 points, including 5-8 from behind the arc, to go along with 6 rebounds and 3 assists. Nick Carmichael carded a double-double shooting 6-7 from the field for 15 points while pulling down 10 rebounds and blocking 3 shots. Braeden Zenelovic was just 1-11 from their field on the game but made four clutch free throws down the stretch. Billy Thompson scored 5 points but efficiently dished out 8 assists while only committing 1 turnover and recording 5 steals.
Billy Thompson and Nick Carmichael were named to the All-Tournament Team and Logan Blankenberg was named the Class A2 Tournament MVP.
BOXSCORE: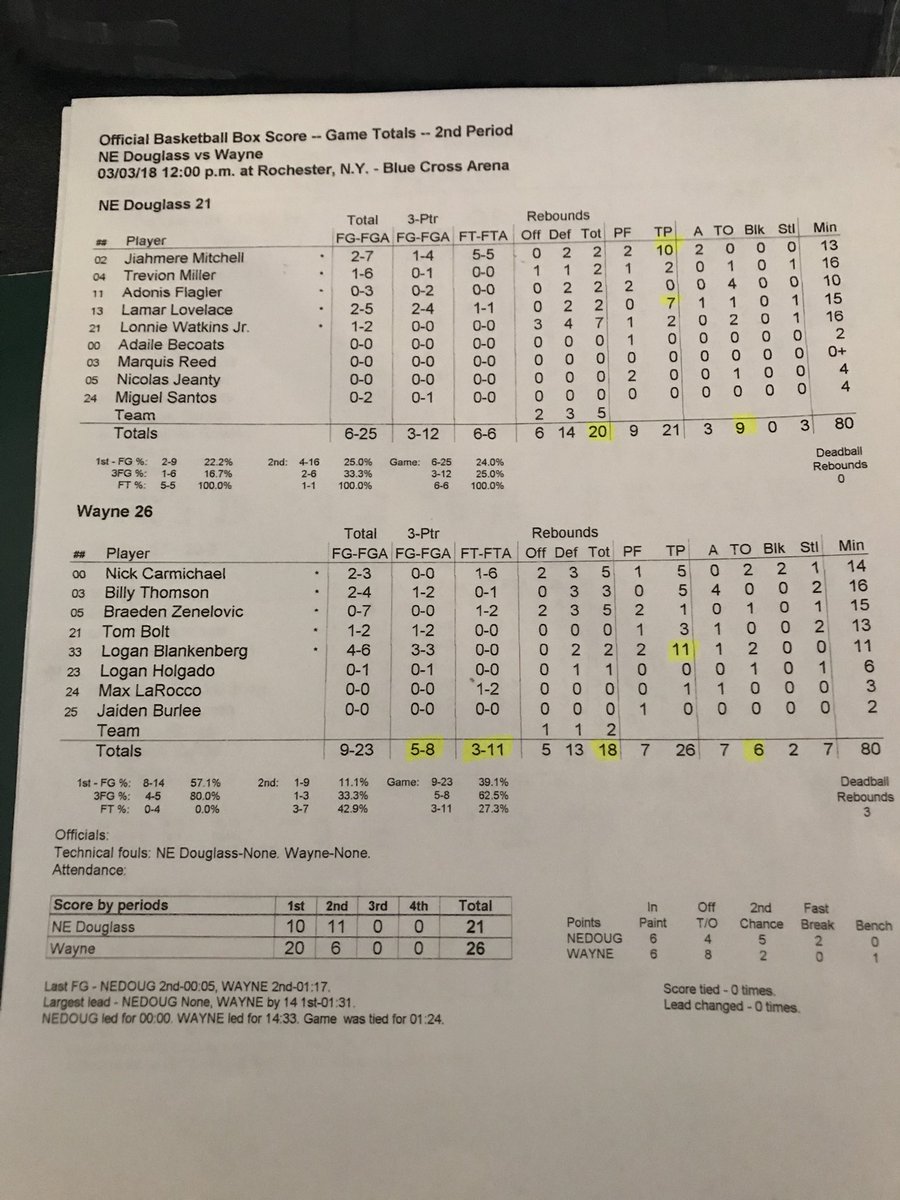 Class A2 All-Tournament Team:
Rondell Watson – Leadership Academy
Dan Hayes – Honeoye Falls-Lima
Billy Thomson – Wayne
Adonis Flagler – NE Douglass
Nick Carmichael – Wayne
Jiahmere Mitchell – NE Douglass
Sportsmanship Award:
Tommy Bolt – Wayne
Marquis Reed – NE Douglass
Tournament MVP Award:
Logan Blankenberg – Wayne
FROM SOCIAL MEDIA:
Boys @sectvbb Class A2 final, FINAL: No. 2 Wayne 57, No. 4 NE Douglass 54. Wayne becomes back-to-back Class A2 champions a year after winning their first-ever sectional title. They play tonight's Athena-Irondequoit winner. @DandC @SectionVsports @WCSD_Athletics #VarsityVoices pic.twitter.com/TemaborEKj

— Brodie Inguaggiato (@Brodie_Iggy) March 3, 2018
#WAYNETRAIN in the Big House, where #EaglesFly #SammyHagar #YouTubeIt @sectvbb pic.twitter.com/MQRTQF3srZ

— Jeff DiVeronica (@RocDevo) March 3, 2018
UPDATED: https://t.co/Gpuj6YKN05

— Paul Gotham (@PickinSplinters) March 3, 2018
All tournament team. Blankenberg named MVP. @FingerLakes1 @RocDevo pic.twitter.com/A7OjSUe0rQ

— WayneCSD Athletics (@WCSD_Athletics) March 3, 2018
Blankenberg… Find out NE Douglass is probably cursing Wayne's Logan Blankenberg as the Eagles won a second-straight Class A2 title. @DandC #VarsityVoices https://t.co/C15t1s3XX5

— Brodie Inguaggiato (@Brodie_Iggy) March 3, 2018