With just two days remaining in the Section V boys and girls basketball regular season, several Wayne-Finger Lakes wrapped up their schedule on Tuesday night.
The Midlakes girls varsity team has been the story of the season, having clinched the Finger Lakes East title over the weekend, completed their regular season with a perfect 20-0 record after defeating Pal-Mac 58-49 in Palmyra. Coach Nate Rich and standout junior Alaina Forbes will enter the postseason as the top seed in Class B.
The Bloomfield Lady Bombers captured their first Finger Lakes West championship in ten years after defeating Dundee 75-49 on the road in southern Yates County. Bombers' power forward Braelin Scott finished with 18 points and 14 rebounds for her 20th consecutive double-double this season. Scott also finished the evening setting the school's all-time and single season rebounding records.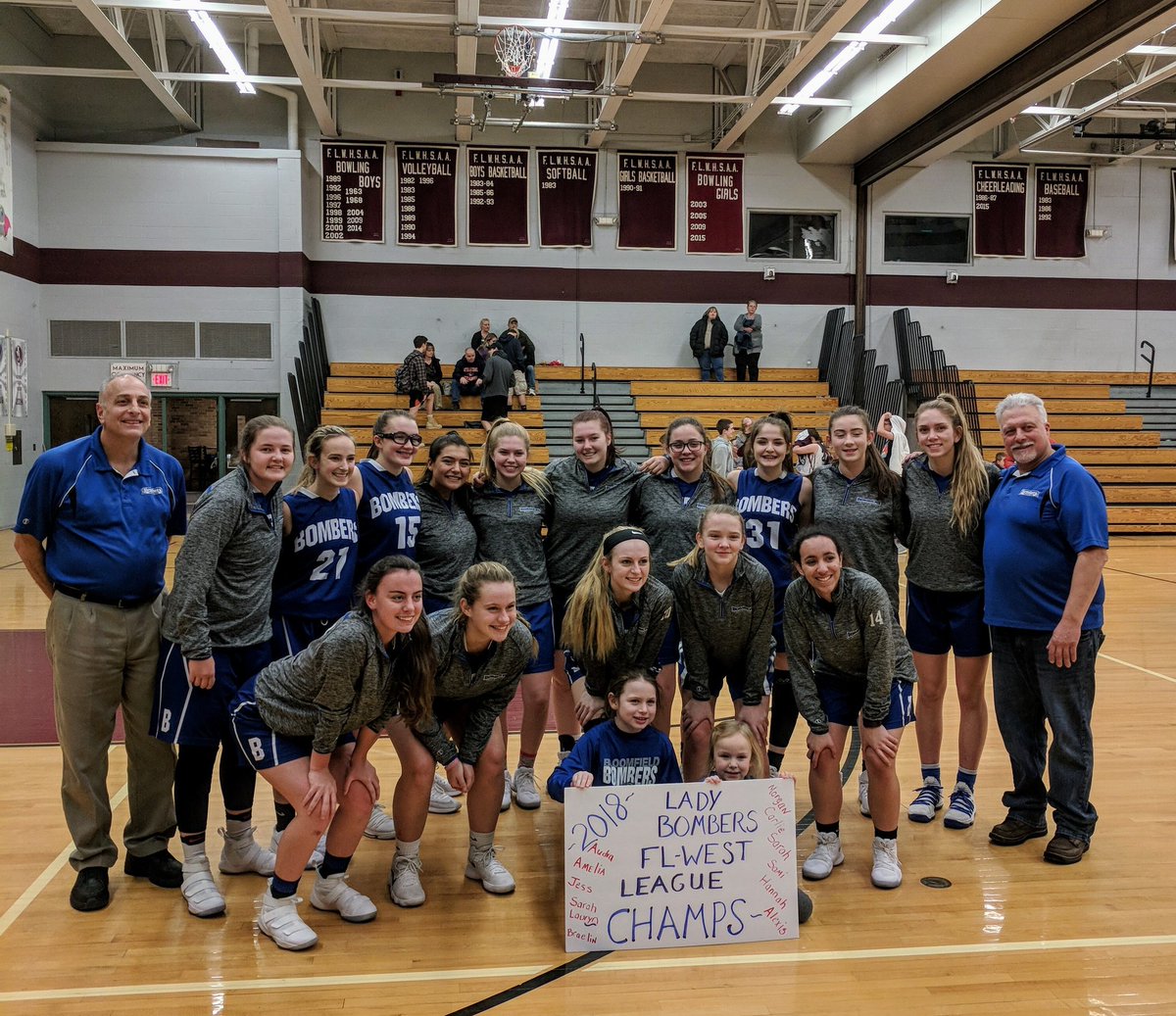 On the boys side, the game of the night was in Newark where Wayne spoiled Senior Night for the Reds with a 55-42 win which secured a share of the Finger Lakes East title which is the Eagles' first league title in school history. Nick Carmichael led Wayne with 22 points and Logan Blankenberg scored 18. The Eagles have an opportunity to win the league championship outright with a win at Penn Yan on Thursday night. Check out the full webcast replay from Tuesday night in Newark as Brendan Harrington and Tane Robinson had the call for FL1 Sports…
Full results from Tuesday night's action and updated league standings below…
W-FL BOYS RESULTS:
GENEVA 46 @ WATERLOO 32
GEN – Akim Hudson 12, 12 reb; Reid Patchett 11, 11 reb
WAT – Derek Slywka 9, 9 reb
PAL-MAC 47 @ MIDLAKES 35
PM – Logan Ameele 19, 12 reb; Sawyer Bloom 11; Travis Snyder 10 reb
MID – Bryce Burri 22; Devon Hicks 10
WAYNE 55 @ NEWARK 42
WYN – Nick Carmichael 22; Logan Blankenberg 18
NEW – Logan Moynihan 15 (5 threes); Jayden Peters 9
MORAVIA 72 @ RED JACKET 35
RJ – Tyler Cosgrove 9
W-FL GIRLS RESULTS:
MIDLAKES 58 @ PAL-MAC 49
MID – Alaina Forbes 31; Cara Walker 12; Macy Kisner 11 reb
PM – Jamie Walker 23; Andra Savage 13, 8 reb
BLOOMFIELD 75 @ DUNDEE 49
BF – Braelin Scott 18, 14 reb; Jessie Sheehan 17; Amelia Poole 13
* Braelin Scott breaks single season & career rebounding records
HONEOYE 46 @ ROMULUS 65
ROM – Mary Ellen Querrie 14, 6 reb; Kyaira Woody 9; Hannah Minges 8
MARION 57 @ WILLIAMSON 41
MAR – Brooke Guerin 21; Abigail DeFisher 18
WIL – Kiki Hall 12; Alexa Jordan 9; Reagan Mangos 7
WATERLOO 40 @ GENEVA 47
WAT – Logan Castiglione 18, 7 steals
GEN – Kevanesha Harrison 14, 10 reb; Treasure Bruce 9, 8 reb; Jade Ross 12 reb
SODUS 48 @ LYONS 62
LYO – Caiden Crego 24; Alison Cook 14; Adrianna Kemp 11, 11 reb
NEWARK 51 @ WAYNE 32
GANANDA WON  VS. EAST ROCHESTER  (No Score Report)
CLYDE-SAVANNAH @ NR-WOLCOTT (No Report)
W-FL SCHEDULE:
BOYS:
DUNDEE @ BLOOMFIELD
NAPLES @ HAC
ROMULUS @ HONEOYE
SOUTH SENECA @ WHITMAN
CLYDE-SAVANNAH @ MARION
NR-WOLCOTT @ LYONS
SODUS @ GANANDA
WILLIAMSON @ RED CREEK
WAYNE @ PENN YAN (THURSDAY)
GIRLS:
NAPLES @ HAC
WAYNE @ MYNDERSE
WHITMAN @ SOUTH SENECA
W-FL BOYS/GIRLS BASKETBALL STANDINGS:
| | | | | | | | | | | | |
| --- | --- | --- | --- | --- | --- | --- | --- | --- | --- | --- | --- |
| | FINGER LAKES EAST STANDINGS |   | W |   | L | GB |   | W |   | L | STK |
| 1 | WAYNE EAGLES x | | 12 | – | 1 | – | | 16 | – | 3 | W2 |
| 2 | MYNDERSE BLUE DEVILS | | 12 | – | 2 | .5 | | 17 | – | 3 | L1 |
| 3 | PENN YAN MUSTANGS | | 10 | – | 3 | 2.0 | | 15 | – | 4 | W4 |
| 4 | NEWARK REDS | | 6 | – | 8 | 6.5 | | 7 | – | 13 | L2 |
| 4 | PAL-MAC RED RAIDERS | | 6 | – | 8 | 6.5 | | 10 | – | 9 | W4 |
| 6 | MIDLAKES SCREAMING EAGLES | | 4 | – | 10 | 8.5 | | 6 | – | 14 | L6 |
| 7 | GENEVA PANTHERS | | 3 | – | 11 | 9.5 | | 6 | – | 14 | W1 |
| 8 | WATERLOO INDIANS | | 2 | – | 11 | 10.0 | | 5 | – | 14 | L5 |
| | | | | | | | | | | | . |
| | FINGER LAKES WEST STANDINGS |   | W |   | L | GB |   | W |   | L | STR |
| 1 | MARCUS WHITMAN WILDCATS * | | 14 | – | 1 | – | | 16 | – | 3 | W3 |
| 2 | H.A.C. WOLVES | | 9 | – | 6 | 4.0 | | 12 | – | 6 | L1 |
| 3 | HONEOYE BULLDOGS | | 8 | – | 5 | 4.5 | | 10 | – | 7 | L2 |
| 4 | BLOOMFIELD BOMBERS | | 9 | – | 7 | 5.0 | | 10 | – | 10 | L3 |
| 4 | SOUTH SENECA FALCONS | | 9 | – | 7 | 5.0 | | 10 | – | 9 | W3 |
| 6 | RED JACKET INDIANS | | 7 | – | 9 | 7.0 | | 7 | – | 13 | L1 |
| 6 | NAPLES BIG GREEN | | 6 | – | 9 | 7.0 | | 8 | – | 11 | L1 |
| 8 | ROMULUS WARRIORS | | 4 | – | 10 | 9.0 | | 6 | – | 12 | W1 |
| 9 | DUNDEE SCOTS | | 2 | – | 12 | 11.0 | | 4 | – | 13 | L3 |
| | | | | | | | | | | | . |
| | WAYNE COUNTY STANDINGS |   | W |   | L | GB |   | W |   | L | STR |
| 1 | CLYDE-SAVANNAH GOLDEN EAGLES x | | 14 | – | 1 | – | | 15 | – | 4 | L1 |
| 2 | LYONS LIONS | | 13 | – | 2 | 1.0 | | 16 | – | 3 | L1 |
| 3 | GANANDA BLUE PANTHERS | | 10 | – | 5 | 4.0 | | 12 | – | 6 | W1 |
| 4 | EAST ROCHESTER BOMBERS | | 10 | – | 6 | 4.5 | | 12 | – | 7 | W2 |
| 5 | SODUS SPARTANS | | 9 | – | 6 | 5.0 | | 11 | – | 8 | W3 |
| 6 | RED CREEK RAMS | | 5 | – | 9 | 8.5 | | 6 | – | 11 | L2 |
| 7 | WILLIAMSON MARAUDERS | | 4 | – | 11 | 10.0 | | 5 | – | 12 | L1 |
| 8 | NORTH ROSE-WOLCOTT COUGARS | | 2 | – | 13 | 11.5 | | 2 | – | 16 | L8 |
| 9 | MARION BLACK KNIGHTS | | 1 | – | 14 | 13.0 | | 2 | – | 17 | L17 |
| | | | | | | | | | | | |
| | | | | | | | | | | | . |
| | FL EAST GIRLS STANDINGS |   | W |   | L | GB |   | W |   | L | STK |
| 1 | MIDLAKES SCREAMING EAGLES * | | 14 | – | 0 | – | | 20 | – | 0 | W20 |
| 2 | GENEVA PANTHERS | | 10 | – | 4 | 4.0 | | 13 | – | 7 | W1 |
| 3 | PAL-MAC RED RAIDERS | | 8 | – | 6 | 6.0 | | 10 | – | 10 | L4 |
| 3 | PENN YAN MUSTANGS | | 8 | – | 6 | 6.0 | | 10 | – | 10 | L1 |
| 5 | MYNDERSE BLUE DEVILS | | 7 | – | 6 | 6.5 | | 10 | – | 9 | L3 |
| 6 | NEWARK REDS | | 3 | – | 11 | 11.0 | | 7 | – | 13 | W1 |
| 6 | WATERLOO INDIANS | | 3 | – | 11 | 11.0 | | 7 | – | 13 | L1 |
| 8 | WAYNE EAGLES | | 2 | – | 11 | 11.5 | | 4 | – | 15 | L2 |
| | | | | | | | | | | | . |
| | FL WEST GIRLS STANDINGS |   | W |   | L | GB |   | W |   | L | STR |
| 1 | BLOOMFIELD BOMBERS * | | 14 | – | 2 | – | | 17 | – | 3 | W1 |
| 2 | SOUTH SENECA FALCONS | | 12 | – | 3 | 1.5 | | 15 | – | 4 | W1 |
| 3 | RED JACKET INDIANS | | 11 | – | 5 | 3.0 | | 14 | – | 5 | W2 |
| 3 | ROMULUS WARRIORS | | 11 | – | 5 | 3.0 | | 13 | – | 6 | W5 |
| 5 | NAPLES BIG GREEN | | 9 | – | 6 | 4.5 | | 12 | – | 7 | W1 |
| 6 | MARCUS WHITMAN WILDCATS | | 6 | – | 9 | 7.5 | | 9 | – | 8 | W2 |
| 7 | H.A.C. WOLVES | | 5 | – | 10 | 8.5 | | 5 | – | 14 | L1 |
| 8 | HONEOYE BULLDOGS | | 2 | – | 14 | 12.0 | | 4 | – | 16 | L2 |
| 9 | DUNDEE SCOTS | | 0 | – | 15 | 13.5 | | 0 | – | 19 | L19 |
| | | | | | | | | | | | . |
| | WAYNE CO. GIRLS STANDINGS |   | W |   | L | GB |   | W |   | L | STR |
| 1 | RED CREEK RAMS * | | 15 | – | 1 | – | | 17 | – | 3 | W11 |
| 2 | GANANDA BLUE PANTHERS | | 14 | – | 2 | ,5 | | 14 | – | 6 | W1 |
| 3 | MARION BLACK KNIGHTS | | 12 | – | 4 | 3.0 | | 15 | – | 5 | W4 |
| 4 | LYONS LIONS | | 10 | – | 6 | 5.0 | | 12 | – | 8 | W1 |
| 5 | NORTH ROSE-WOLCOTT COUGARS | | 5 | – | 10 | 9.5 | | 7 | – | 12 | L2 |
| 6 | WILLIAMSON MARAUDERS | | 5 | – | 11 | 10.0 | | 8 | – | 12 | L1 |
| 7 | EAST ROCHESTER BOMBERS | | 4 | – | 12 | 11.0 | | 6 | – | 14 | L2 |
| 8 | CLYDE-SAVANNAH GOLDEN EAGLES | | 3 | – | 12 | 11.5 | | 4 | – | 15 | W1 |
| 9 | SODUS SPARTANS | | 3 | – | 13 | 12.0 | | 3 | – | 17 | W1 |
| | | | | | | | | | | | |
| | * Clinched Outright League Title | | | | | | | | | | |
| | x Clinched Share of League Title | | | | | | | | | | |
TWEETS AROUND SECTION V:
FL1 Sports production team, final pregame meal of the regular season…. Wayne & Newark LIVE at 7:30 on https://t.co/LfxmvyEme7 @WCSD_Athletics @NewarkAthletics @TomWahls pic.twitter.com/DivrEe5qdc

— FingerLakes1.com (@FingerLakes1) February 13, 2018
https://twitter.com/d_nice522/status/963565031765012481
GIRLS HOOPS: Big second half sparks Oakfield-Alabama to victory over Byron-Bergen on Senior Night and earn No. 1… https://t.co/s0QgCrkg6w

— Daily News Sports (@BataviaDNSports) February 14, 2018
Girls Basketball and Cheerleading Senior Night! #CougarPride #ThankYouSeniors pic.twitter.com/QXRwpzA85h

— NRW High School (@NRWHS) February 14, 2018
Wayland-Cohocton got a monster fourth quarter from Alex Button and pulls away with the 57-49 win over Hornell.

— Sean Curran (@_sean_curran) February 14, 2018
Congratulations seniors! Let's get the w. @GanandaBball @GHSAthletics1 pic.twitter.com/eemoYQcpF4

— Gananda Walworth VF (@GanandaWVF) February 14, 2018
— Pal-Mac Athletics (@palmacsports) February 14, 2018
Davon Brown paces Leadership with 27 points. Dez Ellis adds 17. Kobe Long had 27 for McQuaid. Anthony Iglesia added 19.

— Paul Gotham (@PickinSplinters) February 14, 2018
Senior Year Highlight Film 🙏 https://t.co/h38YoLEhU5 pic.twitter.com/F0ipTjIeXF

— Braeden Zenelovic (@braedenz7) September 18, 2017
@WCSD_Athletics pulls away late to win 55-42. Hard fought FL East game, good luck to both teams in sectionals #GoReds @sectvbb

— Newark Athletics (@NewarkAthletics) February 14, 2018
58 – 49….final….strong game…good luck all in Sectionals

— Pal-Mac Athletics (@palmacsports) February 14, 2018