Standing Committees in Seneca County have a new look after a unanimous vote to merge several for 2018.
Supervisor Lee Davidson (R-Lodi) made a motion for the Rule 29, which was seconded by Supervisor Cindy Garlick-Lorenzetti (D-Fayette).
After the resolution was introduced, reducing the total number of committees by nearly-half — the board entered discussion.
"It takes a long time sometimes for these meetings to get over with. Departments heads are probably wore out by the time the meeting gets over. We should try to look out for the best for the County," explained Supervisor Davidson.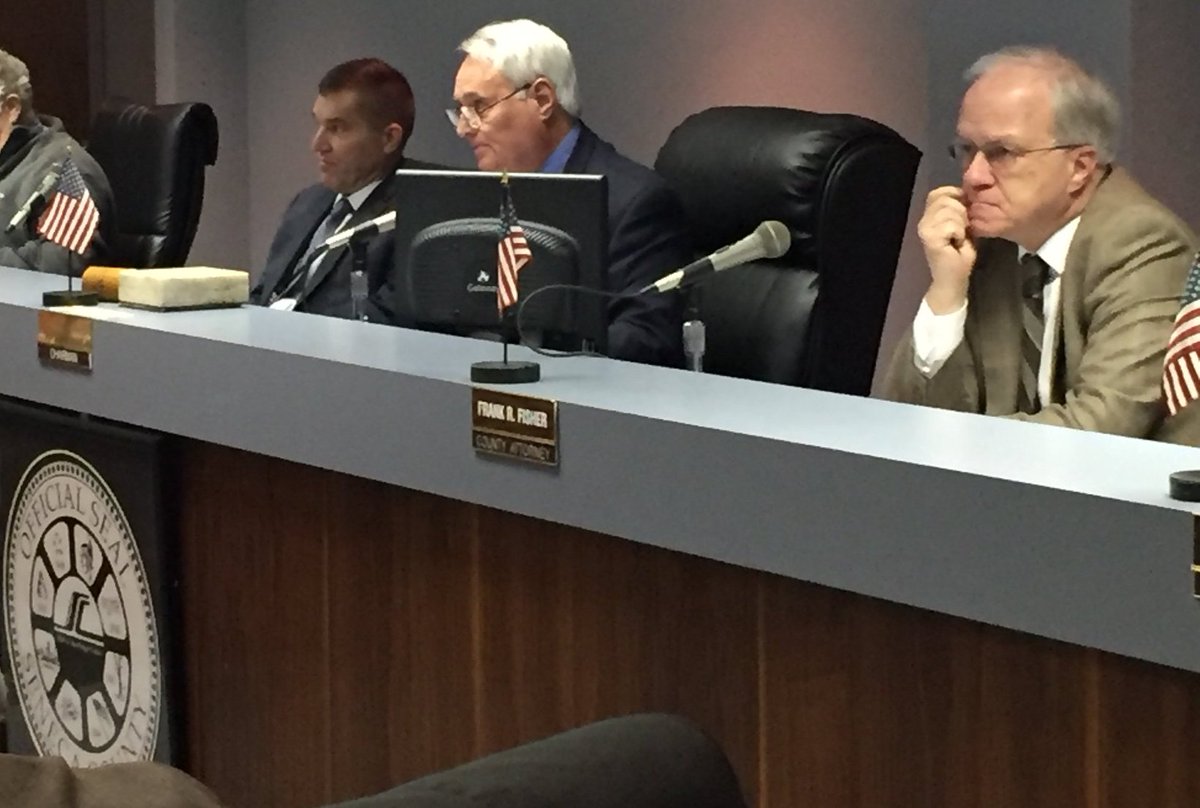 "We have received no feedback — positive or negative — about the reductions — but we trust this Board can move forward and try the restructured concept for 2018," added Board of Supervisors Chairman Bob Shipley (R-Waterloo).
Supervisors Shipley, Davidson, and Garlick-Lorenzetti made up the team responsible for 'modifying' the committee structure. Though skeptical, the Fayette Supervisor said she was open to the concept.
"I would like to have everybody look closely at these committees," added Davidson, before Shipley ultimately called for a vote.
"Pending board approval the new committee assignments will be distributed to the board and press," added Chairman Shipley, who led the vote off.
Despite the expectation that a role call vote may be necessary for the resolution to pass — it got through the board unanimously — without a single supervisor opposing the new structure.
There was little public input on the matter during the public comment portion of the meeting, but Waterloo resident Bob McGill said during his remarks that he hoped the committees would not become 'politicized', or 'filled' with propaganda.
---
NEW STRUCTURE AND ASSIGNMENTS FOR 2018
---
COMMITTEE NO. 1 – AGRICULTURE and ENVIRONMENTAL AFFAIRS
Responsible for Agriculture Districts, Cornell Cooperative Extension Service, Soil & Water Conservation Districts, Clean "Green" Energy, County Solid Waste Management Plan, and keeping the Board of Supervisors abreast of those activities within Seneca County and their potential environmental impacts.
Chair – Paul Kronenwetter
Vice Chair – Ralph Lott
Member – Cindy Garlick-Lorenzetti
Member – Lee Davidson
Member – David Kaiser
COMMITTEE NO. 2 – WAYS and MEANS
Responsible for the County Finance Department and Budget, County Treasurer Department, Real Property Tax Services, Fixed Asset Procurement, Purchasing and the Information Technology and Communications Department.
Chair – Mike Reynolds
Vice-Chair – David Kaiser
Member – Lee Davidson
Member – Don Trout
Member – Lisa Hochadel
COMMITTEE NO. 3 – ECONOMIC DEVELOPMENT and TOURISM
Responsible for the Planning & Community Development Department, Planning Board, Industrial Development Agency, Tourism Promotion Agency, Finger Lakes Regional Airport, and all Federal and State grants.
Chair – David Kaiser
Vice-Chair – Don Trout
Member – Ron McGreevy
Member – Ralph Lott
Member – Ernie Brownell
COMMITTEE NO. 4 – HUMANE RESOURCES and GOVERNMENT OPERATIONS
Responsible for the Humane Resources Department, Insurance, Risk Management, Worker Compensation and Third Party Administrator, Labor Management, Civil Service employee contracts, salaries, benefits, ethics and affirmative action program.  County Clerk, Motor Vehicles Office, Board of Elections, Records Management, Board of Supervisors, Rules and Order of Business, Legislative proposals and reviews, Clerk to the BOS, County Manager, County Law Department, County Historian and responsible for interaction with other NYS counties thru the NYS Inter County Association.
Chair – Lee Davidson
Vice-Chair – Cindy Garlick Lorenzetti
Member – Ron McGreevy
Member – Greg Lazzaro
Member – Don Trout
COMMITTEE NO. 5 – HEALTH and HUMAN SERVICES
Responsible for the Public Health Department, Department of Human Services, Social Services Programs, Workforce Development & Youth Bureau, Office for the Aging, Division of Mental Health Services, Addictions Treatment and Prevention, Domestic Violence Program, Community Services Board, Weatherization Programs, Veterans Service Agency and Community Colleges.
Chair- Ron McGreevy
Vice-Chair – Greg Lazzaro
Member – Robert Hayssen
Member – Mike Reynolds
Member – Lisa Hochadel
COMMITTEE NO. 6 – INDIAN AFFAIRS
Supervisors from affected towns (Seneca Falls, Varick, Fayette)
Chair – Robert Hayssen
Vice-Chair – Paul Kronenwetter
Member – Cindy Garlick Lorenzetti
Member – Greg Lazzaro
Member – Ralph Lott
COMMITTEE NO. 7 – PUBLIC WORKS
Responsible for the Division of Public Works, County Highway Department, County Water and Sewer Department, Special Districts, Recycling & Municipal Solid Wastes, Department of Weights & Measurers, Facilities Department, Code Enforcement Department and County Capital Improvement Plan.
Chair – Don Trout
Vice-Chair – Robert Hayssen
Member – Cindy Garlick Lorenzetti
Member – Paul Kronenwetter
Member – Ernie Brownell
COMMITTEE NO. 8 – PUBLIC SAFETY and CRIMINAL JUSTICE
Responsible for Sheriff's Office Enforcement and Corrections, Probation Department, District Attorney, Public Defender, Courts, Justices & Constables, Criminal Justice Advisory Board, Coroners, Office of Emergency Management, E-911 Communications Center, Fire Mutual Aid Coordination, Traffic Safety Board and STOP-DWI Program.
Chair – Ernie Brownell
Vice-Chair – Lisa Hochadel
Member – Lee Davidson
Member – Mike Reynolds
Member – Walt Prouty