Braelin Scott recorded her 18th consecutive double-double as the Bloomfield Lady Bombers avenged their only league loss to South Seneca last night in Bloomfield winning 41-39. The win snaps South Seneca's 11 game winning streak and puts Bloomfield puts 2 games ahead of the Lady Falcons in the Finger Lakes West standings as the Bombers clinch at least a share of the league championship. Bloomfield travels to Romulus Saturday and Dundee on Tuesday to close out their regular season slate.  Braelin Scott finished with 13 points and 15 rebounds, Jessie Sheehan and Carlie Layton each scored 9 and Amelia Poole had 8 points. South Seneca's Jade Parsons scored 11 points to go with her 12 rebounds, Jenna McDonald scored 10 points, and Logan Shaulis pulled down 12 rebounds in the loss.
In the game of the night in Wayne County girls basketball, the Red Creek Rams defended their home court to beat Gananda 47-39 for the second time this season clinch at least a share of the league title. Emma Griffen led the way with 14 points and 7 rebounds and Katie Smith scored 10 points and pulled down 12 rebound in the win. Mike Krauza's Lady Rams can clinch the outright league title with a win on Saturday at Lyons.
In the FL East, head coach Nate Rich and the Midlakes Screaming Eagle girls clinched their first league title in school history with their victory over Wayne on Friday night. Standout junior guard Alaina Forbes scored 20 points on the night and is now just 14 away from joining the 1,000 point club.
Also, Congratulations to Waterloo's Logan Castiglione who scored her 1,000th career point, with 3:53 remaining in the third quarter on an assist from Aubrey O'Brien, in the Lady Indians' home win over Pal-Mac.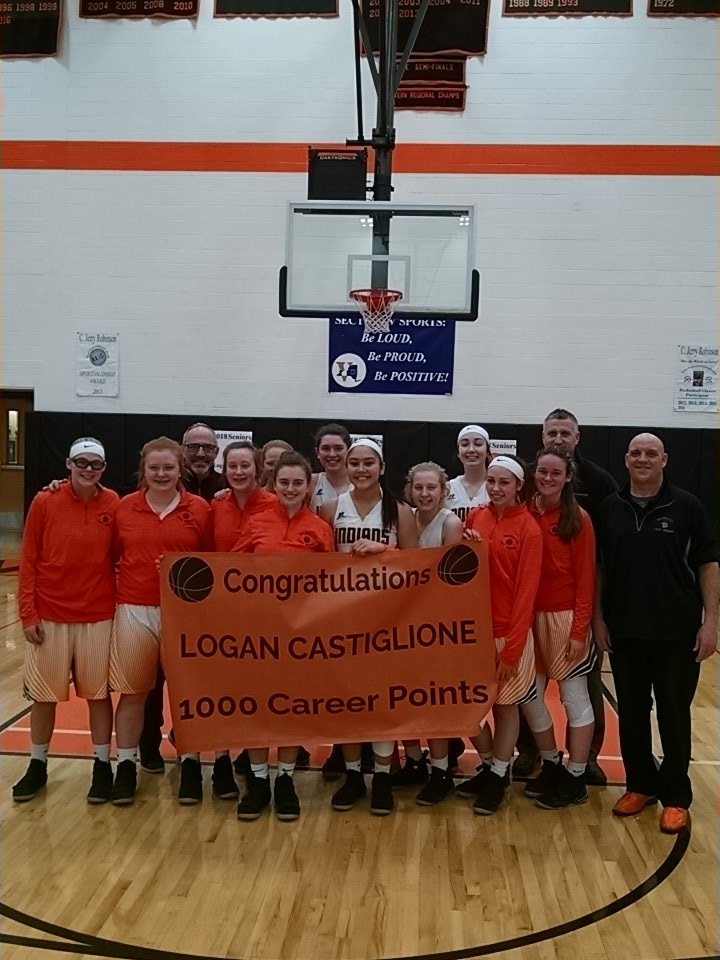 Full results from Friday night in Wayne-Finger Lakes boys and girls basketball action is below…
*** Clyde-Savannah seniors Derrick Chance, Dru Carnevale and Marcus Chance will be in-studio as guests on the Upstate Hoops Podcast on FingerLakes1.com on Sunday morning at 11:00 AM. ***
W-FL BOYS FRIDAY RESULTS:
MIDLAKES 51 @ WAYNE 72
NEWARK 52 @ PENN YAN 56
WEEDSPORT 63 @ NR-WOLCOTT 37
W-FL GIRLS FRIDAY RESULTS:
WAYNE 43 @ MIDLAKES 62
WYN – Alexa Glanzel 20; Gabby Zenelovic 9, 10 reb
MID – Alaina Forbes 20, Macy Kisner 19, 12 rebs, Sydney Passalacqua 12 reb
* Midlakes clinched the first league title in school history and locked up the number one seed in sectionals for class B. Junior guard Alaina Forbes is 14 points from 1000 for her career.
GANANDA 39 @ RED CREEK 47 Emma Griffin 14, 7 reb; Katie Smith 10, 12 reb
SOUTH SENECA 39 @ BLOOMFIELD 41
SS – Jade Parsons 11, 12 reb; Jenna McDonald 10; Logan Shaulis 4, 12 reb
BF – Braelin Scott 13, 15 reb; Jessie Sheehan 9; Carlie Layton 9; Amelia Poole 8
GENEVA 34 @ MYNDERSE 27
GEN – Treasure Bruce 14, 5 reb, 4 ast; Lauren DeVaney 5, 12 reb
MYN – Heidi Miller 8, 8 reb
PAL-MAC 48 @ WATERLOO 59
WAT – Logan Castiglione 23 (1,000th career point); Jillian Panek 16, 7 reb
PM – Andra Savage 12, 12 rebs, Jamie Walker 10, 6 reb, 5 ast
RED JACKET 60 @ HONEOYE 31
RJ – Sydney Close 27
NR-WOLCOTT 37 @ SODUS 41
SOD – Fatimaah Findley 19
CLYDE-SAVANNAH 30 @ WILLIAMSON 61
CS – Eliana Mitchell 16
WIL – Kiki Hall 18, Alexa Jordan 12, Maria Tavares 10
DUNDEE 27 @ HAC 62
HAC – Jalen Nowden 20; Amelia Gugino 11, 7 reb; Amani Baker 10, 9 reb
EAST ROCHESTER 54 @ LYONS 65
ER – Kadayha Hogan 31, 24 reb
LYO – Alison Cook 21; Caiden Crego 16; Jasmine David 12, 11 reb
PENN YAN 63 @ NEWARK 41
ROMULUS 51 @ WHITMAN 46
W-FL SATURDAY SCHEDULE:
BOYS:
IRONDEQUOIT @ WAYNE
HAC @ DUNDEE
SODUS @ SOUTH SENECA
NR-WOLCOTT @ WILLIAMSON
PAL-MAC @ VERTUS
GIRLS:
MORAVIA @ MYNDERSE
RED CREEK @ LYONS
BLOOMFIELD @ ROMULUS
HAC @ SOUTH SENECA
W-FL BOYS/GIRLS BASKETBALL STANDINGS:
| | | | | | | | | | | | |
| --- | --- | --- | --- | --- | --- | --- | --- | --- | --- | --- | --- |
| | FINGER LAKES EAST STANDINGS |   | W |   | L | GB |   | W |   | L | STK |
| 1 | MYNDERSE BLUE DEVILS | | 12 | – | 1 | – | | 17 | – | 2 | W7 |
| 2 | WAYNE EAGLES | | 11 | – | 1 | .5 | | 14 | – | 2 | W1 |
| 3 | PENN YAN MUSTANGS | | 9 | – | 3 | 2.0 | | 14 | – | 4 | W3 |
| 4 | NEWARK REDS | | 6 | – | 7 | 6.0 | | 7 | – | 12 | L1 |
| 5 | MIDLAKES SCREAMING EAGLES | | 4 | – | 9 | 8.0 | | 6 | – | 13 | L5 |
| 5 | PAL-MAC RED RAIDERS | | 4 | – | 8 | 7.5 | | 7 | – | 9 | W1 |
| 7 | WATERLOO INDIANS | | 2 | – | 10 | 9.5 | | 5 | – | 13 | L4 |
| 7 | GENEVA PANTHERS | | 2 | – | 11 | 10.0 | | 5 | – | 14 | L3 |
| | | | | | | | | | | | . |
| | FINGER LAKES WEST STANDINGS |   | W |   | L | GB |   | W |   | L | STR |
| 1 | MARCUS WHITMAN WILDCATS * | | 13 | – | 1 | – | | 15 | – | 3 | W2 |
| 2 | H.A.C. WOLVES | | 8 | – | 5 | 4.0 | | 11 | – | 5 | W2 |
| 3 | BLOOMFIELD BOMBERS | | 9 | – | 6 | 4.5 | | 10 | – | 8 | L1 |
| 3 | HONEOYE BULLDOGS | | 8 | – | 5 | 4.5 | | 10 | – | 7 | L2 |
| 5 | SOUTH SENECA FALCONS | | 8 | – | 7 | 5.5 | | 8 | – | 9 | W1 |
| 6 | RED JACKET INDIANS | | 7 | – | 9 | 7.0 | | 7 | – | 12 | W1 |
| 6 | NAPLES BIG GREEN | | 6 | – | 9 | 7.0 | | 8 | – | 10 | W1 |
| 8 | ROMULUS WARRIORS | | 4 | – | 10 | 9.0 | | 5 | – | 12 | L5 |
| 9 | DUNDEE SCOTS | | 2 | – | 11 | 10.0 | | 4 | – | 12 | L2 |
| | | | | | | | | | | | . |
| | WAYNE COUNTY STANDINGS |   | W |   | L | GB |   | W |   | L | STR |
| 1 | CLYDE-SAVANNAH GOLDEN EAGLES x | | 14 | – | 1 | – | | 15 | – | 3 | W6 |
| 2 | LYONS LIONS | | 13 | – | 2 | 1.0 | | 16 | – | 3 | L1 |
| 3 | GANANDA BLUE PANTHERS | | 9 | – | 5 | 4.5 | | 11 | – | 6 | L1 |
| 3 | EAST ROCHESTER BOMBERS | | 10 | – | 6 | 4.5 | | 11 | – | 7 | W1 |
| 5 | SODUS SPARTANS | | 8 | – | 6 | 5.5 | | 10 | – | 8 | W2 |
| 6 | RED CREEK RAMS | | 5 | – | 8 | 8.0 | | 6 | – | 10 | L1 |
| 7 | WILLIAMSON MARAUDERS | | 3 | – | 10 | 10.0 | | 4 | – | 11 | W1 |
| 8 | NORTH ROSE-WOLCOTT COUGARS | | 2 | – | 12 | 11.0 | | 2 | – | 15 | L7 |
| 9 | MARION BLACK KNIGHTS | | 1 | – | 14 | 13.0 | | 2 | – | 16 | L16 |
| | | | | | | | | | | | |
| | | | | | | | | | | | . |
| | FL EAST GIRLS STANDINGS |   | W |   | L | GB |   | W |   | L | STK |
| 1 | MIDLAKES SCREAMING EAGLES * | | 11 | – | 0 | – | | 17 | – | 0 | W17 |
| 2 | GENEVA PANTHERS | | 8 | – | 3 | 3.0 | | 11 | – | 6 | W7 |
| 3 | PAL-MAC RED RAIDERS | | 8 | – | 4 | 3.5 | | 10 | – | 7 | L2 |
| 4 | PENN YAN MUSTANGS | | 8 | – | 5 | 4.0 | | 10 | – | 8 | W1 |
| 5 | MYNDERSE BLUE DEVILS | | 7 | – | 6 | 5.5 | | 10 | – | 8 | L2 |
| 6 | NEWARK REDS | | 2 | – | 10 | 9.5 | | 5 | – | 12 | L2 |
| 6 | WAYNE EAGLES | | 2 | – | 10 | 9.5 | | 4 | – | 14 | L1 |
| 6 | WATERLOO INDIANS | | 2 | – | 10 | 9.5 | | 6 | – | 12 | W1 |
| | | | | | | | | | | | . |
| | FL WEST GIRLS STANDINGS |   | W |   | L | GB |   | W |   | L | STR |
| 1 | BLOOMFIELD BOMBERS x | | 13 | – | 1 | – | | 16 | – | 2 | W1 |
| 2 | SOUTH SENECA FALCONS | | 11 | – | 3 | 2.0 | | 14 | – | 4 | L1 |
| 3 | RED JACKET INDIANS | | 10 | – | 5 | 3.5 | | 13 | – | 5 | W1 |
| 4 | ROMULUS WARRIORS | | 9 | – | 5 | 4.0 | | 11 | – | 6 | W3 |
| 5 | NAPLES BIG GREEN | | 9 | – | 6 | 4.5 | | 12 | – | 7 | W1 |
| 6 | MARCUS WHITMAN WILDCATS | | 6 | – | 7 | 6.5 | | 9 | – | 8 | W2 |
| 7 | H.A.C. WOLVES | | 5 | – | 9 | 8.0 | | 5 | – | 12 | W1 |
| 8 | HONEOYE BULLDOGS | | 2 | – | 13 | 11.5 | | 4 | – | 15 | L1 |
| 9 | DUNDEE SCOTS | | 0 | – | 15 | 13.5 | | 0 | – | 18 | L18 |
| | | | | | | | | | | | . |
| | WAYNE CO. GIRLS STANDINGS |   | W |   | L | GB |   | W |   | L | STR |
| 1 | RED CREEK RAMS x | | 14 | – | 1 | – | | 16 | – | 3 | W10 |
| 2 | GANANDA BLUE PANTHERS | | 13 | – | 2 | 1.0 | | 13 | – | 6 | L2 |
| 3 | MARION BLACK KNIGHTS | | 9 | – | 4 | 4.0 | | 12 | – | 5 | W3 |
| 3 | LYONS LIONS | | 9 | – | 4 | 4.0 | | 10 | – | 6 | W1 |
| 5 | NORTH ROSE-WOLCOTT COUGARS | | 4 | – | 9 | 9.0 | | 4 | – | 10 | L2 |
| 6 | EAST ROCHESTER BOMBERS | | 4 | – | 10 | 9.5 | | 6 | – | 10 | L1 |
| 6 | WILLIAMSON MARAUDERS | | 4 | – | 10 | 9.5 | | 5 | – | 10 | W2 |
| 8 | SODUS SPARTANS | | 3 | – | 11 | 10.5 | | 3 | – | 12 | W1 |
| 9 | CLYDE-SAVANNAH GOLDEN EAGLES | | 2 | – | 11 | 11.0 | | 2 | – | 13 | L3 |
| | | | | | | | | | | | |
| | * Clinched Outright League Title | | | | | | | | | | |
| | x Clinched Share of League Title | | | | | | | | | | |
TWEETS AROUND SECTION V:
With 2:51 left in the 3rd, Mynderse just scored their first points since late in the first quarter on a Hannah Lang three. They trail Geneva 23-15 pic.twitter.com/COnBz0IloJ

— FingerLakes1.com (@FingerLakes1) February 10, 2018
Boys hoops: @victorboysbball tops Hilton, 53-48. Blue Devils (6-13) erased 8-point deficit at end of 3rd Q with 15-0 run to start 4th. Caleb Clow scores 16, @mattcagg scores 12 & Jack LaRue scores 11. Hilton: Hill scores 23 points. @sectvbb

— Bob Chavez (@MPN_bchavez) February 10, 2018
https://twitter.com/MWgirlshoops/status/962308277307666434
South Seneca had two shots before the buzzer but came up empty. Bloomfield wins 41-39

— Jack Haley (@jackhaley42) February 10, 2018
Mendon cooks up an upset of No. 1 Athena in boys basketball, sectional shuffle begins https://t.co/wd7J430noa #ROC

— Democrat & Chronicle (@DandC) February 10, 2018
Slamming. Salmon. CeyQuan Salmon @GuyWith1Sleeve of World of Inquiry zested up his senior night game this evening by dribbling the basketball baseline for the dunk vs. School of the Arts. pic.twitter.com/3hKL2XRk7y

— Matt Trabold (@TrabsMatt) February 10, 2018
https://twitter.com/TimIrvingSports/status/962183034161246209
(UPDATED) "I was just trying to make a play. We were down one. I just took it. I just made the right play for us." https://t.co/joG57WeXvh

— Paul Gotham (@PickinSplinters) February 10, 2018
https://twitter.com/BarklayBulldog/status/962195167477420033