It was an exciting night for Seneca Falls residents who are hopeful for a relief from a strained relationship between the Town and one of it's largest economic drivers.
Seneca Meadows Landfill Regional Manager Kyle Black addressed the board, presenting two checks making the case for local economic impact. "Seneca Meadows is pleased to provide our 2017 fourth quarter payment to the Town of Seneca Falls," Black began. "Our 18 year strong partnership has yielded $47.5 million in direct support, providing Seneca Falls with an unprecedented opportunity to minimize taxes and fund services that gives Seneca Falls a competitive edge attracting development."
He also called on the board to end the strained, tense relationship that has resulted in extensive litigation.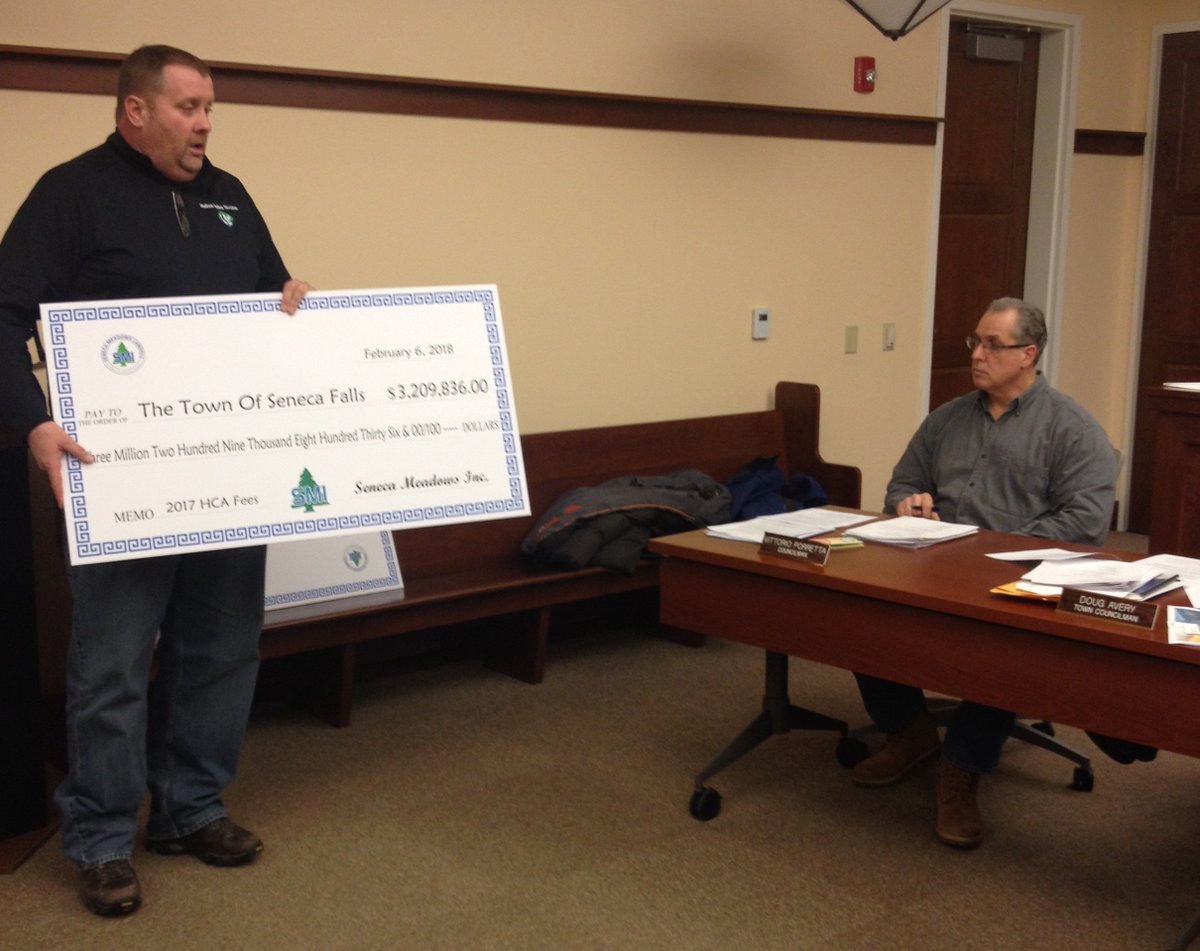 Black added, "It is our hope that this mutually beneficial partnership will continue, and that, together, we will work to make our community strong for the next generation."
The fourth quarter payment itself was valued at more than $658,000. In all, the Town received over $3.2 million from Seneca Meadows through the Host Community Agreement.
The $47.5 million represents all of the money the Town has received from Seneca Meadows since 1999. The relationship between the Town Board and Seneca Meadows became strained over the last two years, after the passing of a local law, which would require the facility to shut down around 2025.
While the Town Board attempted to pass a new local law in early-2017 — that one was overturned by the courts. Since then, Seneca Meadows initiated an Article 78 — challenging the so-called 'Waste Disposal Law', otherwise known as Local Law No. 3 of 2016.
When the Town Board adopted the 2018 budget, concerns over whether Seneca Meadows would make payments resulted in a near-tripling of property taxes. Town Attorney David Foster said that assuming payments would continue during a legal battle would not be a responsible move fiscally.
Stanley Praszkowicz, a Seneca Falls resident, addressed the board asking them to think of the 'moderate' wage earners. "They built this community and we've lost 5.4 percent of the Town's population since 1980," he explained. "We can't forget about them." He noted that median income for residents in Seneca Falls sits at $44,500 — putting those families at greatest risk with the rise of taxes.
Still though, Black closed his remarks by pointing out that sitting down and coming up with a solution would be the best way forward. "We'd like to sit down with the board regarding the litigation that's pending. It's not good for us, you or the community. I'd like to see us come to an agreement and avoid litigation," he concluded.
While some members of the Town Board have expressed interest at varying times over the last year to sit down and come up with a long-term solution — no talks are currently planned.