The Lyons Lions entered Wednesday night's match-up with East Rochester having lost five straight meetings with the Bombers. Zac Young's Lions ended that streak in convincing fashion rolling to a 71-46 win in a game that was never close from the beginning.
The ER-Lyons game was streamed live on FingerLakes1.com. Click here to watch the full webcast replay.
East Rochester was without senior point guard Matt Cicero who was in street clothes nursing a hamstring injury and the Bombers were overmatched from the start as Lyons opened up a 21-10 first quarter lead and grew the lead to 25 by halftime and never looked back.
Justice Smith led Lyons with 22 points and 7 assists. David Weaver scored 16 on 4 three pointers, freshman Justin Smith scored 9 and Aaron Romero added 8. Nine Lions scored in the ball game. For East Rochester, John Lexer and Elijah Jacques scored 10 points apiece in the loss.
After the game, senior Jordan Harris of Lyons joined Jim Sinicropi and Rhett Ticconi at the broadcast table for the Dr. Rod Littlejohn Smiles with Style Postgame Show…
With the win, Lyons stayed within one-half game of Wayne County league leading Clyde-Savannah who also won on Wednesday night.
The results from all the boys and girls action in the Wayne-Finger Lakes leagues on Wednesday night is below…
W-FL BOYS WEDNESDAY NIGHT RESULTS:
MIDLAKES 59 @ GENEVA  64 – 2 OT
Geneva was down nine entering the fourth quarter but went on a run to take a 2 point lead. Devon Hicks hit a late layup for Midlakes off an inbounds play to tie the game and send it to overtime. The Panthers found themselves down three with a minute remaining in the first overtime before Akim Hudson was fouled on a putback after an offensive rebound. After completing the three point play the game would head to a second extra period. Reid Patchett would put Geneva ahead for good with a baseline jumper and Akim Hudson closed out the win an inside bucket. Patchett finished with 17 points and 8 rebounds while Akin Hudson had 10 points and 7 rebounds. Adrian Porter added 10 points and 5 boards.
ROMULUS 39 @ SOUTH SENECA 42
South Seneca didn't score their first points of the game until free throws with 4:04 left in 2nd period. The halftime score 13-7 in favor of Romulus. South Seneca came out on fire in the third by out scoring Romulus 25 to 10, making the score 32 to 23 in favor of the Falcons heading into the final quarter. Romulus closed within 3 with 4:49 left and then Falcons were back up by 7 with 1:52 left. Max Mapstone banked in a long 3 pointer with 10 seconds remaining to pull within one. South Seneca missed the front end of a one and one and with 6.7 seconds, Anthony Reff intercepted an inbounds pass and was fouled. He made both free throws to seal the game 42 to 39. For South Seneca, Anthony Reff had 16, Matt Kenyon scored 12, and Charlie Van Ness had 8. John Zajac had 9 rebounds and Dylan Stiles took 3 offensive fouls in the game. Romulus was led by Maurecio Mercedes-Rivera with 18 points and Roy Ball with 8.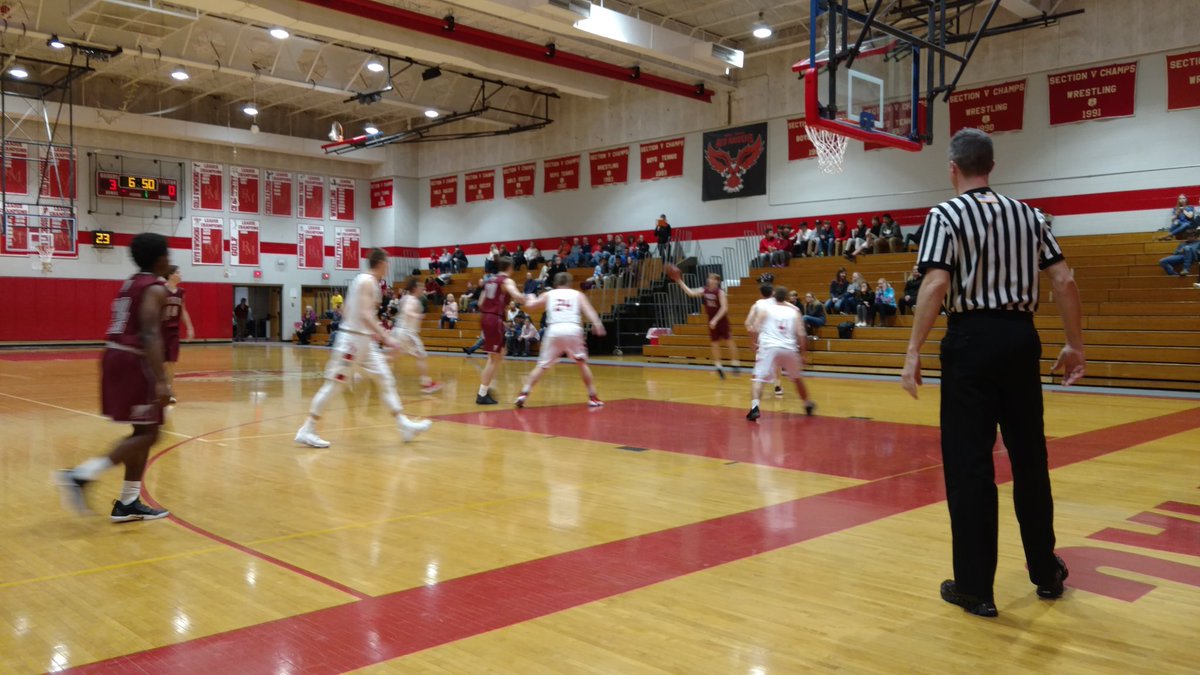 NEWARK 39 @ PAL-MAC 62
WILLIAMSON 49 @ CLYDE-SAVANNAH 102
GANANDA 71 @ MARION 34
SODUS 56 @ NR-WOLCOTT 39
WHITMAN 56 @ HAC 39
RED JACKET 49 @ DUNDEE 53
HONEOYE 83 @ NAPLES 62
W-FL GIRLS RESULTS:
MYNDERSE 41 @ WATERLOO 32
Mynderse was led By Heidi Miller who scored 14 points and grabbed 6 rebounds. Madison Barnett was next with 6 points as 8 different Lady Blue Devils scored in the win. Jillian Panek led Waterloo with 9 points and 8 rebounds in the loss.
PAL-MAC 40 @ NEWARK 41
WAYNE 46 @ PENN YAN 53
W-FL SCHEDULE:
BOYS:
DUNDEE @ BRADFORD
GIRLS:
ROMULUS @ HAC
MARION @ SODUS
HONEOYE @ WHITMAN (WGVA)
RED JACKET @ BLOOMFIELD (CSR)
WILLIAMSON @ EAST ROCHESTER
LYONS @ GANANDA
SOUTH SENECA @ NAPLES
NR-WOLCOTT @ RED CREEK
TWIN TIERS @ DUNDEE
W-FL BOYS/GIRLS BASKETBALL STANDINGS:
| | | | | | | | | | | | |
| --- | --- | --- | --- | --- | --- | --- | --- | --- | --- | --- | --- |
|   | FINGER LAKES EAST STANDINGS |   | W |   | L | GB |   | W |   | L | STK |
| 1 | WAYNE EAGLES | | 9 | – | 0 | – | | 12 | – | 1 | W12 |
| 2 | MYNDERSE BLUE DEVILS | | 9 | – | 1 | .5 | | 14 | – | 2 | W4 |
| 3 | PENN YAN MUSTANGS | | 6 | – | 3 | 3.0 | | 11 | – | 4 | L2 |
| 4 | NEWARK REDS | | 4 | – | 6 | 5.5 | | 5 | – | 10 | L2 |
| 4 | MIDLAKES SCREAMING EAGLES | | 4 | – | 6 | 5.5 | | 6 | – | 10 | L2 |
| 6 | PAL-MAC RED RAIDERS | | 3 | – | 7 | 6.5 | | 6 | – | 8 | W2 |
| 6 | WATERLOO INDIANS | | 2 | – | 8 | 7.5 | | 5 | – | 10 | L1 |
| 8 | GENEVA PANTHERS | | 2 | – | 8 | 7.5 | | 5 | – | 11 | W1 |
| | | | | | | | | | | | . |
|   | FINGER LAKES WEST STANDINGS |   | W |   | L | GB |   | W |   | L | STR |
| 1 | MARCUS WHITMAN WILDCATS – X | | 11 | – | 0 | – | | 13 | – | 2 | W10 |
| 2 | BLOOMFIELD BOMBERS | | 7 | – | 5 | 4.0 | | 8 | – | 7 | W1 |
| 2 | HONEOYE BULLDOGS | | 7 | – | 4 | 4.0 | | 9 | – | 5 | W2 |
| 4 | H.A.C. WOLVES | | 6 | – | 5 | 5.0 | | 9 | – | 5 | L1 |
| 5 | SOUTH SENECA FALCONS | | 6 | – | 6 | 5.5 | | 6 | – | 8 | W2 |
| 6 | RED JACKET INDIANS | | 6 | – | 7 | 6.0 | | 6 | – | 10 | L2 |
| 7 | NAPLES BIG GREEN | | 5 | – | 8 | 7.0 | | 7 | – | 9 | L2 |
| 7 | ROMULUS WARRIORS | | 4 | – | 7 | 7.0 | | 5 | – | 9 | L2 |
| 9 | DUNDEE SCOTS | | 2 | – | 10 | 9.5 | | 4 | – | 10 | W1 |
| | | | | | | | | | | | . |
|   | WAYNE COUNTY STANDINGS |   | W |   | L | GB |   | W |   | L | STR |
| 1 | CLYDE-SAVANNAH GOLDEN EAGLES | | 12 | – | 1 | – | | 13 | – | 3 | W4 |
| 2 | LYONS LIONS | | 11 | – | 1 | .5 | | 14 | – | 2 | W9 |
| 3 | GANANDA BLUE PANTHERS | | 9 | – | 4 | 3.0 | | 11 | – | 5 | W1 |
| 4 | EAST ROCHESTER BOMBERS | | 8 | – | 5 | 4.0 | | 9 | – | 6 | L2 |
| 5 | SODUS SPARTANS | | 6 | – | 5 | 5.0 | | 8 | – | 7 | W1 |
| 6 | RED CREEK RAMS | | 4 | – | 7 | 7.0 | | 5 | – | 9 | W1 |
| 7 | WILLIAMSON MARAUDERS | | 2 | – | 9 | 8.5 | | 3 | – | 10 | L1 |
| 8 | NORTH ROSE-WOLCOTT COUGARS | | 2 | – | 11 | 10.0 | | 2 | – | 13 | L5 |
| 9 | MARION BLACK KNIGHTS | | 1 | – | 11 | 10.5 | | 2 | – | 13 | L13 |
| | | | | | | | | | | | |
| | | | | | | | | | | | . |
|   | FL EAST GIRLS STANDINGS |   | W |   | L | GB |   | W |   | L | STK |
| 1 | MIDLAKES SCREAMING EAGLES | | 8 | – | 0 | – | | 14 | – | 0 | W14 |
| 2 | PAL-MAC RED RAIDERS | | 7 | – | 2 | 1.5 | | 9 | – | 5 | L1 |
| 3 | GENEVA PANTHERS | | 6 | – | 3 | 2.5 | | 8 | – | 6 | W4 |
| 3 | PENN YAN MUSTANGS | | 7 | – | 4 | 2.5 | | 9 | – | 7 | W2 |
| 3 | MYNDERSE BLUE DEVILS | | 7 | – | 4 | 2.5 | | 10 | – | 6 | W2 |
| 6 | NEWARK REDS | | 2 | – | 8 | 7.0 | | 5 | – | 10 | W2 |
| 7 | WAYNE EAGLES | | 1 | – | 9 | 8.0 | | 2 | – | 13 | L6 |
| 7 | WATERLOO INDIANS | | 1 | – | 9 | 8.0 | | 5 | – | 11 | L4 |
| | | | | | | | | | | | . |
|   | FL WEST GIRLS STANDINGS |   | W |   | L | GB |   | W |   | L | STR |
| 1 | BLOOMFIELD BOMBERS | | 10 | – | 1 | – | | 13 | – | 1 | W2 |
| 2 | SOUTH SENECA FALCONS | | 10 | – | 2 | .5 | | 12 | – | 3 | W9 |
| 3 | RED JACKET INDIANS | | 9 | – | 3 | 1.5 | | 12 | – | 3 | W1 |
| 4 | NAPLES BIG GREEN | | 8 | – | 5 | 3.0 | | 11 | – | 6 | W3 |
| 5 | ROMULUS WARRIORS | | 6 | – | 4 | 3.5 | | 8 | – | 5 | L1 |
| 6 | MARCUS WHITMAN WILDCATS | | 5 | – | 7 | 5.5 | | 7 | – | 8 | L3 |
| 7 | H.A.C. WOLVES | | 3 | – | 8 | 7.0 | | 3 | – | 10 | W1 |
| 8 | HONEOYE BULLDOGS | | 2 | – | 11 | 9.0 | | 3 | – | 13 | L4 |
| 9 | DUNDEE SCOTS | | 0 | – | 12 | 10.5 | | 0 | – | 15 | L15 |
| | | | | | | | | | | | . |
|   | WAYNE CO. GIRLS STANDINGS |   | W |   | L | GB |   | W |   | L | STR |
| 1 | GANANDA BLUE PANTHERS | | 12 | – | 1 | – | | 12 | – | 4 | W1 |
| 2 | RED CREEK RAMS | | 11 | – | 1 | .5 | | 13 | – | 3 | W7 |
| 3 | LYONS LIONS | | 8 | – | 3 | 2.5 | | 9 | – | 5 | L1 |
| 4 | MARION BLACK KNIGHTS | | 8 | – | 4 | 3.5 | | 10 | – | 5 | W1 |
| 5 | NORTH ROSE-WOLCOTT COUGARS | | 4 | – | 6 | 6.5 | | 3 | – | 7 | L3 |
| 6 | EAST ROCHESTER BOMBERS | | 2 | – | 8 | 8.5 | | 3 | – | 8 | L1 |
| 6 | WILLIAMSON MARAUDERS | | 3 | – | 9 | 8.5 | | 3 | – | 9 | L1 |
| 8 | CLYDE-SAVANNAH GOLDEN EAGLES | | 2 | – | 9 | 9.0 | | 2 | – | 10 | W1 |
| 9 | SODUS SPARTANS | | 1 | – | 10 | 10.0 | | 1 | – | 10 | L1 |
TWEETS AROUND W-FL & SECTION V ON WEDNESDAY:
Lyons varsity boys b-ball defeats ER 71-46 tonight. Thanks @FingerLakes1 for the coverage. #leadthepride

— LyonsLionsAthletics (@AthleticsLY) February 1, 2018
Boys hoops: @MWWildcats tops @HACAthletics, 56-39. MW (13-2): McLoud scores 13 & Donovan has 10 pts, 7 steals & Prendergast has 10 pts & 12 reb. HAC (10-5): Israel scores 19 & was without Ryan Hilton (illness) @sectvbb

— Bob Chavez (@MPN_bchavez) February 1, 2018
Wow both Clyde-Savannah & Leadership Academy dropped 100+ in Section V boys Basketball games tonight, the scoring binges continue.

— Bill Collmer (@BC_SVTB) February 1, 2018
Gananda pulls out the big win in marion tonight. Big thanks to @stange_nick for reppin g town.
Leading scorers:@King_Stove3-15@j_castrechini -20

— DAB SQUAD (@Gtown_Hoops) February 1, 2018
PM 51- 20 at the end of 3.

— Pal-Mac Athletics (@palmacsports) February 1, 2018
Congratulations to Keith Slack for scoring his 1000th career point tonight for the @GCSpartan_Hoops as a junior. #GCPride. #BleedBlue. pic.twitter.com/b3n1z7UIw0

— Gates Chili Athletics (@GCSDSpartans) February 1, 2018
A well organized and well coached @MWWildcats locks up @HACAthletics tonight 56-39 and stays undefeated in the league. Rematch soon! @sectvbb

— Doug Crego (@hoopstalkdc) February 1, 2018
Varsity Girls 🏀 lost a tough one to Hornell tonight 65-56.

🏀Cappotelli 17pts
🏀Borrelli 16pts

Knights go to 6-10 on the season & travel to Cal-Mum (Get there @TheCavalryLR) Friday night in a varsity girls/boys doubleheader!#LRhoops🏀 pic.twitter.com/JZpkzesep6

— Le Roy Central School District (@LeRoy_CSD) February 1, 2018
Underway… PM up 6 with 135 left in the first pic.twitter.com/jlomscjlhh

— Pal-Mac Athletics (@palmacsports) February 1, 2018
Take a bow, Patrick Meisenzahl (@PMeisenzahl). The senior with six 3-pointers as Athena tops Irondequoit in a showdown of Class A1 giants. https://t.co/VdObML5t0S

— News 8 Scores (@News8Scores) February 1, 2018