Thousands gathered in Seneca Falls on Saturday to rally, march, and celebrate women in the Birthplace of Women's Rights.
"There are a range of issues impacting women, and it's important for those issues to be discussed," said one marcher, who was with her daughter — visiting from a community near Albany. "It's just great to be here where it all began."
Last year, the first march and rally was held in Seneca Falls with the backdrop of a divisive presidential election. While some of those at the 'Women March' held in Seneca Falls voiced concerns with the current administration — many were there to support a host of other causes.
"I'm here because of the income gap that exists in 2018. It shouldn't. We all have our own reasons for marching. I'm here reminding people that even the simplest of so-called issues remains largely unchanged," explained a walker who only wanted to go by Margaret. "I've worked in many environments where women make less — out of the gate — than their male counterparts. It's wrong. It's just wrong," she continued.
Some were just out to enjoy the weather. Residents, even those not participating in the march, lined parts of Fall, State, and Cayuga streets as walkers passed holding signs, chanting various messages, and showing 'solidarity' for other women around the world.
"I hope this isn't something that ends any time soon," added a Michigan resident who timed a visit to family in Rochester with that of the event. "It was great seeing all the activity and people visiting such a unique little community."
In the hours leading up to the event, which featured multiple speakers — including Rochester Mayor Lovely Warren and Lt. Gov. Kathy Hochul — downtown streets were packed. The businesses downtown enjoyed the increased foot traffic. A line extending out the entrance and two doors down from Bee's Cafe in the former-ZuZu's location showcased the benefit of an event like this one.
As one elderly gentleman pointed out in passing, "Even if you don't agree with all of the philosophies and politics — it's easy to see the benefit for businesses in a Town like this." His conversation was not a unique one. Many of the visitors to Seneca Falls on Saturday were from outside the immediate area. While some visited from afar, many came from other communities in the Finger Lakes region.
However, there was one thing missing in Seneca Falls on this day.
A sign hung on the door of the Women's Rights National Historical Park prompted a Tweet by Hochul, who voiced her outrage at the closure of the facility — the same day as the march. "Seriously? Government shutdown closes National Women's Rights Park in Seneca Falls just before launch of our #WomensMarch while other national parks are open. Coincidence?" the tweet read.
The message read, "Due to the lapse in federal appropriations, the National Park Service (NPS is unable to fully staff properties under its management. It is not feasible to close or otherwise prohibit all access to NPS properties. Park visitors are advised to use extreme caution if choosing to enter NPS property, as NPS personnel will not be available to provide guidance, assistance, maintenance, or emergency response. Any entry onto NPS property during this period of federal government shutdown is at the visitor's sole risk."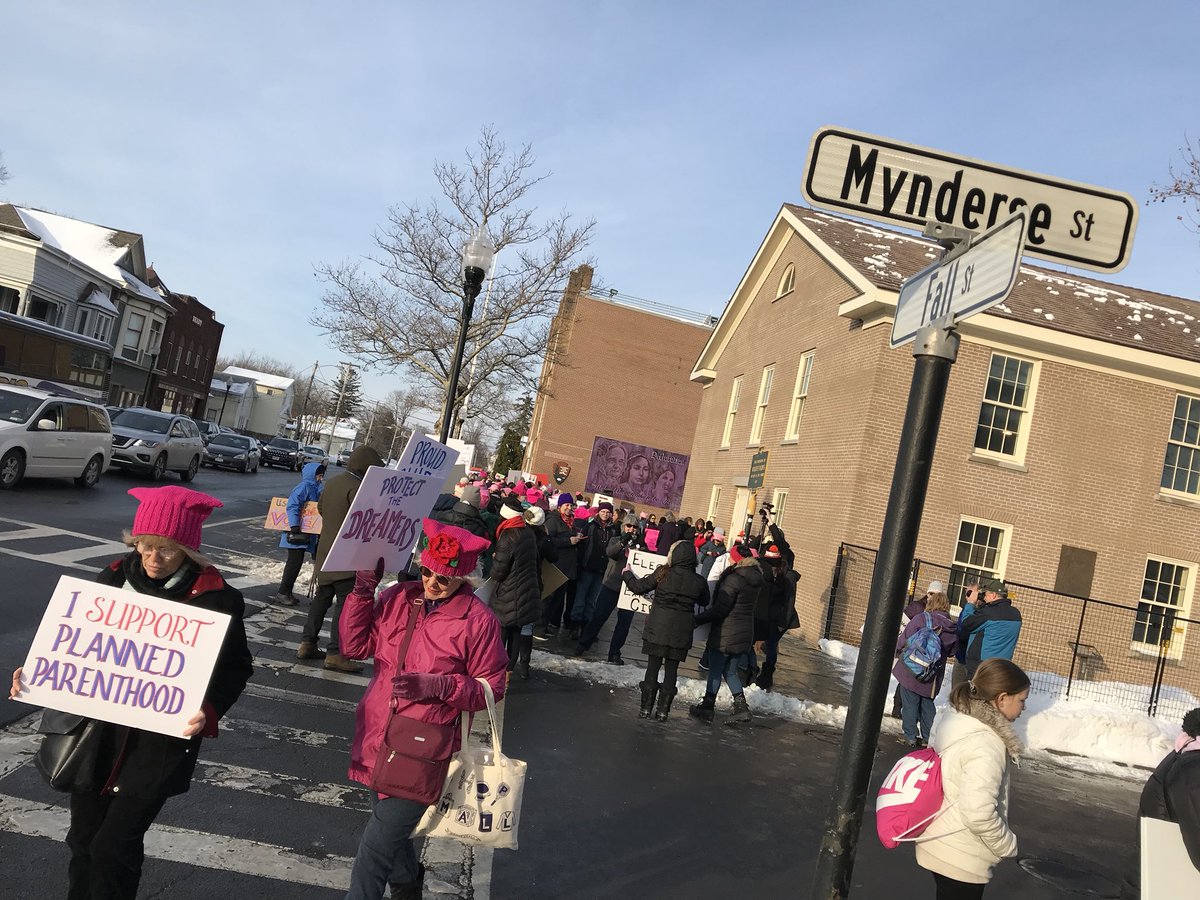 The message continued, "The NPS will not operate parks during the shutdown period, and no visitor services will be provided. The NPS will not issue permits, conduct educational programs, collect trash, operator or provide restrooms, maintain roads or walkways (including plowing and ice melting), or provide visitor information."
The gridlock in Washington has frustrated millions across the U.S., but it didn't interfere with the march, which went off successfully.
After the march, another round of speakers led the remaining crowd at the Seneca Falls Community Center.
As for the prospect of doing it all over again next year? Many of those in attendance said they'd be back — if the opportunity to march again where it all began came about.