The Geneva Area Chamber of Commerce recently hosted a Member Milestone Celebration to honor the Grand Re-Opening of Finger Lakes Sausage & Beer on Thursday, December 14th.
Chamber staff, board members, volunteers, and community members gathered to show their support and to welcome the new owners to the business and Chamber community.
The event was included under the Chamber's popular Milestone Celebrations program, which is a membership benefit that provides awareness and exposure for the businesses and organizations represented by the Chamber.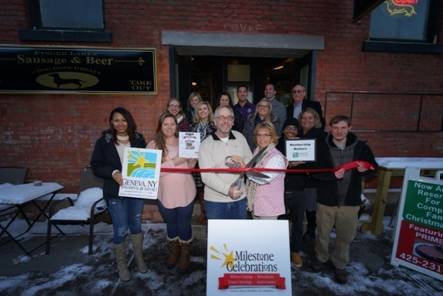 Finger Lakes Sausage & Beer originally opened in 2016, and was recently purchased by Mike Hofhine and Delane Lenker, owners of Rockin Coffee Beans, a food and coffee stand located at the Waterloo Premium Outlets.
Since purchasing the Geneva restaurant, Hofhine and Lenker have made a number of changes, including their menu, which guests attending the celebration had the opportunity to sample.
In addition, the event also featured remarks from the new owners, welcoming attendees and thanking them for their continued support of the business.
For more information on Milestone Celebrations or other member programs, contact Abby Wandell, Membership Programs & Events Coordinator for the Chamber at 315-789-1776 or by emailing [email protected].