Thursday December 7th from 5 pm to 7pm, the LGBTQ Center of the Finger Lakes and the Geneva Public Library will be participating with the Human Rights Campaign's National "I Am Jazz" Community Book Reading. This evening program will include a children's book reading of "I Am Jazz" in the Story Room followed by a fun coloring activity. In addition, the first floor Reading Room will host community members for a "Being Jazz: My Life as a (Transgender) Teen" book reading and community dialogue. Both readings will start at 5 pm with light refreshments served.
This national "I Am Jazz" program was started in 2015 at Mt. Horeb, WI after a school teacher planned to read a children's book about a transgender girl, Jazz Jennings, to their class. The teacher was halted by an anti-lgbtq hate group and their school district. The community then rallied around the teacher and students by hosting their own book reading at their local library. The program has then spread to communities around the nation and now to Geneva!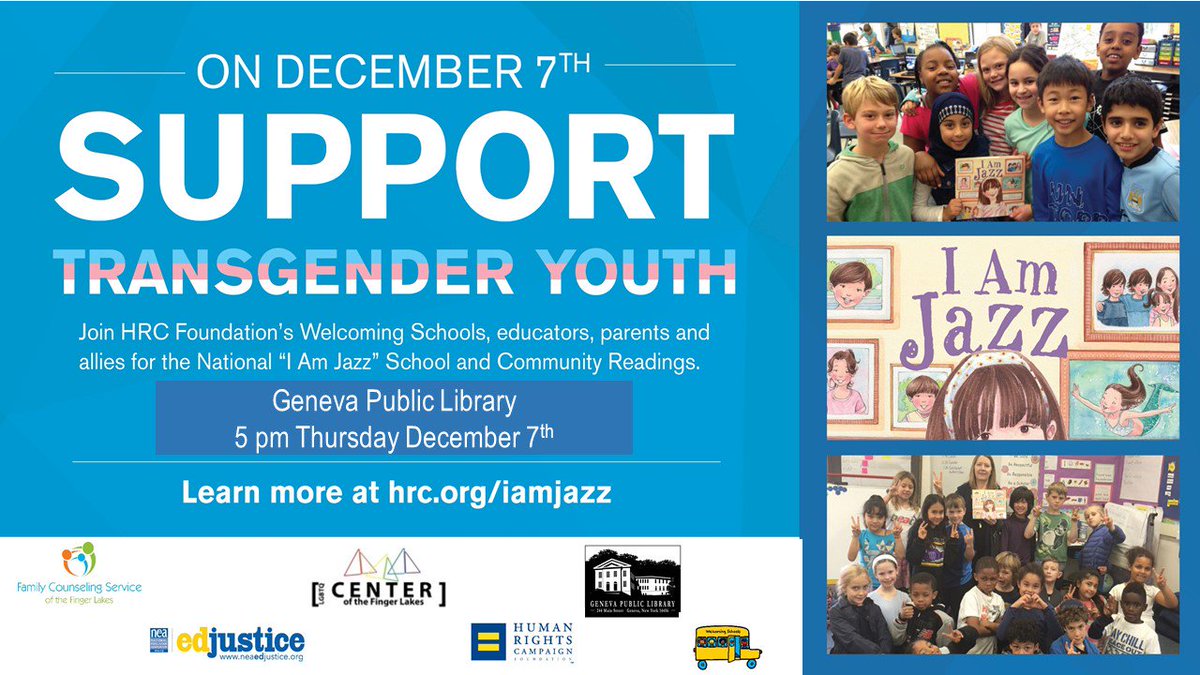 "The Center of the FLX is excited to partner with the Geneva Public Library with this nationally recognized program.", stated Chelsea Snyder, the LGBTQ Center of the Finger Lakes Program Coordinator, "It's an important conversation to have at the community level, especially with parents, teachers, and business owners. We need to advocate for our trans youth in our community by educating ourselves and surrounding them with support."
The LGBTQ Center of the Finger Lakes is now a program under Family Counseling Service of the Finger Lakes. They provide LGBTQ services throughout the Finger Lakes area which include a You Are Not Alone youth support group weekly in Geneva, Newark, and Canandaigua, Safe Space trainings for local businesses, organizations, and schools, a transgender support group for ages 18+, FLX Pride Festival (mark your calendars for June 9, 2018), and much more!
Please contact Chelsea Snyder for any questions about the "I Am Jazz" program or LGBTQ services at Family Counseling Service by emailing csn[email protected] or leaving a voicemail at 315-331-8493 ext. 2606.