First responders say that the call came in as a tractor-trailer crash, which had burst into flames after the impact.
The scene on the New York State Thruway between exits 44 and 45 was a chaotic one with first responders struggling to keep up. Flames were reportedly spreading to the rear of the truck as soon as the first State Troopers arrived on the scene.
One of the first callers to the 911 Center reported hearing a loud bang, and seeing a large truck on fire moments before.
The Victor Volunteer Fire Department said in an official statement to their Facebook Page that the tractor-trailer involved in last night's accident caught fire after a crash between exits 44 and 45 in the eastbound lanes.
Mutual aid was requested from Fishers Fire Department, Farmington Fire Department, and a number of companies helped with filling.
Those included Bushnell's Basin, East Bloomfield, Manchester, and Farmington fire departments.
The crash, which took place at mile marker 349 completely blocked the eastbound lanes and the Thruway was closed for over four hours, according to Victor Fire Department.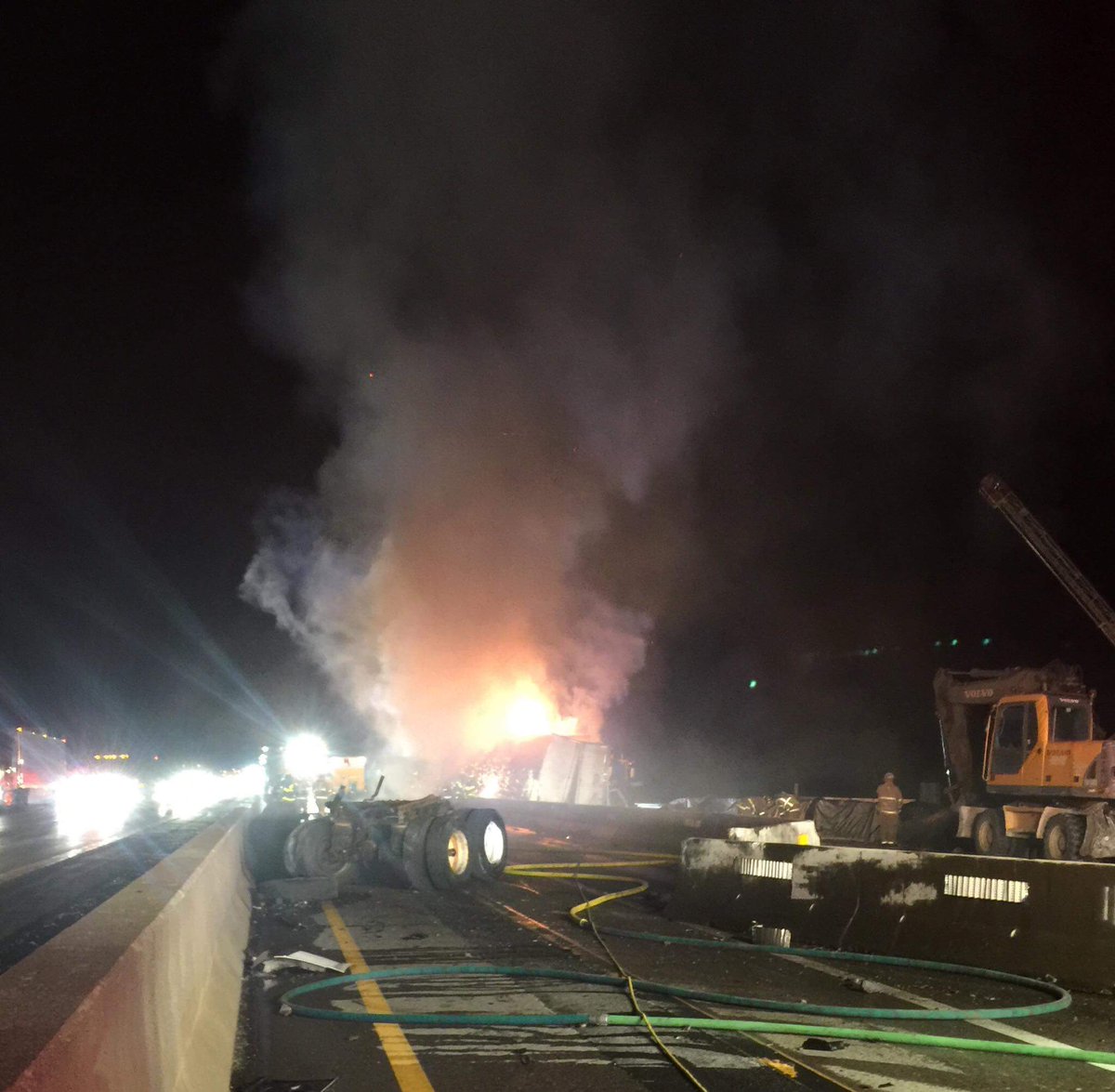 Due to the heavy traffic, some of the responding engines had to approach the scene, and fight the fire from the County Rd. 9 bridge, which happened to be directly at the site where it all happened.
Firefighters utilized heavy foam to fight the fire, which was aggravated by the fact that the box truck was carrying wooden cabinets.
By about 8:40 pm the fire was brought under control. The overhaul took hours due to the size of the rig.
This story will continue to be updated as more information becomes available.
Videos and more from social media at the scene:
— Janice B. Pieterse (@jbpieterse) November 12, 2017
I90 eastbound between 45 and 44 tractor trailer accident fire @whec_nrudd @OntarioFireWire @mcfw pic.twitter.com/gYOMAfUUOE

— jennyfoo88 (@88foo) November 12, 2017
Scary Sight on NYS thruway pic.twitter.com/pHbPW9G13E

— clintmckenna (@clintmckenna1) November 12, 2017
— leftyfrombc (@leftyfrombc) November 12, 2017
Photos from thruway incident last night. pic.twitter.com/Y4Kx57ZsSC

— OCFW (@OntarioFireWire) November 12, 2017
— OCFW (@OntarioFireWire) November 12, 2017
Victor Fire & Victor-Farmington Ambulance responding to the Thruway, EB near the CR 9 bridge for the tractor trailer crash, truck is on fire.

— OCFW (@OntarioFireWire) November 12, 2017