Ervin Philips became Syracuse's career receptions leader, but a dramatic Orange rally fell short in a 27-24 loss to Florida State (4-5, 2-3) at Doak Campbell Stadium. The Orange slipped to 4-5 overall and 2-3 in the ACC.
Syracuse had a chance to tie the game on the final play, but Cole Murphy's 43-yard field goal attempt was wide.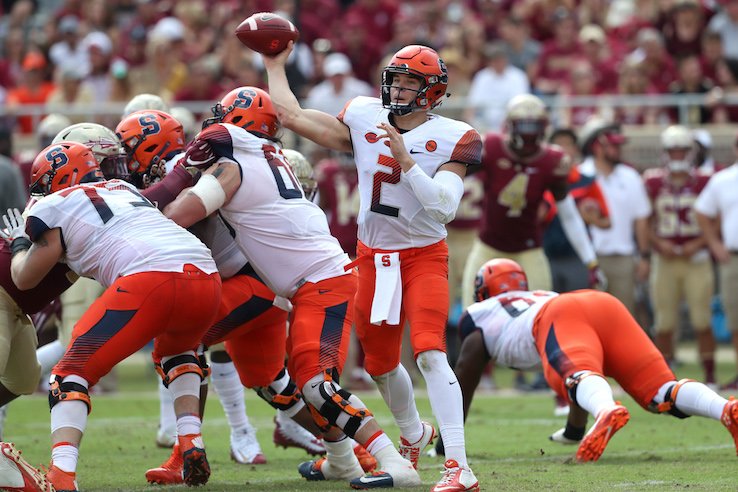 Junior quarterback Eric Dungey accounted for all three Orange touchdowns, throwing for two and rushing for a third. He finished the game 23-of-43 passing for 278 yards. In addition, he posted his second straight 100-yard rushing effort, tallying a career-high 109 yards on 22 carries.
GAME HIGHLIGHTS:
COACH BABERS POSTGAME:
MORE COVERAGE ONLINE:
– What we learned from Syracuse's 27-24 loss at Florida State (Daily Orange)
– Syracuse gets toasted by Florida State running back Akers in 27-24 loss (Daily Orange)
– SU junior Eric Dungey breaks program rushing TD record for quarterbacks (Daily Orange)
– Fan reactions to Syracuse's 27-24 loss to Florida State (Daily Orange)
– Three takeaways from Syracuse's 27-24 loss to Florida State (NunesMagician.com)
– Why Syracuse football coach Dino Babers passed on 2nd-quarter field goal at FSU (Syracuse.com)
– Why did Syracuse football attempt onside kick so early? (3 things Dino Babers said) (Syracuse.com)
– Injured Syracuse football QB Eric Dungey guts out near upset of Florida State (Syracuse.com)
– After critical miss, Dino Babers includes Cole Murphy in his postgame speech (Syracuse.com)
– Best and worst from Syracuse football at Florida State (Syracuse.com)
GAMEDAY TWEETS:
This fourth down play in the Florida State vs. Syracuse game was bonkers pic.twitter.com/AtPlyFtPFW

— Dr. Saturday (@YahooDrSaturday) November 4, 2017
Injured Syracuse football QB Eric Dungey guts out near upset of Florida State https://t.co/B5AjLbBBCs pic.twitter.com/5XT3jc0uKb

— syracuse.com (@syracusedotcom) November 5, 2017
Syracuse misses the 43 yard FG as time expires. #FSU wins 27-24 https://t.co/SyDS5zXcOl

— Wayne McGahee III (@WayneMcGaheeIII) November 4, 2017
Orange Overtime Extra: @evstockton and @ssalisbury0 break down a heartbreaking loss for Syracuse at Florida State today. pic.twitter.com/Koa65R1OfA

— WAER Sports (@WAERSports) November 4, 2017