Foliage change continues to slowly progress across New York State, according to volunteer observers for Empire State Development's I LOVE NEW YORK program. Areas in eight of the state's 11 vacation regions should experience peak foliage this weekend. I LOVE NEW YORK defines "peak" foliage as the period when the leaves are displaying their best overall appearance of the season.
In the Finger Lakes region, foliage in Ithaca will be at peak this weekend with 95 percent color change and mostly purple leaves of average brilliance, along with some red leaves, and touches of yellow, orange and brown. Peak foliage should arrive in Tioga County this weekend, according to spotters in Owego. Expect 75 percent color change and muted brown, green and yellow leaves. Spotters in Corning project near peak foliage for Steuben County. Look for up to 80 percent color change and red, burgundy, gold, yellow and orange fall colors of average brilliance. In Cortland County, near peak foliage is expected with 55 percent leaf change and red, yellow and green leaves of average brilliance.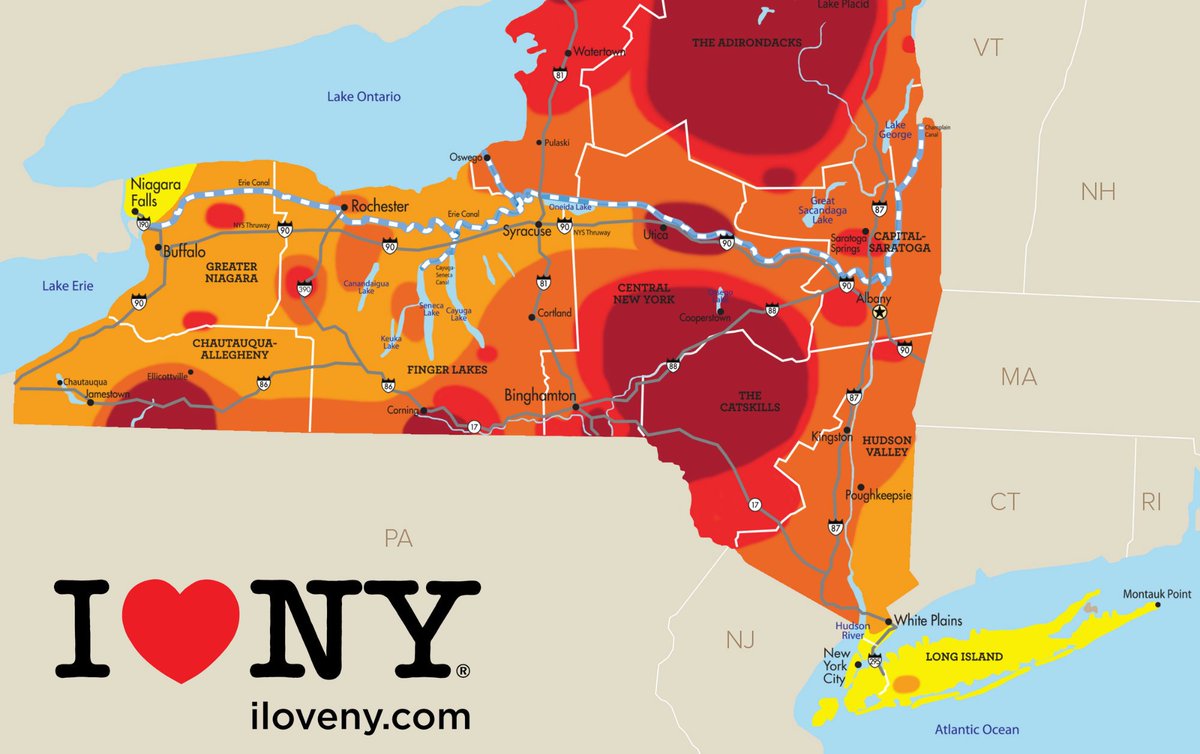 In Livingston County 50-60 percent leaf change is predicted. The southern part of the county has some brilliant fall colors and will be near peak to peak this weekend, while the northern part of the county will experience more subdued foliage at peak to just past peak. Near peak foliage is expected in Ontario County. Look for 70 percent color change and a mix of orange, yellow, and brown hues. Occasional shades of red and some remaining shades of green may be spotted as well. Leaves are expected to still be at midpoint of change in Cayuga County this weekend. Look for 65 percent or more color change and green, orange, red and yellow leaves of average brilliance.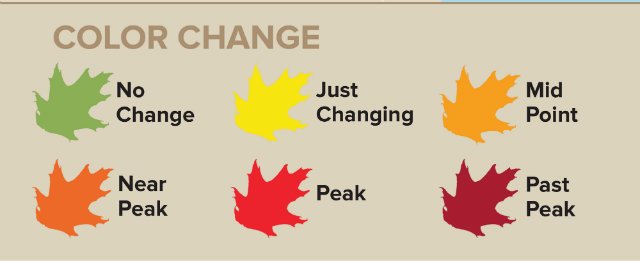 In Monroe County, leaves in the Rochester Andrew Cuomo Canalway Trailarea are changing quickly and should be at midpoint this weekend. Although they still tend to be yellow in color, there are many trees with a lot of green and some touches of red and orange. In the Greater Rochester area, spotters reporting from Brighton expect 70-75 percent color change this weekend. Foliage will be between midpoint to near peak, with subtle shades of light green and yellow, along with some red, dark red, russet and orange leaves.
Leaves will be at midpoint of change this weekend in Seneca County with 65 percent color transition and average to bright yellow and orange leaves. Spotters note that leaves are falling prior to much color change. In Schuyler County, Watkins Glen observers expect 40-50 percent color change and many shades of yellow and orange of average brilliance, along with some green and red. In Onondaga County, foliage observers reporting from the campus of Syracuse University in Syracuse predict just 30 percent color transition and beginning to midpoint leaves with a variety of colors of average brilliance and much green remaining. Wayne County foliage will be at midpoint of change, according to spotters in Lyons. Look for 50 percent color transition and green, orange and red leaves of average brilliance.
Color change is still low in the Rushville area of Yates County. Look for up to 30 percent transition this weekend with red and yellow leaves of average brilliance still emerging from the prevailing green. Foliage will be past peak in Chemung County.