Billions of dollars are needed to correct issues with locally owned bridges throughout New York.
According to New York State Comptroller Thomas DiNapoli more than $27.4 billion is needed to fix local bridges. Several counties in the Finger Lakes — ranked among the top in the state for featuring the most 'structurally deficient' bridges.
Seneca County led the way in New York with more than 34.6 percent of locally owned bridges being considered structurally deficient. Cayuga County was second in the ranking accounting for 27.6 percent of bridges.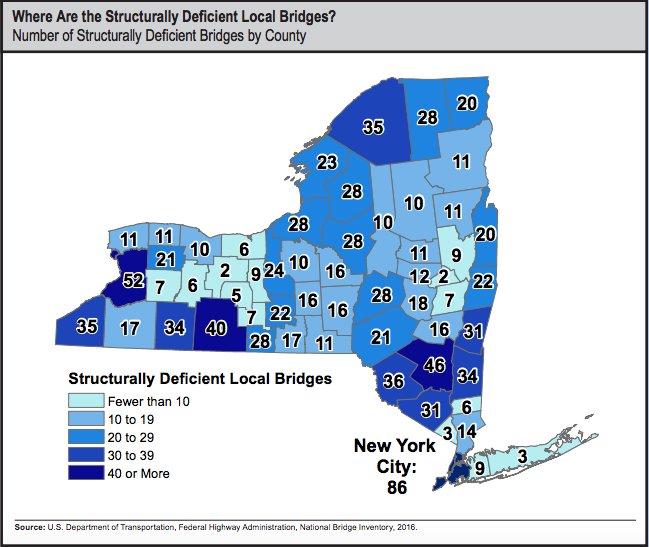 Tompkins, Yates, Wayne, Schuyler, Steuben, and Ontario counties ranked significantly lower.
Ontario County ranked last on the list — having the fewest 'structurally deficient' bridges in New York. Just two bridges in Ontario County out of 94 — were labeled as such.
On Tuesday, Seneca County Board of Supervisors Chairman Bob Shipley (R-Waterloo) cited the report, and noted that DiNapoli also criticized the volume of issues with water and sewer infrastructure throughout the state.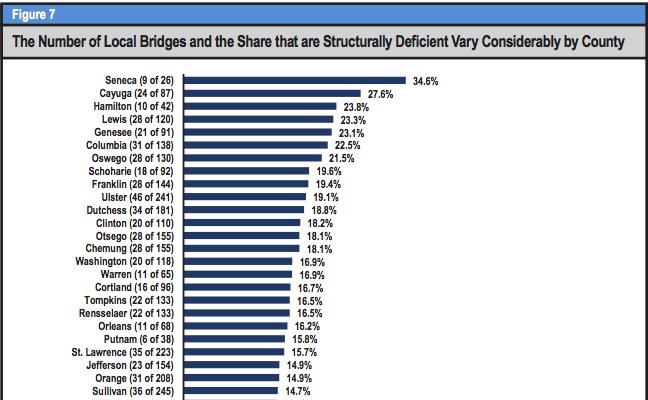 For Seneca County, DEC mandated water and sewer upgrades have been subject to significant bickering within the board. According to Shipley, the time is now for the board to work together. "Stop the bickering over the design and construction of the initial phase to correct the deficiencies outlined by the DEC," he explained in prepared remarks for Tuesday Night's Board of Supervisors meeting.
The report about dire condition of local bridges, which has been reported on in past years — came out on the same day as updated numbers from the New York State Thruway Authority, which noted that more than 115,000 additional vehicles per month are entering Seneca County via Exit 41.