A large crowd was present at the official ribbon cutting and grand opening celebration that was co-hosted by the Geneva Area Chamber of Commerce at FLX Live on Friday, August 25th.
Chamber staff, board members, volunteers, local business owners and executives gathered to show their support at the event, which included a ceremonial ribbon cutting and was included under the Chamber's popular Milestone Celebrations.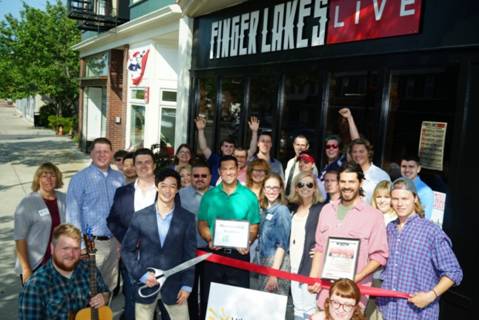 The program was introduced in 2016 as a benefit for members of the Chamber with the purpose of providing awareness and exposure for the many businesses and organizations that the Chamber represents.
FLX Live held a soft opening in early August, but had been in the works for well over a year. Its owners and management team consist of Hobart College graduates who had sought guidance and support from a variety of area resources, including joining the Chamber to help spread the word about their new venture.
Offering live concerts that feature both local and national talent, FLX Live also has a full bar and kitchen in the newly renovated space. The business is located at 427 Exchange Street, and is the only live music venue of its kind in downtown Geneva.
Included in photo, FLX Live team members include: Owner Ian Pattison, front row, (second from left- holding scissors); with other FLX Live team members, including general manager, Nick LaChance (second row, first from left), public relations & talent manager, Matthew Elkin (front row, second from right), and bartender, Scott Heffner (front row, far right). Kneeling in the front are members from The Crooked North, a bluegrass band from Rochester, NY, who helped provide live entertainment at the grand opening.