Ultralife Corporation (NASDAQ:ULBI) reported operating income of $1.3 million on revenue of $19.9 million for the second quarter ended July 2, 2017. For the second quarter of 2016, the Company reported operating income of $0.5 million on revenue of $20.4 million.
"Building on our solid first quarter performance, for the second quarter on a year-over-year basis we more than doubled operating income and doubled EPS to $0.07. We are also encouraged that our year-over-year core product revenues increased 15% when excluding last year's VIPER shipments. Battery & Energy Products produced an 11% increase in commercial sales, including 10% higher medical sales, while Communications Systems delivered a 92% increase in core product sales. These strong sales gains demonstrate effective execution of our diversification strategy and the benefit of investments we have made in new product development and sales reach expansion. In line with this strategy, we have made a strategic decision to invest up to $4.3 million of capital in our Newark facility for the manufacture of primary batteries for the high-growth, wireless internet of things device market," said Michael D. Popielec. "Looking ahead, we are seeing initial indications of increased demand from government/defense customers and are well positioned to continue growing our commercial sales. As a result, we believe we remain on track to deliver another year of profitable growth."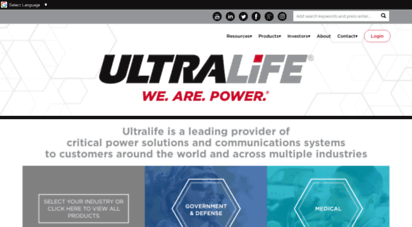 Second Quarter 2017 Financial Results
Revenue was $19.9 million, a decrease of $.4 million, or 2%, compared to $20.4 million for the second quarter of 2016 reflecting a $1.1 million increase in Battery & Energy Products sales offset by $1.5 million lower Communications Systems sales. Battery & Energy Products sales increased 7% to $16.9 million compared to $15.8 million last year, reflecting increases in both commercial and government/defense sales of 11% and 1%, respectively. The gain in commercial sales included 10% growth of medical batteries and chargers. Communications Systems sales declined 34% to $3.1 million compared to $4.6 million for the same period last year which included $3.0 million of Vehicle Installed Power Enhanced Riflemen Appliqué ("VIPER") shipments, while sales of core products such as our 20-watt amplifiers, universal vehicle adaptors and power supplies increased 92% over the prior-year period.
Gross profit was $6.2 million, or 31.2% of revenue, compared to $5.9 million, or 29.0% of revenue, for the same quarter a year ago. Battery & Energy Products' gross margin was 28.1%, compared to 29.6% last year, a decrease of 150 basis points due primarily to incremental supply chain and logistics fees incurred this quarter. Communications Systems' gross margin increased to 48.4%, the highest level ever reported for the segment, compared to 26.8% for the prior year demonstrating the high value proposition associated with our core amplifier and integrated solutions products.
Operating expenses were $4.9 million compared to $5.4 million last year, a reduction of 9.3% reflecting continued tight control over discretionary spending in line with our business model. Operating expenses were 24.6% of revenue compared to 26.5% of revenue for the year earlier period.
Operating income was $1.3 million compared to $0.5 million last year.
Net income was $1.1 million, or $0.07 per share, compared to net income of $0.4 million, or $0.03 per share, for the second quarter of 2016. Earnings per share for the trailing twelve-month period increased to $.36 compared to $.32 at the end of the first quarter of 2017.
About Ultralife Corporation
Ultralife Corporation serves its markets with products and services ranging from power solutions to communications and electronics systems. Through its engineering and collaborative approach to problem solving, Ultralife serves government, defense and commercial customers across the globe.
Headquartered in Newark, New York, the Company's business segments include Battery & Energy Products and Communications Systems. Ultralife has operations in North America, Europe and Asia. For more information, visit www.ultralifecorporation.com.
Conference Call Information
Ultralife will hold its second quarter earnings conference call today at 10:00 AM ET. To participate in the live call, please dial (800) 915-4836 at least ten minutes before the scheduled start time, identify yourself and ask for the Ultralife call. A live webcast of the conference call will be available to investors in the Events & Presentations section of the Company's website at http://investor.ultralifecorporation.com. For those who cannot listen to the live broadcast, a replay of the webcast will be available shortly after the call at the same location.
This press release may contain forward-looking statements based on current expectations that involve a number of risks and uncertainties. The potential risks and uncertainties that could cause actual results to differ materially include: potential reductions in revenues from key customers, uncertain global economic conditions and acceptance of our new products on a global basis. The Company cautions investors not to place undue reliance on forward-looking statements, which reflect the Company's analysis only as of today's date. The Company undertakes no obligation to publicly update forward-looking statements to reflect subsequent events or circumstances. Further information on these factors and other factors that could affect Ultralife's financial results is included in Ultralife's Securities and Exchange Commission (SEC) filings, including the latest Annual Report on Form 10-K.