Governor Andrew Cuomo was critical of the IJC board, who has 'allowed' Lake Ontario to reach levels of emergency flooding.
While speaking in Greece on Tuesday, he announced a series of 'assists' that the state will getting to those living along Lake Ontario, who have been adversely impacted by Lake Ontario flooding.
It'll start with up to $40,000 for homeowners along the lake, looking to correct structural issues caused by the flooding. "It'll include for repairs to both the interior and exterior portions of homes," explained Gov. Cuomo.
The Governor added that record-breaking rainfall hasn't been the only factor involved in the Lake Ontario flooding. "I think they made a mistake in not doing more earlier on," Cuomo added referring to inaction on the IJC board. "They have to get their act together. They have to be faster. And make sure that this never happens again."
The board says the outflow was already at an all time high at 10,200 cubic meters per second, but will increase to 10,400 cubic meters per second. The board says it has to make sure the water doesn't submerge Montreal and surrounding communities. It also has to keep an eye on Saint Lawrence River's shipping routes.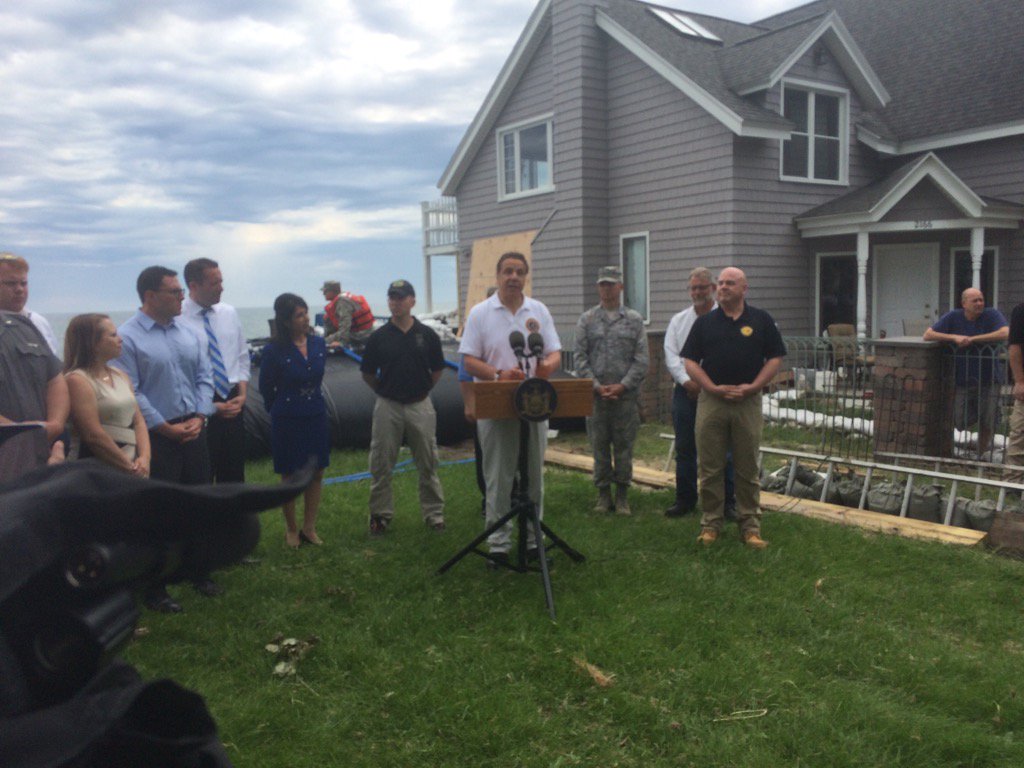 Gov. Cuomo says that he "hears it" from the commercial shipping industry, as well, who says that by increasing outflows — it hurts their bottom line. "Everyone has their story," the Governor said. He added that the commercial shipping industry was better equipped to handle the losses incurred by this type of disaster.
The #IJC says Lake Ontario level gradually declining, down 2 cm since June 8. Outflow to increase 10,400 cubic meters per second. #Greece pic.twitter.com/Akt7HgMJTR

— Wendy Mills (@WendyMillsTV) June 13, 2017
Small businesses, which operate on a shortened season along Lake Ontario have also been adversely impacted by the flooding. They will see up-to $20,000 per business, according to the Governor, in a program that will function similarly to the residential program entitling homeowners as much as $40,000 for repairs.
Speaking in Sodus Point, Gov. Cuomo discussed the deployment of portable dams, which he says will be reused throughout the state as flooding emergencies like the one along Lake Ontario take place in the future.
The dams will act as barriers between residents and the lake, which will provide a much-needed buffer.
On Wednesday, winds are expected to turn out of the northwest, which has generated some concern for these lakeshore communities.