The surveillance video released by the Ithaca Police Department Tuesday evening shows the tense moments leading up to an armed bank robbery at the Tompkins Employees Federal Credit Union on Taughannock Blvd.
The call came in around 8:32 am as IPD members responded to 202 Taughannock Blvd. for the report of a bank robbery.
When officers arrived on scene they obtained a detailed account of what happened, according to police.
.
Investigative efforts so far have established that a black male entered the bank, displayed a handgun and pointed it at several employees. He order the teller to give him money, according to police, which the employee complied with.
The gunman then fled the bank on foot with an undisclosed amount of cash.
IPD completed a comprehensive search, but the suspect was not located.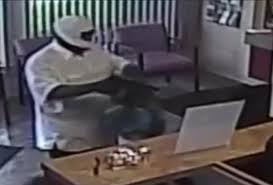 He was described as being a dark skinned, black male, about 5'10" tall, medium build, and last seen wearing a pair of dark jeans and white t-shirt.
He was also wearing a mask covering his face.
Anyone with information relative to this investigation is urged to contact dispatch at (607) 272-3245.