High pressure is building into the region, and the weather is looking clearer.
Don't expect two consecutive days of dry weather though this weekend.
FLX Weather Meteorologist Drew Montreuil says a gusty northwest wind will develop during the day on Friday, which will keep temperatures lower-than-normal much of the day.
A stray shower is possible on Friday, but very unlikely.
Highs will be in the low-60s on Friday, with lighter winds and only slightly milder temperatures – as the region reaches the mid-60s.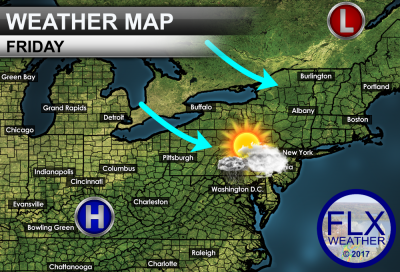 Montreuil had the following to say about a relatively complex setup for Sunday:
"First, a warm front will push through the region during the morning. An area of widespread, occassionaly heavier rain will move through during the morning.

The weather during the afternoon is questionable and depends on the infiltration of warm air into the region.

Most likely, showers and clouds will keep temperatures relatively in check. Parts of the western Finger Lakes could approach 70 degrees, while the eastern Finger Lakes remains in the low and mid 60s.

In this scenario, a few thunderstorms will develop over the western portions of the region during the afternoon. Conditions could be favorable for a couple strong storms, but the relatively cool surface temperatures will be a limiting factor.

Less likely, but more concerning would be a sunnier, warmer scenario. If temperatures were to push well into the 70s to provide fuel for thunderstorms, the nearby presence of the low pressure system and strong wind fields aloft would be more than enough to cause some severe weather."
Get the latest local forecast, including radar at the FingerLakes1.com Weather Center.