The New York Yankees continue to surprise many, as they still cruise along as one of baseball's best teams. Currently holding the third best win percentage in Major League Baseball with a 29-18 record (.617),they are 3 games ahead of first place in the AL East. This week the success was built around their starting pitching. Strong outings from everyone around, as well as Dellin Betances flourishing in the closer role, were reasons to a 4-2 record.
Welcoming in the Kansas City Royals, it was Michael Pineda's turn to shut them down. Big Mike finished the day allowing 2 runs on 6 hits over 6 ⅓ innings pitched. Despite being down 2-0 in the third, Brett Gardner and Didi Gregorius were right behind him. Home Runs from each erased the deficit and gave the Yankees the lead. Pineda would settle down after that allowing only three hits and a walk before being pulled with a runner on in the 7th. Adam Warren on the mound, Alcides Escobar hit a ground ball behind the bag to Starlin Castro. Escobar, originally called safe, drove in the tying run, but a challenge saved the day, as all harm was overturned. The bullpen did what it needed to do to close out the game and the Yankees were winners by a final score of 4-2.
The next game of the series featured a matchup of Jordan Montgomery and Danny Duffy. After losing to Duffy in the previous week where he threw 7 scoreless innings with 10 strikeouts, the Yankees were desperate to get some revenge. A solo home run from Aaron Hicks as well as one by Chris Carter gave them a 2-0 lead. Meanwhile Jordan Montgomery was absolutely stellar allowing only 1 hit into the 7th. However, that's when things went downhill. After a flyout, Lorenzo Cain smacked one into the seats to reduce the deficit. Then with Adam Warren in relief, a Salvador Perez single and a Jorge Bonifacio two-run shot gave the Royals the lead. Insurance was also added off the bats of Whit Merrifield and Mike Moustakas. Unfortunately for the Yankees, Montgomery's outing would be wasted as the Royals were victorious 6-2.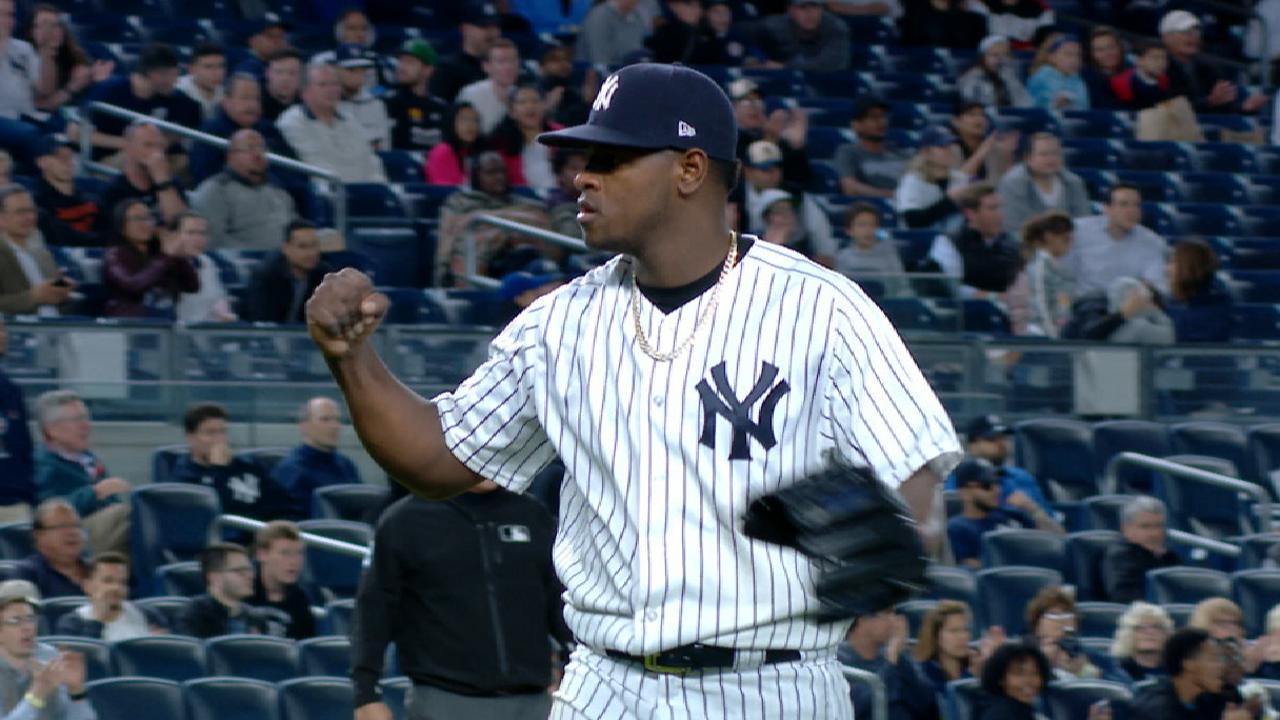 Luis Severino came into his most recent outing winless in his last 4 starts, but he did everything right in this one. Sevvy was absolutely electric in this one giving up just 4 hits and striking out 7. He has been a workhorse going 7 innings or more on four of his starts this young season. However, this is the farthest he's gone scoreless going for 8 innings with no runs. The Royals simply couldn't get much against him, as they only had one runner in scoring position all night. Not to mention Dellin Betances was awesome too, striking out the side in the ninth. A shot from Didi Gregorius into the newly added Judge's Chambers highlighted the Yankees offense in what would be a 3-0 victory. Outfielder, Jacoby Ellsbury had to leave the game early after crashing into the centerfield wall in the first inning. He was placed on the 7-day concussion DL.
After a rain delay that cancelled game four of the series against the Royals, the Yankees faced off against the Oakland Athletics. Masahiro Tanaka was ready to take the mound after five days rest. While Tanaka is a bit inconsistent on four days rest totaling a 12-7 record with a 3.30 ERA, he is a lot better with more days off having a 32-12 record with a 3.50 ERA. The extra day worked wonders for him, as he went for 7 ⅓ innings striking out 13 total batters. Despite Tanaka's bounceback start, the offense didn't give him much support. Sean Manaea of the A's also threw really well, pitching 7 scoreless frames giving up just four hits. The game was scoreless throughout until the 8th inning where Adam Rosales hit a single into shallow left center. That would end Tanaka's day, as Joe Girardi pulled him for Tyler Clippard. Later in the inning, singles from Jed Lowrie and Khris Davis gave Oakland a 2-0 lead. Steven Vogt contributed also with a solo shot off of Jonathan Holder. The Yankees had a chance to tie the game with the tying runner eventually being at the plate, but a pop fly from Gary Sanchez ended the game. Masahiro Tanaka was credited for the loss with 1 run despite a terrific game. The final score was 4-1.
C.C. Sabathia took the bump against Jahrell Cotton. After a course where Sabathia gave up 18 runs in only three games, he has done a nice job in rebounding since then. It continued here, as the 36-year-old went for 6 ⅓ innings giving up 2 runs and striking out 9. Jahrell Cotton was dominant as well, as in just his 12th major league start he would throw 5 no-hit innings. Cotton was behind though, after a sequence of events that resulted into a sacrifice fly. Nothing much else offensively was really worth noting until the 6th inning where Ryan Healy doubled to tie the game at 1. But, C.C. would dodge a bullet the next batter, as despite Starlin Castro bobbling a deep pop up, Aaron Judge was there to make the catch before it hit the ground, resulting in a rare 4-9 putout. Cotton was still going for history in the bottom half of the inning, but Matt Holliday had something to say about that. After a walk to Gary Sanchez, he hit a shot into the A's bullpen to give the Bombers a 3-1 lead. The A's rallied back in the 8th having the tying runner on 2nd with one away. Joe Girardi was asking a lot from Dellin Betances putting him in earlier than a closer should be, but Betances responded, striking out the next to batters to end the inning. He then went on to pitch a 1-2-3 ninth inning. The Yankees won this one by a score of 3-2.
For the rubber match of the series Michael Pineda pitched again. Pineda finished the day with 3 hits and 2 earned runs given up through 6 innings. He got the runner support he needed. Matt Holliday hit a flyball into right field, with runners on first and second, but it was botched by Matt Joyce extending the inning. Two batters later, Aaron Judge took one over the wall for his first career grand slam. That wasn't all, as in the 7th inning Gary Sanchez hit a double off of Khris Davis' glove to give the Yankees a 7-3 lead. Davis made the game closer, however with a two-run shot off of Chad Green to make the score 7-5. But, Brett Gardner erased any chance for a comeback with a bases loaded double over the shortstop's head to make the score 9-5. Adam Warren pitched a four out save and the Yankees finished on top for their 29th win of the season.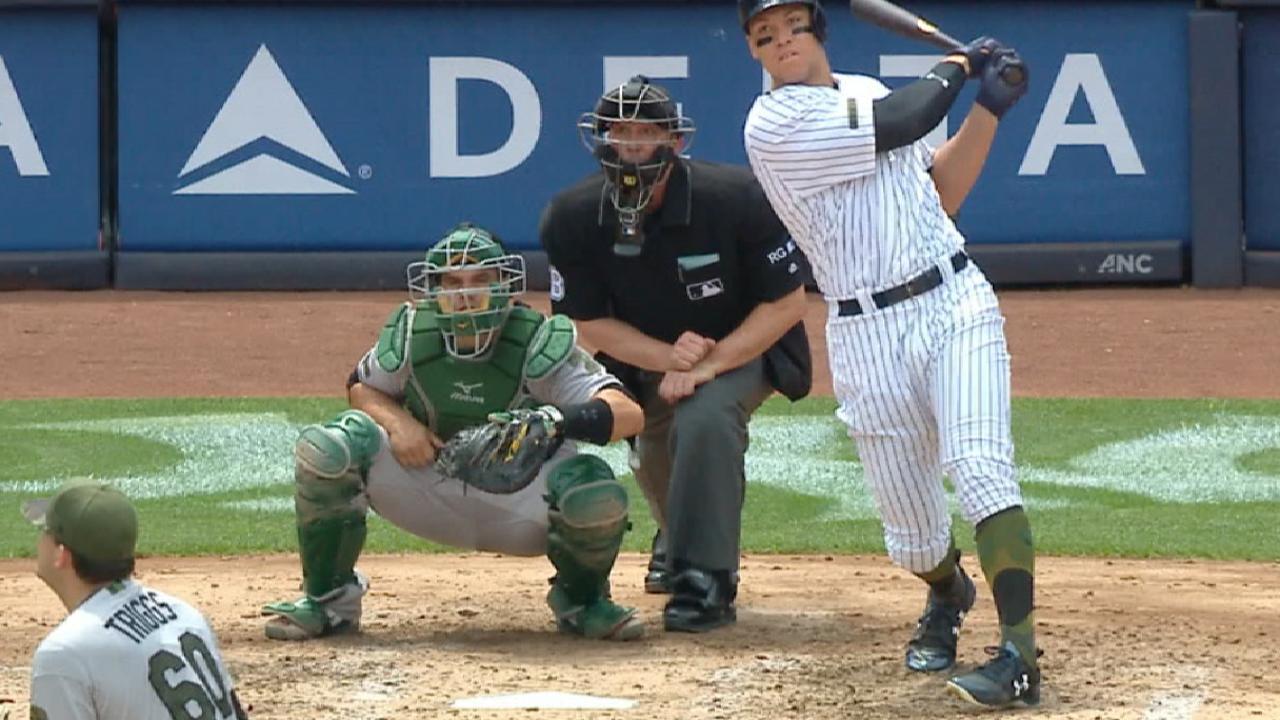 Batter of the Week: Aaron Judge
GM – 6
AB – 19
R – 2
H – 6
HR – 1
RBI – 4
BB – 4
Pitcher of the Week: Dellin Betances
GM – 3
SV – 3
IP – 3.2
H – 1
ER – 0
BB – 0
K – 7
   The Yankees will head on the road to take on the Baltimore Orioles and the Toronto Blue Jays. This is the beginning of four upcoming matchups against AL East opponents.
Matchups at Baltimore:
Game #1:
Jordan Montgomery (2-3) vs. Dylan Bundy (5-3)
Game #2:
Luis Severino (3-2) vs. Chris Tillman (1-1)
Game #3:
Masahiro Tanaka (5-4) vs. Kevin Gausman (2-4)
Matchups at Toronto:
Game #1:
C.C. Sabathia (5-2) vs. Marco Estrada (4-2)
Game #2:
Michael Pineda (6-2) vs. Francisco Liriano (2-2)
Game #3:
Jordan Montgomery (2-3) vs. Marcus Stroman (5-2)
Game #4:
Luis Severino (3-2) vs. Joe Biagini (1-3)
– David Bieber is a contributing columnist to FingerLakes1.com covering the New York Yankees with a weekly report published on Monday throughout the season.