The Yankees headed over to Kauffman Stadium to take on the Kansas City Royals. Starting pitcher, C.C. Sabathia has hit a major skid as of late, allowing 22 runs in his last four starts, however this start was the bounceback he needed. Against a Royals offense that is currently 30th in runs scored, the 36-year-old went for 6 ⅔ scoreless frames giving up no runs on 5 hits. He also got the help needed behind him, as Chase Headley made couple of nice plays and Brett Gardner threw out Jorge Soler trying to extend a single. The offense was on point in this one with home runs from Gary Sanchez and Chris Carter that totaled five RBI's. The game was completely out of range at that point. The Yankees were victorious by a score of 7-1.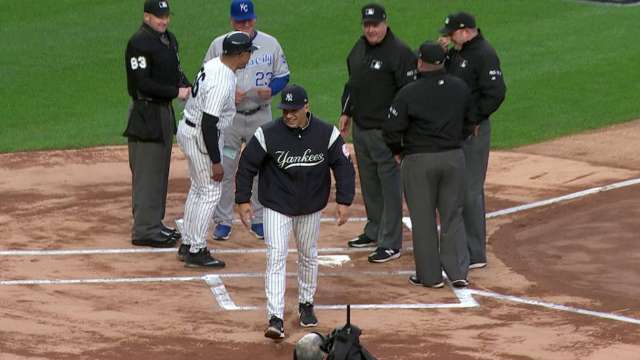 Going up against, Jason Vargas the Yankees hitting truly ignited in this one. The starting pitcher with the best ERA in the majors going into the game, did not play up to par. The Bombers put up 5 runs in the fourth off a single from Didi Gregorius, a three-run shot from Aaron Hicks, and a triple from Gardner. That's not all though, as the team put 5 more on the board in the next inning off of reliever, Peter Moylan. Vargas' 4.0 innings of work was his shortest outing of the season. His six runs given up are more than he's given up in his first seven starts. Each Yankee in the lineup was able to get a hit in the first six innings. On the other side Michael Pineda, was up and down finishing the night with 6 hits, and 4 runs given up through 6. The Royals were also able to get to the Yankees' bullpen, scoring three runs in the ninth off of Giovany Gallegos. However, it was all said for not. The Yankees were winners, 11-7.
Looking to avoid getting swept, it was Danny Duffy's turn to get things going. The left-hander had his slider going in this one, sitting down five of this first six Yankee hitters by the way of a strikeout. His marvellous day did not end there though, as Duffy did not allow a baserunner until the 4th inning. He finished the night with 7 strong innings, only giving up three hits, two walks and not to mention, striking out 10. He got some support as well with a three run home run from Mike Moustakas to extend their lead to 5-0. Yankees' starter Jordan Montgomery allowed five runs and four hits through five. The Royals pick one up, winning the game by a score of 5-1.
It was time to take on the always pesky Tampa Bay Rays. After an RBI ground out from Starlin Castro to give the Yankees the lead, Logan Morrison would double of the left-center field wall to knot it back at 1. In the 7th tied at 2, Ronald Torreyes would let a ground ball skim under his glove in what turned out to be an RBI double for Rickie Weeks Jr. The Rays were up 4-2. But the Yankees always fight back, as Matt Holliday tied the game up in the top half of the 8th, with a two-run opposite field home run. Later in the inning, Yankees reliever, Tyler Clippard walked both Derrick Norris and Kevin Kiermaier to put two runners on for Evan Longoria. The Yankee killer struck again, hitting a single past the diving Didi Gregorius to put the Rays up 1. Closer, Alex Colome soon finished the job and the Rays took game one by a score of 5-4. The RBI single from Longoria topped off a four hit performance, the seventh of his career.
Masahiro Tanaka took the bump in this one in order to redeem himself, coming off of his worst outing of his career. Sadly his struggles did nothing but continue. A lead-off home run from Corey Dickerson showed that things may not be changing anytime soon. Evan Longoria in the third would add more insurance to that with a solo shot to give the Rays a 3-1 lead. Chase Headley tied the game up hitting a double in the 4th to drive in two runs. But, Corey Dickerson was not done yet. Tanaka threw one right in the wheelhouse of Dickerson, and he made him pay for it with a three-run shot to put his team back on top. Dickerson's second home run of the game put the game out of reach. The Yankees were not able to come back, largely due to questionable calls by home plate umpire Scott Barry. Pitching coach Larry Rothschild and Manager Joe Girardi were both ejected. The Rays win their fourth straight by a score of 9-5. Masahiro Tanaka has allowed 13 earned runs in the 1st inning this year, he only allowed 4 in 2016. He has also given up 7 home runs in his last two starts.
After a rather disastrous game the night before, the Yankees looked to turn things around. C.C. Sabathia pitching once again, had another good start allowing just 2 runs (1 earned) on 4 hits, and striking out 6. Down 1-0 nothing in the 2nd, Didi Gregorius tied the game on an RBI single, the first of a four hit game. Two batters later, Brett Gardner took pitcher, Chris Archer, deep to put the Yankees up 3-1. Up 3-2, Sabathia gave up solid contact to Evan Longoria, which went into deep right-center field, but Aaron Judge would fully extend out to make the catch on the warning track. The Rays couldn't get much going after that. Dellin Betances, the closer in Aroldis Chapman's absence, struck out the side in the ninth, giving way towards a Yankee win. The final score was 3-2. Chris Archer suffered his third loss of the season despite striking out 12.
Batter of the Week: Gary Sanchez
GM – 5
AB – 20
R – 3
H – 7
HR – 2
RBI – 4
BB – 3
Pitcher of the Week: C.C. Sabathia
GM – 2
IP – 11.2
ER – 1
BB – 3
K – 10
WHIP – 1.03
The Bombers will once again square off against the Kansas City Royals, this time a four game series in the Bronx. They will then end the week with a matchup against the Oakland Athletics.
Matchups vs. Kansas City:
Game #1:
Jason Vargas (5-2) vs. Michael Pineda (4-2)
Game #2:
Danny Duffy (3-3) vs. Jordan Montgomery (2-3)
Game #3:
Jason Hammel (1-5) vs. Luis Severino (2-2)
Game #4:
Nate Karns (2-2) vs. Masahiro Tanaka (5-3)
Matchups vs. Oakland:
Game #1:
Kendall Graveman (2-2) vs. C.C. Sabathia (4-2)
Game #2:
Sean Manaea (2-3) vs. Michael Pineda (4-2)
Game #3:
Andrew Triggs (5-3) vs. Jordan Montgomery (2-3)
– David Bieber is a contributing columnist to FingerLakes1.com covering the New York Yankees with a weekly report published on Monday throughout the season.