Remember all those dreary, cool, and even downright cold days we've been living here in the Finger Lakes over the last 20, or so, days?
They will be a distant memory over the next several days as seasonable warmth, and even some significantly above-average temperatures make their way into the region.
On Wednesday and Thursday the region will see high temperatures soar through the 80s with many parts of the region cresting the 85 degree mark.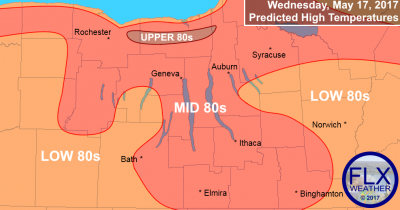 According to FLX Weather Meteorologist Drew Montreuil, this is how we're going to get there:
"Very warm air will flood into the Finger Lakes behind the warm front as the south wind increases on Wednesday. Gusts to 30 mph will be possible throughout Wednesday and Thursday.

As a result of those gusty winds and mostly sunny skies, the temperature will soar both Wednesday and Thursday.

Highs will push into the mid 80s over the northern and central Finger Lakes on Wednesday, with low 80s in the outlying higher elevations. A few spots in Monroe and Wayne county could push into the upper 80s.

Thursday will be nearly as warm but may fall just a degree or two behind Wednesday thanks to some extra clouds and a few spotty showers or storms in the afternoon.

A cold front will move through late Thursday night or early Friday with a few more showers and a shot of cooler air. Before the front clears the area, it may be a very warm, muggy night with temperatures not dropping much below 70.

After the front moves through, temperatures will fall back to the upper 50s and low 60s for most of the day on Friday."