Canandaigua Chief of Police Stephen Hedworth updated media this morning with the latest on Saturday night's shooting in the parking lot of the Village Restaurant on Main Street in Canandaigia. Chief Hedworth revealed that the victim, a 32-year-old male, was shot twice, once in the "upper body area" and once in the "lower leg area" and had not yet been released yet. Chief Hedworth also revealed that the victim was not a resident of Canandaigua but have not released his name.
According to Chief Hedworth officers have questioned several people who were at The Villager Pub just before midnight, but there are no arrests so far. Police state that they believe people present on Main Street late Saturday night saw and know who pulled the trigger.
Chief Hedworth, a Phelps native, said this was the first time he has been involved in a shooting where a victim was struck by a bullet in his 17 years with the Canandaigua Police Department.
You can watch the press conference, held at 9:30 AM on Monday morning, below along with the original article, social media posts from early Sunday morning and updates as they appeared here on FingerLakes1.com over the weekend.
Canandaigua police chief w/ update on Main St shooting. Victim is recovering. pic.twitter.com/i5NtG24r58

— Wendy Mills (@WendyMillsTV) May 15, 2017
Police are asking anyone anyone who in the area of the parking lot around the time of the shooting to call (585) 394-3311 or (585) 394-4560.
ORIGINAL REPORT:
Around 11:38 pm the Canandaigua Police Department was called to the parking lot of the Villager Restaurant and V-Pub bar for the report of shots fired.
Upon arrival, police say they located one male inside the restaurant with gunshot wounds to the upper body and lower leg area. The victim was transported to Strong Memorial Hospital via Mercy Flight.
Police say his wounds are not believed to be life threatening.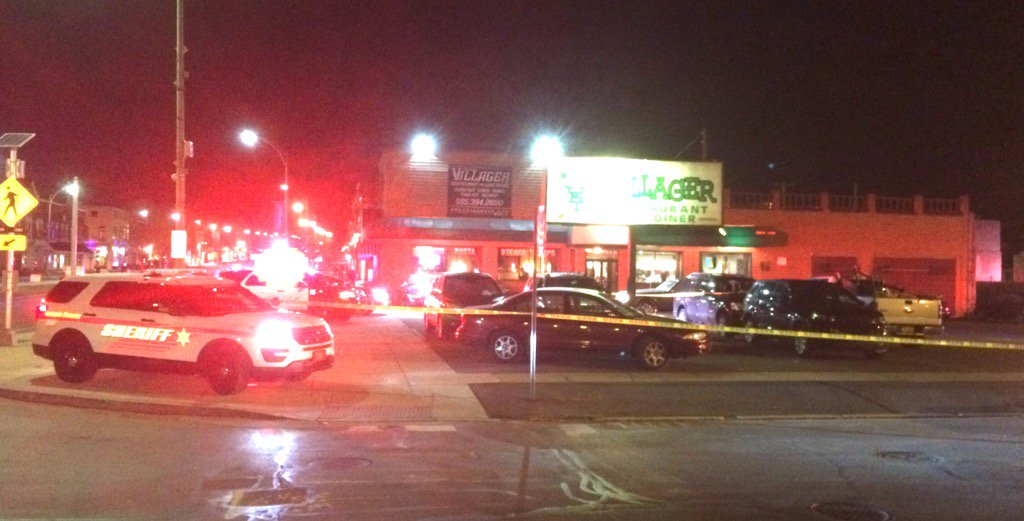 Several 'persons of interest' were questioned, but police say no suspects are in custody at this time. There was a musical event being held at V-Pub during the time of the incident.
Police are asking that anyone who attended the event at V-Pub during the time of the incident to call the Canandaigua City Police Department at (585) 394-4560 or (585) 394-3311.
The investigation is ongoing and a press conference will be held on Monday at 9:30 am.
This story will be updated as more information becomes available.
Reports from social media on the ground:
Reports of one person shot in Canandaigua at the villager

— OCFW (@OntarioFireWire) May 14, 2017
It appears a male was shot outside THE VILLAGER and then walked inside asking for help. #roc @SPECNewsROC pic.twitter.com/kwfaZ2pm2Q

— scott barstow (@barstow_scott) May 14, 2017
Talked to this group of people Who were inside for a DJ event and tried to help the victim. #roc pic.twitter.com/GdxCudppim

— scott barstow (@barstow_scott) May 14, 2017
More from @MPN_MikeMurphy on scene at the Villager. @messengerpost pic.twitter.com/UXfRcd9ORV

— Melody Burri Media (@MelodyBurri) May 14, 2017
Police investigate Saturday night shooting at the Villager. @MPN_MikeMurphy is on scene. @messengerpost pic.twitter.com/tXQrmdWulM

— Melody Burri Media (@MelodyBurri) May 14, 2017
Shooter last seen on foot black male, footbound on main street white shirt black pants

— OCFW (@OntarioFireWire) May 14, 2017
People stating that emergency tow is in operation of the car in front of the sheriffs office. pic.twitter.com/Ub6ZVBAR3g

— OCFW (@OntarioFireWire) May 14, 2017
From people on the ground, appears to be a car surrounded in front of the sherrifs office

— OCFW (@OntarioFireWire) May 14, 2017
#BREAKING: Police confirm one shooting victim near The Villager, a restaurant in Canandaigua. #13WHAM pic.twitter.com/lCL1BxEw8B

— 13WHAM (@13WHAM) May 14, 2017
Canines doing their part during investigation following shooting at the Villager. @MPN_MikeMurphy @messengerpost pic.twitter.com/4dCIXbBXxV

— Melody Burri Media (@MelodyBurri) May 14, 2017