An overcast evening greeted fans at Outlaw Speedway on Friday night, but they were treated to some excellent racing in all six divisions.
The track crew spent many hours during the week working on the surface, which came around in much smoother condition for the night's action.
The 30-lap Modified feature started with Ray Bliss taking the lead from Eldon Payne as Tyler Siri jumped into third.
Sirit passed Pane on lap 3 and set his sights on leader Bliss
Behind them, there was a tremendous battle as Payne fought hard with Steve Paine, Matt Sheppard , and Alan Johnson.
Paine and Sheppard broke away into third and fourth by the halfway point, with Johnson in fifth.
The leaders hit lapped traffic at halfway and Siri used it to grab the lead just before the first caution flew on lap 17 for Don Lawson's stalled car in turn one.
Sheppard slid into second on the restart, but inherited the lead two laps later when Siri went too high in turn one and spun.
Johnson and Sheppard had a great battle for the lead when Dillon Grover lost a tire in turn two on lap 25.
Johnson made an amazing move to take the lead on the restart and hold off Sheppard for his second win of the season.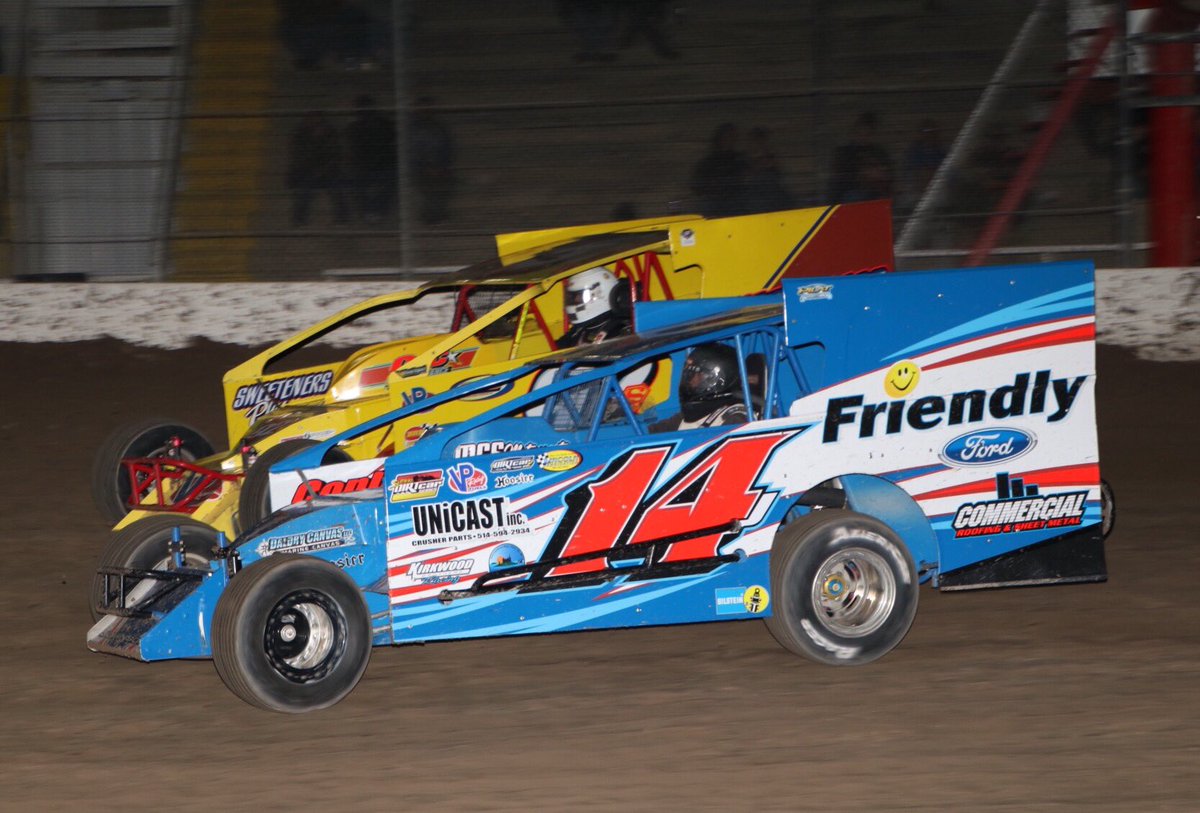 Friendly Dodge BB/SB Modified heats were won by Tyler Siri, Matt Sheppard, and Don Lawson.
Tommy Collins was able to outdrag Karl Comfort for the early lead at the start of the 25-lap Crate Sportsman feature as Dale Welty moved into third spot.
After a lap 5 caution for Ray Bliss Jr's stalled car in turn four, Collins again pulled away as Chris Fisher and AJ Lloyd had a battle for the fourth and fifth positions.
Collins was able to best Comfort on a couple of mid-race restarts as Rob Bussey, who started 18
th
, cracked the top five with ten laps to go.
Bussey grabbed another spot on a lap 18 restart as Collins pulled away from Comfort to collect his first win of the season.
Comfort and Welty followed, with Bussey and Lloyd rounding out the top five.
Crate Sportsman heat races were won by Karl Comfort, Brent Ayers, and Eric Williams.
Jeremy Wonderling jumped from the outside of the front row into the early lead in the 20-lap Crate Late Model feature.
Brian Knowles was able to break free from the pack and chased after Wonderling, who had built up a full straightaway lead by lap 7.
Chris Fleming and JJ Mazur fought for third spot as Knowles tried to reel in the leader.
Wonderling threaded through lapped traffic in the final laps to grab the feature win over Knowles, with Mazur besting Fleming in the race for third spot.
Brad Smith rounded out the top five. Jeremy Wonderling won the Crate Late Model heat race event.
Glenn Whritenour charged off into the lead in the IMCA Modified 20-lap contest as Phil Yaw moved to the second spot, but the field was bunched back up when Rich Karlnoski spun on lap 2.
Yaw jumped into the top spot on the restart as Jake Karlnoski snuck past Whritenour to move into second on lap 6.
Karlnoski and Yaw spent the next several laps battling for the top spot with Jake finally locking down the lead on lap 11.
Karlnoski was able to motor away and take the win as Whritenour got by Yaw for second in the closing laps.
Shawn Bruce and Brandon Smith rounded out the top five.
IMCA Modified heat races were won by Todd Stone and Phil Yaw.
The opening laps of the Street Stock feature saw a battle between Chuck Winslow and Quinn Sutherland for the lead.
Winslow pulled away while Sutherland battled Jared Hill for second.
A debris caution on lap 5 bunched the field, and on the restart, Winslow spun on the inside of turn one and had to fall to the tail of the field.
Dan Mazzarese then took second and battled Sutherland for the lead as Lavern Knickerbocker, who had started in the rear of the field, moved in behind Nate Daggett in a race for the fourth and fifth spots.
Knickerbocker took over third on lap 14 as Sutherland moved away from Mazzarese in the final few laps to win his third Street Stock feature of the year.
Mazzarese, Knickerbocker, Hill, and Daggett rounded out the top five.
Chuck Winslow and Quinn Sutherland won the Street Stock heats.
In the 20-lap 4 Cyilnder feature, Chad Ayers and Scott Lehman battled for the early lead as Ray Hyer battled into the top five by lap 5.
Hyer, who started 12
th
, moved into second by lap 7 and battled Lehman for the lead as Mike Stone and Ayers fought over the third spot.
The first yellow flag did not fly until Nick Brown's car stopped on the inside of the frontstretch on lap 13.
The Ayers car faded on the restart and fell out of the top ten as Hyer stretched out the lead over Lehman while Stone, Billy Bowers, and Bell fought for spots in the top five.
Hyer cruised to the victory as Stone got by Lehman on the white flag lap for second, followed by Bell and AJ Potrezrebowski.
Ray Hyer, Mike Stone, and Scott Lehman won heats for the 4 Cylinder division.
Jordan Bacon won his second feature of the year in the Winners Circle Deli Bandits division.
Next Friday night, May19th, the Lucas Oil Empire Super Sprints join the regular Super 6 Show at Outlaw Speedway.
Race time is 7 pm.
For more information, visit
www.outlawspeedwayllc.com
.
RACE SUMMARY: OUTLAW SPEEDWAY on FRIDAY, MAY 12, 2017
FRIENDLY DODGE BB/SB MODIFIEDS-ALAN JOHNSON, Matt Sheppard, Steve Paine, Derrick Podsiadlo, jo Dgien, Edlon Payne Jr, Ray Bliss, Justin Wright, Kyle Coffey, Brady Fultz, Eric Fisher, Jim LaRock, Scott Boudinot, Dillon Grover, Tyler Siri, Donnie Lawson, Cory Costas, Lee Bills, Marcus Dinkens.
CRATE SPORTSMAN-TOMMY COLLINS, Karl Comfort, Dale Welty, Rob Bussey, AJ Lloyd, Kenny Hammond, Brett Buono, Brian Fish, Chris Fisher, Loren Lincoln, Doug Smith, Eric Williams, Chris Silvers, Todd Heyward, Brent Ayers, Mike Buchanan, Zach Ziegenhagen, Clay Wheat, Hillary Ward, Frank Guererri Jr, Ray Bliss, Ray Bliss Jr.
CRATE LATE MODELS-JEREMY WONDERLING, Brian Knowles, JJ Mazur, Chris Fleming, Brad Smith, Jason Tingue, #21 Murray, Dave DuBois.
IMCA MODIFIEDS-JAKE KARLNOSKI, Glenn Whritenour, Phil Yaw, Shawn Bruce, Brandon Smith, Rich Karlnoski, Todd Stone, Brad Smith, Scott Sebring, Sparky Hills, Rich McNeil.
STREET STOCKS-QUINN SUTHERLAND, Dan Mazzarese, Lavern Knickerbocker, Jared Hill, Nate Daggett, James Kreidler III, Jeremy Trank, Carl Cleveland, Jayson Smart, Dave Decker (HS), Bill Tice, Allison Pierce (HS), Brian DeStephen.
4 CYLINDERS-RAY HYER, Mike Stone, Scott Lehman, Erica Bell, AJ Potrzebowski, Billy Bowers, Dan Smart, Chris Percy, Tommy Borden Jr, Scott Lehman Jr, 3S, Chad Ayers, Dante Mancuso, Brad Rathburn Jr, Bob McFeil, 08, Austin Faigle, Nick Brown, Artie Teed, Timmy VanEtten, Harold Fenton jr, ShiAnn LaBarr.
WINNERS CIRCLE DELI BANDITS-Jordan Bacon.