On Sunday, the Ontario County Corrections Officer who was seriously injured in an accident at the intersection of Smith Rd. and Route 46 died.
He had been hospitalized at Strong Memorial Hospital since the accident, which happened on May 12th immediately following a shift worked by the 35-year-old deputy.
Joshua P. Shaver, 35, of Canandaigua passed away due to complications from the injuries he received in the accident earlier this month, according to Ontario County Sheriff Phil Povero.
"A personal and professional void exists in our law enforcement family. Our prayers continue for Officer Shaver and his family," Povero said in a statement early-Sunday evening.
On May 22nd Rebecca A. Laursen-Castner, 41, of Penn Yan was cited for failing to stop at a stop sign, failing to yield the right of way, and reckless driving.
On Monday, Shaver was honored by the law enforcement community in Ontario County.
He worked at the jail for seven years. Those who worked with him said  he had made quite an impact on his coworkers and the inmates with his jovial spirit. That's why his death has created such a void in the law enforcement community there.
---
Original Story
His friends and family say he's fighting for his life.
This after the serious car accident in Hopewell at the intersection of Smith Rd. and Route 46.
He's in guarded condition at Strong Memorial Hospital, with leg and internal injuries. A GoFundMe Page has been set up in his honor for his family, as he moves down the road of recovery.
According some of his friends, the accident happened just minutes after shift change.
Other deputies at the Ontario County Jail and with the Ontario County Sheriff's Department as a whole are signing their badge numbers on a "tribute" to Corrections Officer Joshua Shaver, who is 35-years-old with a family.
According to the GoFundMe page those life threatening injuries he sustained in the accident included broken bones, intestinal tears, a punctured lung, an injury to his spleen, and a cracked spine.
The GoFundMe page has nearly reached $19,000 as of 7:30 am on Monday.
---
Original Report
The Ontario County Sheriff's Office says the crash, which resulted in one person being airlifted from the scene in Hopewell to Strong Memorial Hospital on Friday.
Deputies say that Rebecca A. Laursen-Castner, 41, of Penn Yan was operating a 2016 Nissan Rogue northbound on Smith Rd. in the Town of Hopewell and entered the intersection at County Rd. 46 colliding with a 2007 Toyota Corolla traveling west on County Rd. 46.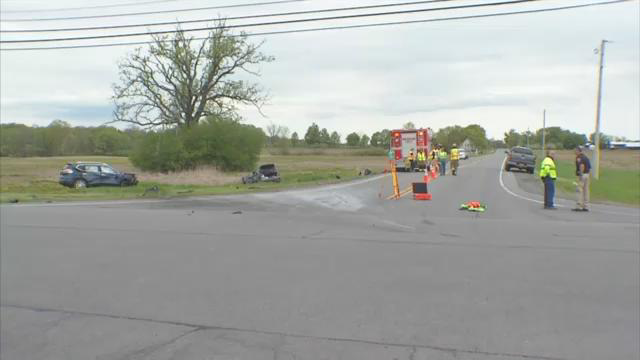 The second vehicle was being operated by Joshua P. Shaver, 35, of Canandaigua. Both vehicles spun and entered a nearby field from the force of the collision.
While Laursen-Castner was able to remove herself from the vehicle, Shaver had to be extricated by members of the Hopewell Fire Department.
According to deputies, he was stabilized by Canandaigua Ambulance and transported to Strong Memorial Hospital by Mercy Flight. He suffered a head injury, internal injuries, and an injury to his left leg.
Laursen-Castner was also transported to Strong Memorial Hospital via Finger Lakes Ambulance for an evaluation and complaints of chest and wrist pain.
A preliminary investigation concluded that Laursen-Castner id not stop for the stop sign on Smith Rd. at County Rd. 46. Drugs and alcohol don't appear to be a factor at this time, according to deputies.
Shaver was identified as an Ontario County Sheriff's Deputy assigned to the Corrections Division. He had just completed his shift at the Ontario County Jail and was in his personal vehicle at the time of the accident.
No tickets were issued, but the investigation is ongoing. The highway was closed for approximately two hours as investigators were at the scene.
---
Original Report
A car accident with multiple injuries at County Rd. 46 and Smith Rd. resulted in the temporary closure of State Route 5&20 in Hopewell.
Update: As of 6 pm all roads around the accident had been reopened.
While officials have not elaborated on the accident, the call came in around 3:40 pm.
Hopewell Fire Department and Canandaigua Ambulance were called to the scene initially, along with the Ontario County Sheriff's Office.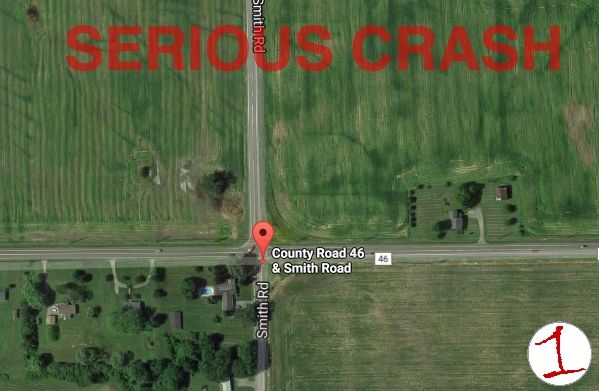 Deputies that arrived on scene initially said that two individuals were critically injured, and one person was trapped.
Mercy Flight was called to the scene, as well as Finger Lakes Ambulance and Shortsville Fire Department.
This is a developing story and will be updated as more information becomes available.