The situation has gotten bad along Lake Ontario.
Communities are preparing for the worst, as officials now weigh the potential for evacuation efforts.
The water itself may not be the trigger point for some, as Sodus Point officials said on Saturday. Public Works officials said that some homes are still pumping water from their basements into the waste water treatment system, which is illegal, according to New York State. The state says that water from basements must be pumped to other places, but those other places are starting to pond, which is adding additional layers to this coastal flooding issue.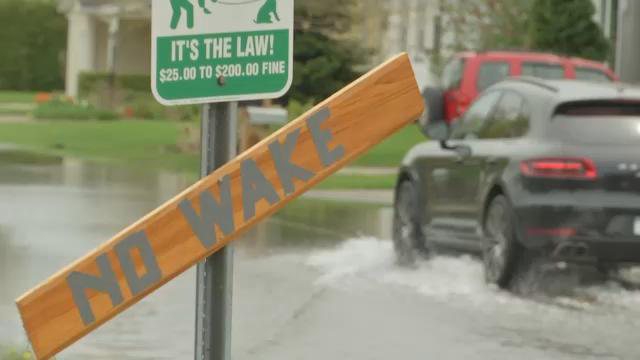 More showers are in the forecast, and if that wasn't enough — Monroe, Wayne, and Cayuga counties are all under Lakeshore Flood Warnings due to winds, which are going to turn to the north east, causing extensive flooding and large waves along the shoreline.
For communities that have been dealing with flooding, erosion, and ongoing stress on water treatment systems — it's nearing a breaking point.
Roads that were open a week ago in Sodus Point are now closed, and under water. Homes that had sand bags stacked several high are adding more, as water levels are expected to keep rising.
As state officials weighed in throughout the week, and a State of Emergency was formally declared in places like Sodus Point and other coastal communities — it seemed to do little to change the direction things were going.
The bottom line: Water is rising, and people have little they can do at this point beyond "hoping" for the best.
The Lakeshore Flood Warning runs until 6 am on Monday for most places along Lake Ontario. Places that have already been stressed severely. Homeowners are losing property along the lake, as erosion takes it's toll on these properties.
"We may reach a point in the near-future where our waste water treatment facilities, like our sewer systems cannot handle the burden," said one official on Saturday. It wasn't the first time this message had been shared with those living in the community. Throughout the week those officials had been warning residents that something like this could happen as flooding continues to increase.
Officials add that some pretty disastrous things are possible if the sewer or waste water systems fail.
Evacuations in Sodus Point seem most likely if the sewer system fails. Raw sewage could back up into homes and the lake. It would also not be possible for residents to flush their toilets, which would make for an impossible situation.
– The latest on the Lakeshore Flood Warning