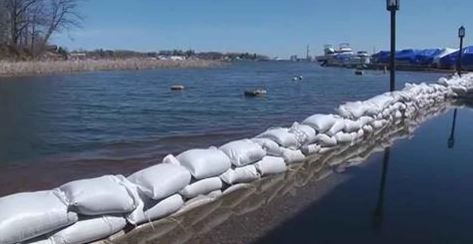 Drive around Sodus Point and you'll see a community taking no chances.
Sand bags stacked several high are visible on every property along Lake Ontario. As the water continues to rise, so to concerns about what will happen next.
Village officials have said that if the water rises too much more, it could compromise municipal water systems. State legislators requested a State of Emergency for these coastal communities.
Declaring a State of Emergency would pave the way for access to funding, otherwise unavailable. FEMA assistance, which is viewed as disaster relief — would be helping a flooding disaster.
It's hard to imagine, but visiting the communities along Lake Ontario it's easy to see just how close the water is to reaching homes and yards.
If it weren't for the thousands of sand bags already deployed in those communities — water would be pushing over the natural barriers.
Homeowners and businesses are preparing for the worst.
That said, if waters continue to rise — the level of flooding experienced in Sodus Point could be unlike any that has been seen in recent memory.
A Lakeshore Flood Warning had been issued for Monroe County and points west along Lake Ontario, sparing Wayne County. However, many within the community remain on edge as waters creep higher.
Over the weekend, Sen. Pam Helming (R-54) joined local officials in Sodus to tour those properties dealing with the rising waters.
She called on Gov. Andrew Cuomo to declare the state of emergency, which had been called for by other state legislators earlier in the week.
"We need to do something to provide relief. What's the message that we're sending to all these property owners and business owners? And what's the messages were sending about the protection of our lake? Sorry, we're just going to stand by and do nothing?," she asked.
Sen. Helming added, "The IJC, the DEC, the locals who have lived in this area all their lives; everyone agrees that the high water peaks sometime in June. Everyone agrees we're going to see another 6-10 inches. So we need to do something to provide relief."
According to the first-year Senator – it could even mean water systems being compromised, or sewage backing up into the lake.  "Once those systems are compromised, there's a potential for sewage to back up in homes or sewage to flow into the lake," she added.