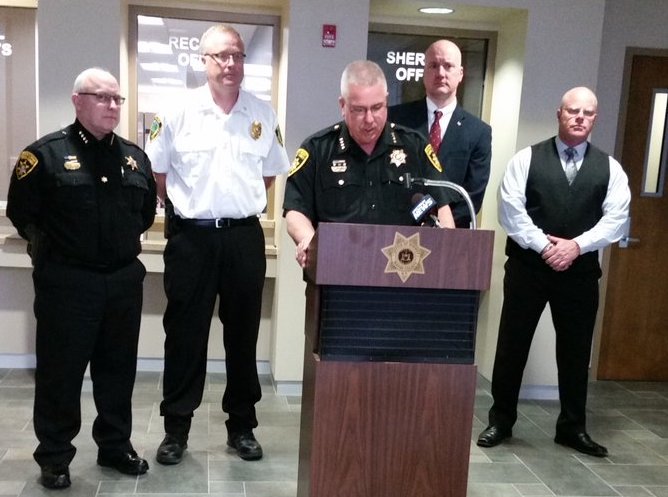 Six men were charged on Wednesday with third-degree patronizing a person for prostitution after a town of Ontario resident tipped off Wayne County sheriff's deputies about an ad on a social media website.
The tip lead deputies to Backpage.com and an ad posted by a female, unidentified by police, who was soliciting money for sex in the Ontario area.
FingerLakes1.com has learned through a statement issued by a spokesperson for Thompson Health that a doctor in their system was among those charged in the prostitution bust in Wayne County.
Dr. Robert R. Smith, was among those charged in the scandal, and according to a statement issued by Thompson Health, "Quality patient care is of the utmost importance. Thompson is developing a plan to communicate with all of [Smith's] patients to ensure there is no disruption to their care."
The statement continued, "We are also working out the logistical details to ensure his patients receive care from one of our other practicing providers. We expect to have this in place early next week and will deliver this information to his patients in a timely manner."
Through social media, deputies arranged a meeting with the woman who was advertising sexual services for money, Wayne County Sheriff Barry Virts said. The woman, a heroin addict prostituting herself for money to buy heroin, agreed to assist deputies in further investigating people patronizing a person for prostitution.
Virts said deputies, assisted by members of WayneNET and Seneca County Sheriff's Office deputies continued their investigation of persons answering the ad on the social media website to meet the woman at the Budget Inn on Route 104 in Ontario for the purpose of exchanging money for sex. The investigation lead to six arrests before deputies shut down the operation, but Virts said they continued to receive 20 more inquiries from the ad.
Others arrested on misdemeanor charges included: Michael J. Fischer, 45, of Webster; Leopoldo Gil Sanchez, 33, of Sodus; James W. Barr, 59, of Webster; Timothy J. Sullivan, 56, of Palmyra, and; Robert M. Assisi, 53, of Cicero. Each were issued an appearance ticket for Ontario Town Court on June 23.
The woman posting the original ad will not be identified as further investigations maybe conducted. Virts would not comment on whether or not the woman has a criminal record.
Six arrested for answering an ad for sex posted by a woman selling herself to make money for heroin. Read more at https://t.co/PR30BnBrMZ pic.twitter.com/IyQ9D1HB5M

— Tammy Whitacre (@_TWhitacre) April 28, 2017
Virts said the type of addiction the woman has could have happened to anyone.
"We're talking about people like you and me," he said. "Three out of four heroin addicts start their addiction from a legal prescription."
The woman has been referred to substance abuse counseling services and is awaiting in-patient placement at this time.
The investigation is continuing.
Tammy Whitacre is a reporter for FingerLakes1.com covering Wayne, Seneca, and surrounding areas. Send news tips to tammy@fingerlakes1.com.