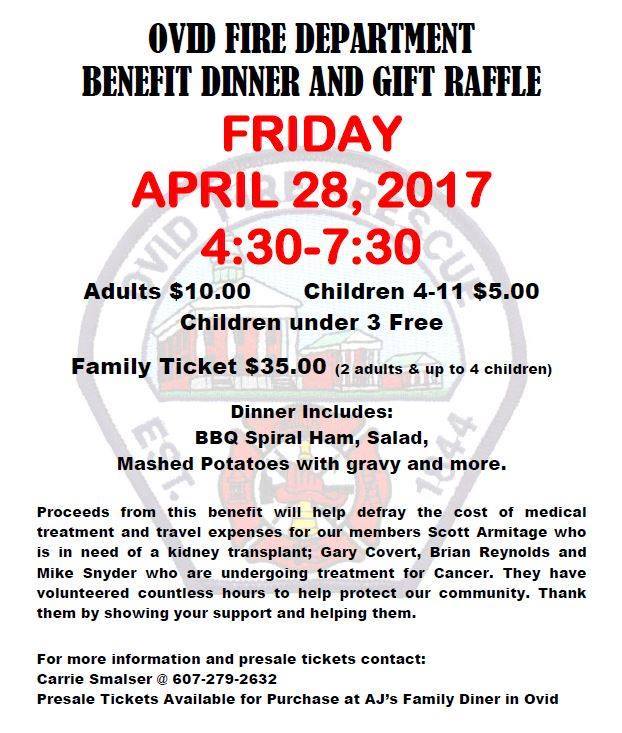 The Ovid Fire Department will be hosting a benefit dinner and gift raffle to help with medical costs for four volunteer firefighters as they fight for their lives.
Scott Armitage, Gary Covert, Brian Reynolds and Mike Snyder, who are all facing various medical emergencies will be benefited by the dinner, which is expected to draw major support from the local communities in Seneca County.
Armitage is in need of a kidney transplant; while Covert, Reynolds and Snyder are undergoing treatment for cancer.
All four have volunteered tens-of-thousands of hours between them to protect the community. Carrie Smalser, who is organizing the event along with other members of the Ovid Fire Department, says that the four volunteers have helped the community immeasurably throughout their tenure.
The dinner will feature a barbecue spiral ham, salad, mashed potatoes with gravy and more. It'll cost $10 for adults and $5 for children 4- to 11-years old. Children 3-years-old and under will be free.
Anyone seeking more information should contact Carrie Smalser at (607) 279-2632.
Pre-sale tickets can be purchased at AJ's Family Diner in Ovid. Tickets will also be available at the door.