On Tuesday morning in Seneca Falls, the National Women's Hall of Fame announced their Class of 2017 inductees at The Gould Hotel. The 2017 National Women's Hall of Fame Induction Ceremony will take place September 15, 16 & 17, 2017 at the New York Chiropractic College in Seneca Falls.
"We are pleased to add ten American women to the ranks of inductees whose leadership and achievements have changed the course of American history," said Dr. Betty M. Bayer, the Hall's Co-President and Professor of Women's Studies at Hobart and William Smith Colleges.
The Class of 2017 Inductees:
The Honorable Matilda Raffa Cuomo (1931-

 

)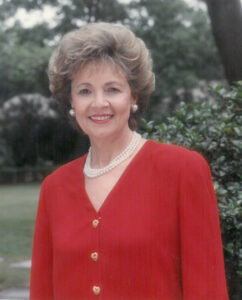 A dedicated advocate for women, children and families, Matilda Raffa Cuomo has lead state, national and international initiatives that heightened visibility to such causes as children's rights, volunteerism and mentoring. As First Lady of New York State (1983-1995), Mrs. Cuomo co-chaired the Governor's Commission on Child Care and chaired the NY Citizens' Task Force on the Prevention of Child Abuse and Neglect.  Mrs. Cuomo also led New York's role in the UN's World Summit for Children and the USA's ratification of the UN Convention on the Rights of the Child.  She established in 1987 the nation's first school-based one-to-one mentoring program, connecting over 10,000 students to trained mentors, and helping them to succeed in school, graduate, advance in the workplace and become productive citizens.  Under Mrs. Cuomo's leadership, the program has continued as Mentoring USA and its reach expanded internationally. Mrs. Cuomo published an edited volume in 1999, revised in 2011, and entitled The Person Who Changed My Life: Prominent Americans Recall Their Mentors.  She currently chairs the New York State Mentoring Program, recently reinstated by Governor Andrew M. Cuomo. 
Dr. Temple Grandin (1947-

 

)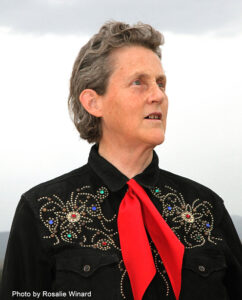 Temple Grandin, Ph.D., is an animal sciences innovator and champion of farm animal welfare whose masterly designs for livestock handling systems transformed the industry and are used worldwide today.  Diagnosed at age two with Autism Spectrum Disorder, she experienced the anxiety of feeling threatened by her environment and went on to apply insights gained from her experience to conceptualize equipment that reduced animal stress during the livestock handling process.  Her life and work have "revolutionized the study of autism," captured in the title of her Ted Talk: "The World Needs All Kinds of Minds."  Dr. Grandin currently conducts research, teaches and consults internationally on autism, animal behavior and handling, as well as advancing quality standards and assurance in the meat and livestock industries. She is a prolific author having published 12 books and several hundred publications on topics ranging from autism through to livestock handling, temperament and fertility as well as environmental enrichment and animal safety.  Dr. Grandin was featured in the acclaimed HBO biopic, "Temple Grandin" in 2010, and, in the same year, was honored in Time magazine's "100 Most Influential People in the World." In 2016, Dr. Grandin was inducted into the American Academy of Arts and Sciences.
Lorraine Hansberry (1930-1965)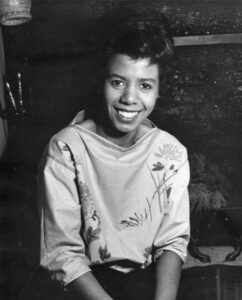 A groundbreaking playwright and essayist, Lorraine Hansberry is best known as the author of A Raisin in the Sun that ensured a place for African American experience in American theatre.  She was the first African American woman to have a show produced on Broadway, the first black playwright and the youngest American to receive, in 1959, the prestigious New York Drama Critics' Circle Award for Best American Play, and the first African American to win the distinguished Drama Desk Award.  Numerous revivals of her play worldwide have gone on to receive repeated critical acclaim, including a 1961 film version, television versions, and 2004 and 2014 Broadway revivals. In the six years between her first play and her death at age 34, Ms. Hansberry was a recognized intellectual and activist, illuminating and working on civil rights struggles and poverty, prejudice and oppression.  Among her works published posthumously, Les Blancs, a play about the inevitable crisis that would grow out of colonialism and racism in Africa, ran successfully on Broadway; its 2016 run at the National Theatre in London was met with high praise and, says its theatre director, is noteworthy for the play's relevance in tackling colonialism's unfinished business of a "reckoning."  Martin Luther King Jr.'s message at Ms. Hansberry's funeral honored her saying:  "Her creative ability and her profound grasp of the deep social issues confronting the world today will remain an inspiration to generations yet unborn."  In 1964, Hansberry expressed it this way when she spoke to the winners of United Negro Fund writing competition: "…though it be thrilling and marvelous thing to be merely young and gifted in such times, it is doubly so, doubly dynamic, to be young, gifted and black!"
Photo by Gin Briggs, courtesy of the Jewell Handy Gresham-Nemiroff Trust and Joi Gresham, LHLT.org
Victoria Jackson (1955-

 

)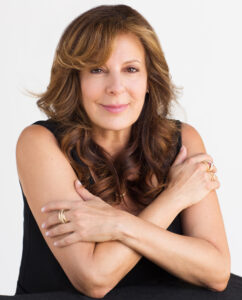 When her daughter was diagnosed with the rare autoimmune disease, neuromyelitis optica, (NMO), innovative cosmetics entrepreneur Victoria Jackson dramatically shifted her focus, talents and financial resources "from mascara to medicine." In the course of creating, funding and leading a research foundation with her husband, Ms. Jackson has shaped a paradigm-breaking approach to medical research. In addition to connecting 175 innovative problem solvers from 28 countries and even more diverse fields of expertise in an unprecedented model of collaboration, the Guthy-Jackson Charitable Foundation has created a global community of patients, advocates, and healthcare stakeholders, with significant positive impact on the treatment of autoimmune and related diseases. Underscoring the transformative significance of Jackson's work, in 2016 Victoria and her daughter, Ali Guthy, were invited to speak at the Vatican's 3rd Annual Regenerative Medicine Conference and to join global leaders likewise devoted to improving and saving lives. Recipient of multiple awards, Ms. Jackson has been described as a passionate advocate for women's empowerment and entrepreneurship and her iconic beauty line, Victoria Jackson Cosmetics, is still going strong. A successful author and speaker, Ms. Jackson and her daughter, Ali, most recently co-authored Saving Each Other: A Mother-Daughter Love Story (2012).
Sherry Lansing (1944-

 

)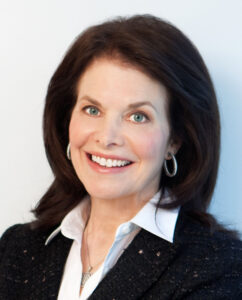 Sherry Lansing is best known for her long and successful career in the motion picture business where she earned a reputation as a trailblazer, visionary leader and creative filmmaker. She was involved in the production, marketing and distribution of more than 200 films, including Academy Award winners Forrest Gump, Braveheart and Titanic. She is the first woman to have headed a major film studio (20th Century Fox) and later served as Chairman and CEO of Paramount Pictures. As an independent producer, Ms. Lansing was responsible for successful films such as Fatal Attraction and Indecent Proposal. Her four years after college teaching high school English and math in the Los Angeles area, coupled with her long-held belief in the power of education to create lasting social change, prompted her to create the Sherry Lansing Foundation dedicated to public education and encore career opportunities as well as health and cancer research. Among the foundation's initiatives is the EnCorps STEM Teachers Program, transitioning corporate professionals and military veterans into encore careers as math and science teachers, as well as the Stand Up To Cancer initiative, which funds collaborative, multi-institutional cancer research "Dream Teams."  The first female movie studio head to receive a star on the Hollywood Walk of Fame, Stephen Galloway's Leading Lady: Sherry Lansing and the Making of a Hollywood Groundbreaker is due out in April 2017.
Clare Boothe Luce (1903-1987)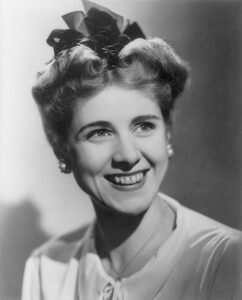 Clare Boothe Luce blazed many trails for women in her lifetime, as editor of Vanity Fair magazine, a front-line female European and Asian war journalist in WWII, an acclaimed author and playwright, a two-term U.S. Congresswoman, and as the first woman to be appointed U.S. Ambassador to a major nation (first Italy and then Brazil).  As a journalist, she wrote extensively about the dangers posed by the dictatorships of Hitler and Mussolini. As a playwright, her brilliant satire came to the fore in The Women, a smash hit opening on Broadway in 1936 and later as a film. As the first woman member of Congress representing Connecticut and as a diplomat, she was recognized as a persistent and effective advocate of freedom, both home and abroad. Long before national attention focused on the dearth of women in the science, math and engineering fields, Ms. Luce was instrumental in the creation of the Atomic Energy Commission and later established an endowment (the Clare Boothe Luce Program) for what has become one of the single most significant sources of private support for women in science, mathematics and engineering. Thus far, the endowment has supported more than 1,900 women pursuing careers in these fields. Clare Boothe Luce was recipient of the Presidential Medal of Freedom in 1983.
Aimée Mullins (1976-

 

)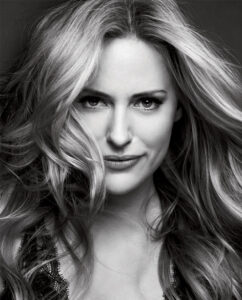 Aimée Mullins first received worldwide media attention as an athlete, but has developed her own formula for the "invented life," based on her unique combination of experiences as a world record holding athlete, USA Chef de Mission for both the 2012 Summer Olympics and Paralympics, ground-breaking high fashion model, beacon for design tech, dedicated advocate and avant-garde actor. Born without fibulae (shin bones) in both legs, which were amputated below the knee on her first birthday, Ms. Mullins learned to walk on prosthetic legs by age two. At age 17, she became the youngest person to hold top-secret security clearance at the Pentagon, where she worked as an intelligence analyst. While a student at Georgetown University, Ms. Mullins became the first amputee to compete in the NCAA. She conceived of, and was the first to wear and compete in, prostheses modeled after the hind legs of a cheetah – now the international standard for amputee runners.  She set world records in the 100 meter, 200 meter and long jump events.  From there, Ms. Mullins has moved on to fashion modeling, acting and motivational speaking, to help others shatter perceived limitations and reinvent themselves. Currently starring in the popular and award-winning Netflix series, Stranger Things, Ms. Mullins is an actor, a story-teller, a Renaissance woman, and an inspirational icon.  Honored as one of the "10 gutsiest women" by Jane Magazine, Ms. Mullins has also been honored by such varied institutions as the Smithsonian, the Metropolitan Museum of Art, the NCAA Hall of Fame and the Track and Field Hall of Fame.
Carol A. Mutter (1945-

 

)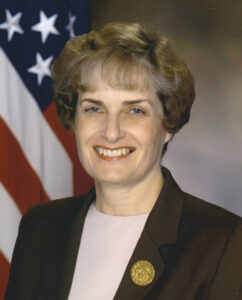 Carol Mutter served for over 31 years in the US Marine Corps, attaining the rank of Lieutenant General and achieving many firsts, including first woman Marine three-star general, first woman to be qualified as Command Center Crew Commander / Space Commander at US Space Command, and first woman of general/flag rank to command a major deployable tactical command (3rd Force Service Support Group in Okinawa, Japan).  At the time that she became the first woman Marine Major General she was the senior active duty woman across all military services.  She entered the Marines when 1% of Marines were women and no women were in the deployed services. Since returning to civilian life, General Mutter has continued to work on behalf of women Marines and is a role model for many.  Among her numerous activities, she has served as Chair of the Department of Defense Advisory Committee on Women in the Services and is a Past President of the Women Marines Association where she remains active at the national level. In addition to speaking and panel engagements, General Mutter currently serves on the National Advisory Council of the Alliance for National Defense, the National Medal of Honor Museum Foundation Board and as President of the Indiana War Memorials Commission. General Mutter is the recipient of awards such as the National Defense Service Medal with bronze star and the Sea Service Deployment Ribbon with four bronze stars and was the first woman nominated by the President for three star rank.
Dr. Janet D. Rowley (1925-2013)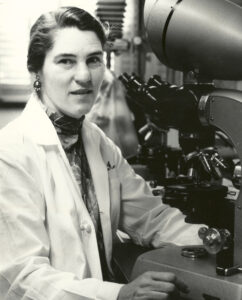 Janet Rowley, M.D.,  was a geneticist whose research established that cancer is a genetic disease. Her discovery of chromosomal exchanges revolutionized cancer research, diagnosis and treatment. She was recognized for her "bench-to-bedside" philosophy and her global leadership in oncology and biomedical communities. Before Dr. Rowley's discoveries, few scientists suspected that chromosomal aberrations caused cancer.  Her research led directly to the development of the cancer drug imatinib, one of the most effective targeted cancer therapies to date, leading to 90% of patients with certain forms of leukemia being "cured" where previously life expectancy had been three to five years. Testimonials from such esteemed institutions as the American Society of Clinical Oncology, the University of Chicago Medicine Comprehensive Cancer Center, and the University of Washington pay tribute to her role in medicine: "She laid the foundation for personalized cancer care and targeted therapy." They continued: "an ongoing example of scientific wisdom and imagination combined with an impeccable professional and personal style" and "We are still working from her paradigm." Recipient of the Presidential Medal of Freedom and the Genetics Prize of the Peter and Patricia Gruber Foundation in 2009 as well as fourteen honorary degrees, Dr. Rowley was Blum-Riese Distinguished Service Professor of Medicine, Molecular Genetics & Cell Biology, and Human Genetics at the University of Chicago until her death.
Alice Waters (1944-

 

)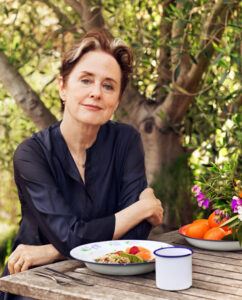 Alice Waters is a chef, author and food activist, and the founder and owner of Chez Panisse Restaurant in Berkeley, California. Often called the "Mother of American Food," Ms. Waters has been a champion of local sustainable agriculture for over four decades, and is credited with popularizing the organic food movement.  In 1995 she founded the Edible Schoolyard Project, which advocates for a free school lunch for all children and a sustainable food curriculum in every public school. Ms. Waters is a national advocate for farmers markets and bringing organic, local foods to the general public.  Since 2002, she has been Vice President of Slow Food International, an organization that promotes and celebrates local, artisanal food traditions in 44 countries around the world threatened by fast foods and a faster pace of life. Ms. Waters conceived and helped create the Yale Sustainable Food Project in 2003, and the Rome Sustainable Food Project at the American Academy in Rome in 2007. She is the author of fifteen books, including New York Times bestsellers The Art of Simple Food I & II. Chez Panisse, founded in 1971, has consistently been ranked among the world's fifty best restaurants.  Of the many honors she has received, Ms. Waters was named Best Chef in America in 1992 by the James Beard Foundation, the first woman to win this award. Ms. Waters was awarded the National Humanities Medal in 2015, recognizing that the table is a powerful means to social justice and positive change.