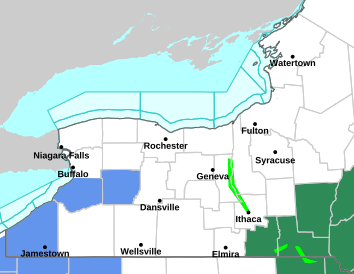 The National Weather Service has downgraded the Winter Storm Warning, which had been active for the entire Finger Lakes, down to a Winter Weather Advisory. The Advisory calls for minimal accumulation of snow throughout the region – with some seeing 3 to 6 inches when all is said and done.
The Advisory expires at 1 pm for most of the Finger Lakes. 
The major change in the forecast was something FLX Weather Meteorologist Drew Montreuil discussed at length on Monday ahead of the system. He noted that the margin for error in this storm was very small, and that all it would require is temperatures being warmer by a degree or two to significantly change the accumulation forecast.
As temperatures stayed above freezing in the Central Finger Lakes through much of the night, the system struggled to turn the falling moisture into snow or even freezing rain.
– Winter Weather Advisory for Western FLX issued by NWS Buffalo
– Winter Weather Advisory for Eastern FLX issued by NWS Binghamton
Local Weather Resources:
— Western FLX
— Eastern FLX
— FingerLakes1.com Weather Center
— Thruway Conditions
Send FingerLakes1.com photos of weather in YOUR neighborhood by sharing them on Facebook, Twitter, Instagram, or by email here.