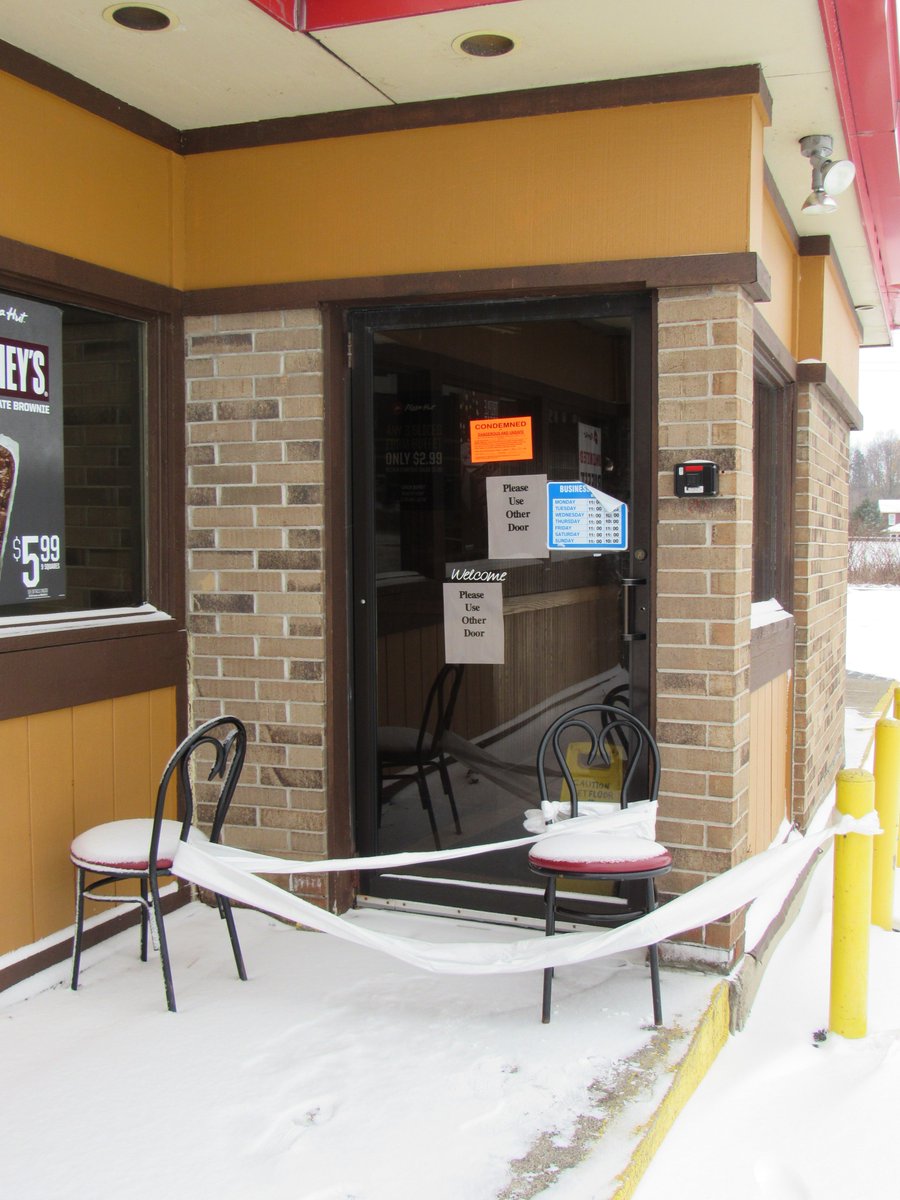 The sign says 'Condemned' but employees say Pizza Hut will be re-opened in about a week.
Seneca County Department of Planning and Community Development Deputy Director Peter Brown tells us that Pizza Hut was condemned around 6:30 pm on Saturday after Code Enforcement received an anonymous complaint. Brown said, "the Code Enforcement Officer found that the primary heating system in the dining room was inoperable. As a result, the minimum temperature permitted by the New York State Uniform Fire Prevention and Building Code could not be achieved in the dining room, and the New York State Uniform Code does not permit the use of portable heaters as the primary heat source in commercial public spaces."
He continued, "In addition, there are some other outstanding code violations that also need to be addressed. Before the Condemnation may be lifted, the owners will have to either repair or replace the heating system, and address the outstanding violations."
In an explanation, Brown said that 'outstanding violations' are generally minor violations that do not cause immediate hazard. He noted that they were issues that have to be resolved, or at least mitigated to an extent to fall within New York State minimum requirements. "In this case the outstanding violations are minor ones that they need to fix, and we are requiring them to fix them at the same time they fix the heating system, in order to remove the Condemnation order."
Brown noted that this is the first time since 2007 that the building had been condemned. He says that the owners of the building have been notified and are working with Seneca County Code Enforcement officials to correct the issues.
Elizabeth Knight, an employee at the restaurant says they will open up again immediately when the heating issue is resolved. She noted that they did have a couple space heaters running inside the facility.
Knight concluded, "We hope to be opened by the end of next week."
Calls to the restaurant go unanswered and are not redirected. The restaurant is operated by V&J National Enterprise, according to documents.
A number of years ago, a neighboring restaurant was closed due to the ground shifting and settling toward the canal directly behind both properties. Power inside the restaurant remains running.
---
Photos: